NEWS
Nagoya aim to turn things around in the final week to remain in Prince Takamado Trophy U-18 Premier League WEST
09 December 2016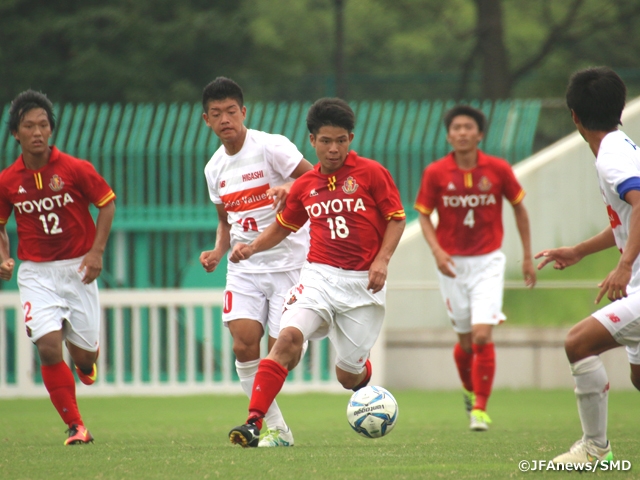 Pick-up Match Premier League WEST
Higashi Fukuoka High School vs Nagoya Grampus U18
Sunday 11 December will see all the final season matches of the Prince Takamado Trophy U-18 Premier League WEST. Higashi Fukuoka High School (Fukuoka) are to meet Nagoya Grampus U18 (Aichi) at home.
Nagoya, who are currently sitting in ninth place, have not succeeded in winning a match since Matchday 5 seven months ago. In the Premier League, two bottom (ninth and tenth place) teams will be relegated to the Prince League the following year. As coach YAMAZAKI Makoto noted: 'attack is our strength', the team scored multiple goals in eight games out of 17. However, the team conceded on average 2.18 goals per game, showing their weakness in defence. It is therefore a key for them to show their attacking strength, while defending as a united team to earn three points this weekend.
Nagoya played a close game against Vissel Kobe U-18 (Hyogo) in third place on Matchday 16 and drew with Gamba Osaka Youth (Osaka) the previous week. Coach YAMAZAKI Makoto stays positive and in regards to winning the match he comments 'we're getting there'. The team avoided relegation at the very end of the league last year. In their final match of 2015, Nagoya won a sweeping victory over Kyoto Tachibana High School 11-0, scoring six in the first half. They tied with Riseisha High School (Osaka) in eighth place with points, but beat them on goal difference to reserve a place in the Premier League for the next season.
If Kobe Koryo Gakuen High School (Hyogo) currently in eighth place lose to Oita Trinita U-18 (Oita) and Nagoya beat Higashi Fukuoka, then Nagoya can avoid relegation. Coach Yamazaki noted: 'a similar situation happened to us last year. Some of the players, who experienced the final game last year, are still in the team. I hope they will impact the game in a good way.'
Higashi Fukuoka are preparing well to meet Nagoya at home. After losing to Cerezo Osaka U-18 (Osaka) on Macthday 14, the team conceded seven goals the following week to Kyoto Sanga F.C. U-18 (Kyoto) and three in the subsequent game against Sanfrecce Hiroshima FC Youth (Hiroshima) two weeks ago, showing that they need to work on defence. However, they managed to concede only one goal last week, earning three points after three months since Matchday 12. The team are eager to finish the final home game with a victory to build momentum for the coming All Japan High School Soccer Tournament.
You cannot miss the match between Nagoya, who are determined to avoid relegation and Higashi Fukuoka, a star team in the all Japan High School Athletic Federation.
Coaches' and Player's Comments
MORISHIGE Junya, Coach (Higashi Fukuoka High School)
Since we have lost our opportunity to win the Premier League WEST, but are not in danger of relegation, it might be difficult for the players to focus fully. Having said that, we are to participate in the All Japan High School Soccer Tournament, in which 'losing means going home'. In order to prepare ourselves to get through tough games and build up positive momentum, we have to play tenaciously until the end. Despite the fact that this coming game would not affect our final position, we want to avoid playing without a fighting spirit.
YAMAZAKI Makoto, Coach (Nagoya Grampus U18)
We'll be playing to avoid relegation. All we need is to win. So we'd like to just focus on earning a victory. The players have been performing with strong spirit throughout the season. As they have been devoted in training, I do hope we can get a good result as a consequence of their effort on this matchday. I'd like to point out the improvement as a team throughout this year. Playing in the Premier League also gave them more opportunities to raise the level of their football. We'd like to prepare our best, so that we can remain in the league for the next year.
SUGITA Masahiro (Nagoya Grampus U18)
Our final opponents Higashi Fukuoka are a strong team, with players, who already have offers from professional J.League clubs. Having said that, all we have to do is focus on winning the game. I just believe that results at other sites will help us achieve our aim when we earn three points. I think it's a key for us to attack with our strength, quick counter-attacks, and get close to the goal, while I contribute to the offence with my high work-rate. I'd like to help my team both offensively and defensively by running until I fall. Of course, I will always look for scoring opportunities.
Higashi Fukuoka High School vs Nagoya Grampus U18
Date:Sunday 11 December (Kick-off 13:00)
Venus:Higashi Fukuoka High School
Access:Five-minute walk from 'Higashi-Hie' Station (Fukuoka City Subway Kūkō Line)
     Fifteen-minute walk from 'Hakata' Station (JR)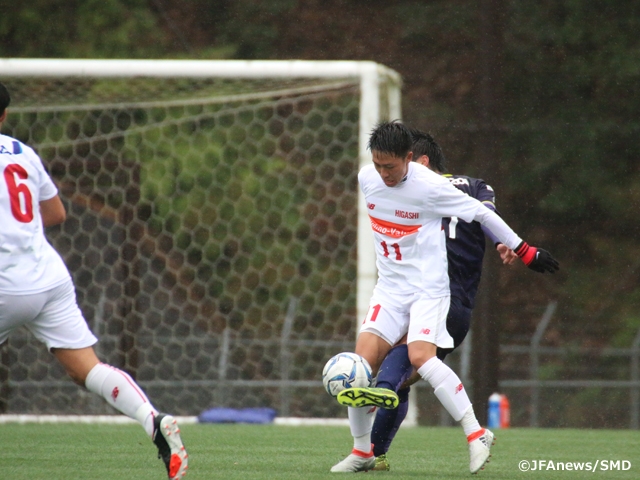 Premier League WEST Matchday 18
Sunday 11 December
10:00 Gamba Osaka Youth vs Vissel Kobe U-18(Gamba Osaka Ground)
13:00 Kyoto Sanga F.C. U-18 vs Ozu High School(Kyoto Sanga F.C. Higashi Joyo Ground)
13:00 Sanfrecce Hiroshima FC Youth vs Cerezo Osaka U-18(Yoshida Soccer Park)
13:00 Oita Trinita U-18vs Kobe Koryo Gakuen High School(Oita Sports Park Daigin Soccer Rugby Field)
Sanfrecce Hiroshima FC Youth (Hiroshima), who clinched the title of the WEST last week, will play a home game against Cerezo Osaka U-18 (Osaka) in second place. Hiroshima are eager to finish this season with a victory in order to stay motivated for the coming Championship. C Osaka, on the other hand, are keen on earning three points, since Vissel Kobe U-18 (Hyogo) in third place are only one point behind.

Kobe Koryo Gakuen High School (Hyogo), who are three points ahead of Nagoya, can avoid relegation if they win or draw the coming match. Although they will meet bottom-placed Oita Trinita U-18 (Oita), last time they were beaten 1-0 at home. Learning from their previous defeat, the team will aim to earn three points.
JFA-TV (Japanese version only)
Highlights from Matchday 17
More Information on Prince Takamado Trophy U-18 Premier League
Prince Takamado Trophy U-18 Premier League 2016 - Championship Match
Date:2016-12-17 (Sat.) - Kick-off 13:00
Venue:Saitama Stadium 2002
More Information on Championship Match
Vote for the best goal of the season - Prince Takamado Trophy U-18 Premier League (Japanese version only)