NEWS
Match between top two on final matchday of Prince Takamado Trophy U-18 Premier League EAST
08 December 2016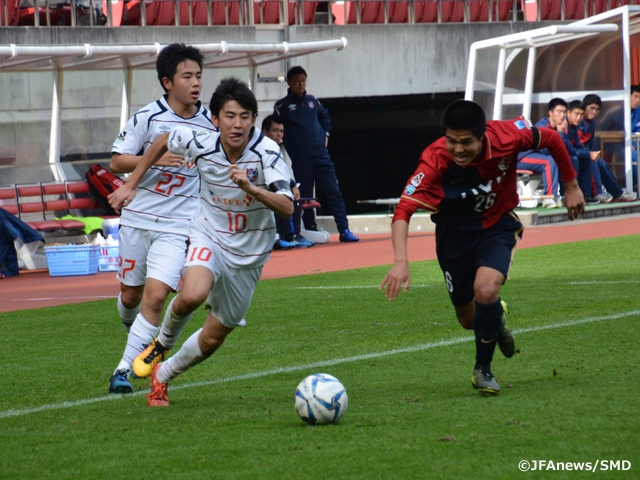 Pick-up match Premier League EAST
F.C. Tokyo U-18 vs Aomori Yamada High School
Sunday 11 December will see the final matchday of the Prince Takamado Trophy U-18 Premier League, which started back in April. The most noteworthy match of EAST will be between the top two teams, F.C. Tokyo U-18 (Tokyo) in second place and Aomori Yamada High School (Aomori) in the lead, to decide the champions.
F.C. Tokyo, who dropped from the lead by drawing with Kashima Antlers Youth (Ibaraki) on the previous matchday, will play at home. Although the players seemed to be devastated after the game, coach SATO Kazuki managed to refresh them swiftly: 'it simply means we have to beat Aomori Yamada in the final match to claim the title'.
Prior to the big match, coach SATO noted: 'the players don't seem to be nervous and we are preparing as usual.' The team have got through tough games in the JAPAN Club Youth (U-18) Football Championship and the 2016 J-Youth Cup to be the top team in the country. Some of the players have experience in the J3 League, playing for F.C. Tokyo U-23. Coach SATO further commented: 'with much experience, the players can face this big match as any one of the games in the season. We'd like to stay calm, while gearing up towards the final match.'
Aomori Yamada, on the other hand, lost to Kashima on matchday 16, which was their first back-to-back loss this season. Although the team once sit in second place, they came out on top again by beating Shimizu S-pulse Youth (Shizuoka) 2-0 in the following week. Aomori Yamada ended in second place by one point last year, as they were defeated by Kashima in their penultimate season game.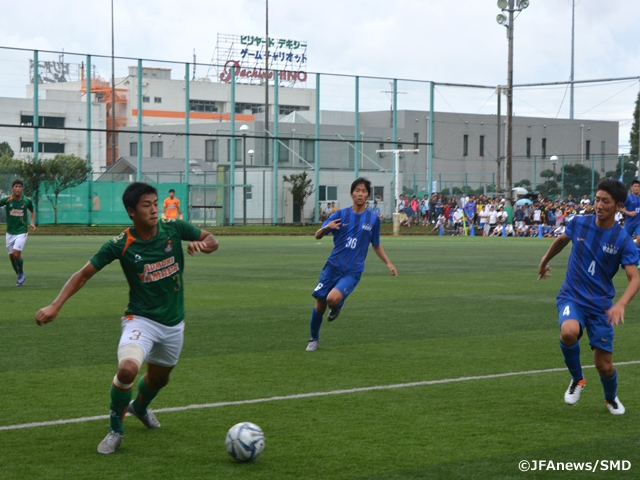 Coach KURODA Go looked back: 'five second graders played that match. They learned from their defeat bringing more strength to the team. We are in the lead just before the final week of this season, which I'd like to point out as an achievement for us.' He acknowledged the team's development over the year, while expressing his expectation for the weekend: 'we'd like to overwhelm F.C. Tokyo, rather than simply reacting to their gameplan. Staying mentally competitive is vital for victory.'
The match between F.C. Tokyo U-18 and Aomori Yamada High School will be broadcast on Sky Perfect (BS241 and Ch.585).
Coaches' and Players' Comments
SATO Kazuki, Coach (F.C. Tokyo U-18)
All we need to do is to win the final game. We have experienced various things throughout this season. I'm hoping that we will show everything. It's vital for the team, including the players on the pitch and the ones on the bench, to prepare well, so that they can perform their best as a united team on the final matchday. We're very happy to play for winning the EAST. I believe the players will improve even more by playing an intensive game until the end of the season.
SUZUKI Yoshitake (F.C. Tokyo U-18)
Our final opponents, Aomori Yamada, are very competitive with solid physical strength. So I'd like to stay competitive on the ball and focus on striking the opener for sure. We, F.C. Tokyo, are expected to earn all three titles after wining the JAPAN Club Youth (U-18) Football Championship and the 2016 J-Youth Cup this year. I'm determined to win this weekend whatever the performance it may be. I'd like to face the game with this spirit.
KURODA Go, Coach (Aomori Yamada High School)
It is a rare opportunity for us to enter the final week as a team in the lead. Since we came this far, we'd like to win the EAST. I believe the players are seriously aiming to earn the title. As the opponents have players with superior individual skills, including trapping and kicking, we need to face them as one united team. What's vital is how much we can negate F.C. Tokyo's strengths, while displaying our own playing style. Although I expect a tough game, we'll do our best with determination to win the league.
SUMINAGA Kakeru (Aomori Yamada High School)
Since F.C. Tokyo have many players with high individual skills and those who have experienced higher level games (in the J3 League), they are very competitive. Although I'm expecting a tough match, I'm determined to earn three points by scoring through our few goal-scoring opportunities. Striking the opener makes the huge difference in the game. I believe 'victory goes to the one who makes the first move'. Thus, we will take the initiative and move first. Personally, I'd like to play hard for the team's victory by defending to keep a clean sheet, while contributing to goals.
F.C. Tokyo U-18 vs Aomori Yamada High School
Date:Sunday 11 Devember (Kick-off 13:00)
Venure:F.C. Tokyo Kodaira Ground
Directions:One-minute walk from the Seibu Bus stop 'Kinjo High School', which leaves from 'Hana-Koganei' Station (Seibu Shinjuku Line)
      Twenty-minute walk from 'Kodaira' Station (Seibu Shinjuku Line)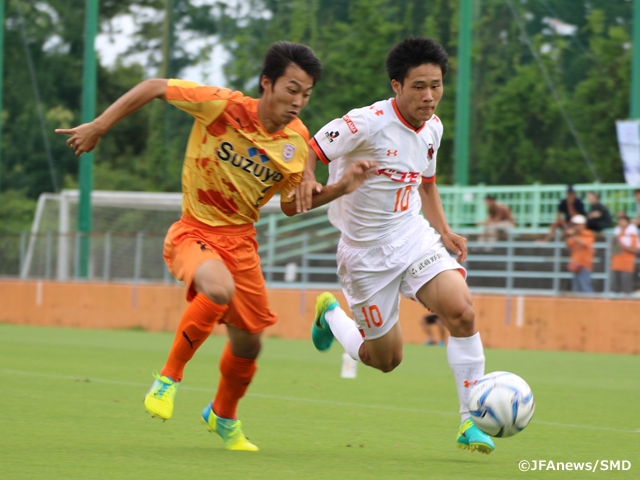 Premier League EAST Matchday 18
Sunday 11 December
13:00 Ryutsukeizaidai Kashiwa vs Kashima Antlers Youth(Ryutsukeizaidai Kashiwa)
13:00 Kashiwa Reysol U-18 vs Albirex Niigata U-18(Hitachi Kashiwa Soccer Ground)
13:00 Ichiritsu Funabashi High School vs Shimizu S-pulse Youth(Funabashi City Field/Grasspo)
13:00 Yokohama F・Marinos Youth vs Omiya Ardija Youth(Nippatsu Mitsuzawa Stadium)
Relegation has been decided for some teams, while only a few teams still keep a hope alive for claiming the title of EAST. Ichiritsu Funabashi High School (Chiba) are now getting ready for the All-Japan High School Soccer Championship at the end of the year. Since the team have strength in depth, it is vital for the players to showcase their individual skills in the game against Shimizu S-pulse Youth (Shizuka). Omiya Ardija Youth (Saitama) in third place have not given up their hope to win the championship. If F.C. Tokyo U-18 draw with Aomori Yamada High School and they beat Yokohama F・Marinos Youth (Kanagawa) with more than an eight-goal difference, the team can cause a huge upset to the league and become the champions.
JFA-TV (Japanese version only)
Highlights from Matchday 17
More Information on Prince Takamado Trophy U-18 Premier League
Prince Takamado Trophy U-18 Premier League 2016 - Championship Match
Date:2016-12-17 (Sat.) - Kick-off 13:00
Venue:Saitama Stadium 2002
More Information on Championship Match
Vote for the best goal of the season - Prince Takamado Trophy U-18 Premier League (Japanese version only)