NEWS
The 21st All Japan Futsal Championship all set for final round
07 March 2016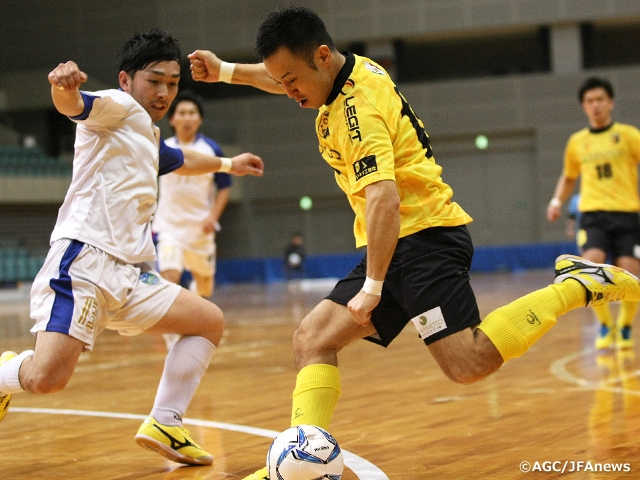 The first round of the 21st All Japan Futsal Championship had its third day of the first round on Sunday 6 March as all the contenders for the final round were determined including Bardral Urayasu (F.League), who sealed the top spot in Group E the day before.
In a contest between Kashiwa Tor' 82 (Kanto 2) and Espolecarna MFC (Kyushu 2) at Ecopa Arena in Shizuoka, Kashiwa took a 3-1 lead after the first half, but Espolecarna, who made the first appearance in the national competition as a Miyazaki's team, also showcased individual skills throughout the match. Despite the Miyazaki side's efforts, however, the flow of the game did not change in the second half before Kashiwa posted a 5-1 win including BABA Kazuya's three goals.
In the following match, Fugador Sumida (F.League) and Tokushima Rapaz (Shikoku) squared off against each other to get through the Group A. Starting with the opening goal after just five seconds into the match, Sumida added more goals including OKAYAMA Kazuma's hat trick within the first 11 minutes. Tokushima ran out until the end of the match but failed to keep up as Sumida claimed an 11-1 win to advance to the final round.
Mikihouse Futsal Club (Kansai 2) faced Corona FC/Gonda (Kanto 1) in Group B. With 3-1 down at half-time, the Kanto side scored a goal in the 33rd minute and equalised on a counterattack with HAIJIMA Kensuke's goal in the 38th minute. Yet in the 39th minute, Mikihouse's INADA Kazuo met a kick-in after rushing into the box to make it 4-3, and his side prevailed in the east-west showdown in the end.
Agleymina Hamamatsu (F.League) and Espolada Hokkaido (F.League) faced each other to qualify for the final round. Hamamatsu, who needed a win by two clear goals, came close in the first half, but the match entered the second half scoreless. After Hamamatsu's opening own goal from a kick-in in the 28th minute, the tension of the match got stronger.
Then, the match remained being a see-saw battle before Hamamatsu launched a power play with one and a half minutes left. But Hokkaido went back on their own power play and MUROYA Yuki netted an equaliser with 38 seconds left. And TAKAYAMA Takehiro's last-ditch attempt turned the score around with only 18 seconds left. Although it appeared as a hopeless situation for Hamamatsu, they took a timeout with just two seconds to go and, after the match resumed, TANAKA Mitsuhiko met in front of goal from a kick-in to prove themselves by making it a tie again. The match ended in a 2-2 draw, and Hokkaido won through the group stage.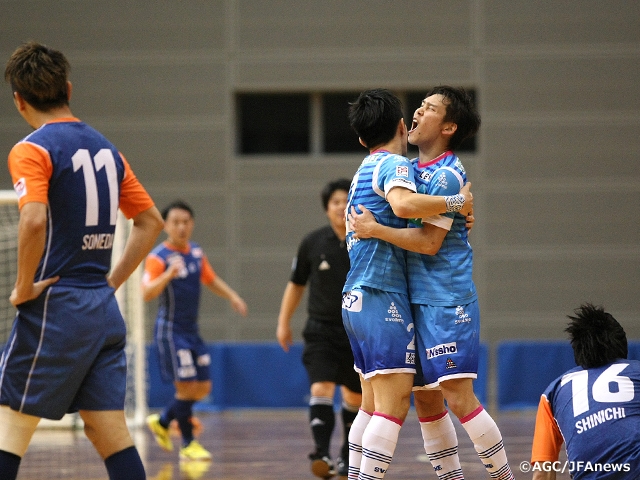 In the other groups, Fuchu Athletic F.C. edged SWH Futsal Club (Kansai 1), group while the F.League club's head-to-head clashes in Group D and F saw Shriker Osaka and Deucao Kobe beat Shonan Bellmare and Vasagey Oita respectively.
The final round will get underway on Friday 11 March at Yoyogi National 1st Gymnasium in Tokyo. Eight teams including two seeded teams – F.League champions Nagoya Oceans and runners-up Pescadola Machida – play against each other for the honour of Japan's top futsal club.
Coach and Players' Comments
SHIIYA Shunki (Espolecarna MFC)
It was our first national competition to participate in and we knew there was a difference in the team level between us and other teams. The difference was more than we expected and I strongly felt we are still not good enough. I was tensed in the first and second days. But after telling each other with my teammates that we've got to be always aware of the gratitude for the fact we are on this stage and of the pleasure to play futsal, I was able to play free and easy at the end. We will build a good team in Miyazaki to boost our home. And we will definitely come back here with this same squad.
SAGA Hiroyuki, Coach (Tokushima Rapaz)
How we were crushed was as I had expected, and there was a difference between us and opponents in tactics using a pivo and shifts between offence and defence despite our deliberate preparation. They've got individual tactics and fundamentals at fast pace, and I strongly felt such a big the difference just as we couldn't do what we wanted at all. Even so, we were determined to come here to win the first two matches and take on Sumida. It was great we got there. During the past year, we really grew in the associate member's league. We will challenge again for the F.League after getting stronger.
TAMURA Tatsuya (Mikihouse Futsal Club)
Against Gonda, we said to each other we would pile up points and go home as a Kansai club, and that match was must-win. Throughout the tournament, we were confronted by Hokkaido's physical strength. I think we hold our own individually, but still there is a gap not yet overcome in the overall team competency, physical strength, ability to concentrate and smooth shift between offence and defence. Even so, we set a goal to beat an F.League club, playing our style of football. We won't forget this level of football in our daily training and get back here for revenge.
TAKAYAMA Takehiro (Espolada Hokkaido)
The opponents were in a situation where they could win through to the final round by a two-goal margin and really fired up for the match. Their defenders were committing themselves without mistakes, and that really troubled us. Still, we did not allow them to break through in the stretches when we conceded the opening goal and played it out on defence. That certainly led to this outcome. We are going to face Nagoya in the quarterfinals. We can play with the momentum we got in the past three victorious matches and also have a chance to win it all. We will play full out from the beginning. We will get back to the ultimate stage, where we battled the final two years ago, for the first-ever title in our club history.
All Match Highlights MD 3 (Japanese version only)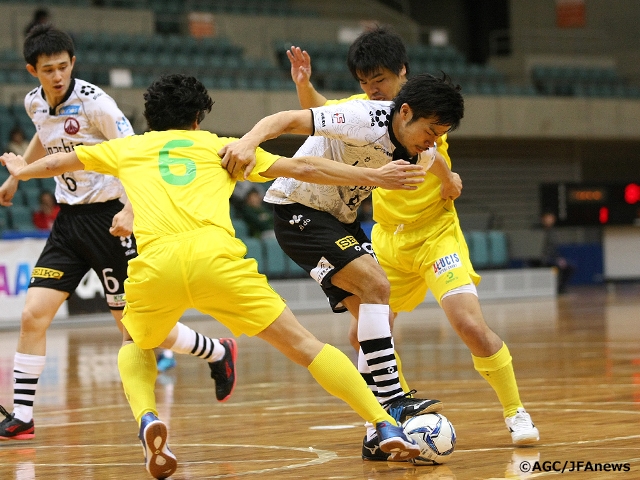 The 21st All Japan Futsal Championship
1st Round Fri. 4 March – Sun. 6 March 2016
Shizuoka/ECOPA Arena, Osaka/Fumin Kyosai Super Arena, Hyogo/Green Arena KOBE
(*1st Round, all matches no ticket required)
Final Round Fri. 11 March – Sun. 13 March 2016
Tokyo/National Yoyogi Stadium First Gymnasium
(Final Round, ticket information /Japanese version only)