NEWS
Participation commemorative event took place ahead of the International Children's Social Programme "FOOTBALL FOR FRIENDSHIP 2018"
07 May 2018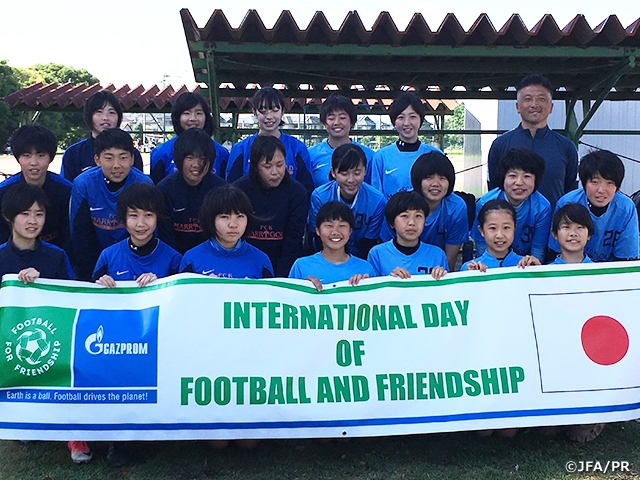 As part of the International Children's Social Programme "FOOTBALL FOR FRIENDSHIP 2018" which will take place in Russia from Friday 8 June to Friday 15 June, an event commemorating the participation of the programme, "INTERNATIONAL DAY OF FOOTBALL AND FRIENDSHIP" was held in Kumamoto prefecture on Thursday 3 May.
Consisting of young 12-year-old football players and journalists from 211 countries and regions, the participants will form 32 International "Teams of Friendship" that will take part in training camps and a tournament in Moscow. International Football for Friendship Children's Forum will also take place at the same time, where participating children will discuss how to spread the nine key values of the programme: friendship, equality, fairness, health, peace, devotion, victory, traditions, and honour.
After a thorough selection process among public applicants, IIKAWA Otome from Kumamoto and MIYAGI Akito from Tokyo were selected as the young player and the young journalist respectively and will participate in the programme representing Japan.
With the support of FCK MARRY GOLD SPORTS CLUB which the Japanese representative Iikawa plays for, the exchange of Friendship Bracelets took place at Kikuyo-machi, Kikuchi District, Kumamoto Prefecture. The bracelets coloured in blue and green, blue representing the peaceful sky, while green represents the football field where anyone can participate. Ahead of the main programme in June, this INTERNATIONAL DAY OF FOOTBALL AND FRIENDSHIP event took place in each of the 211 countries and regions.
Participating Football Player's Comment
IIKAWA Otome
I am very happy to be able to participate in this event. At 5 in the morning, my family and I go to the park and I practice running and dribbling with them. And I hope this programme will make me a better player. Also I want to make friends with people from other countries.
Participating Young Journalist's Comment
MIYAGI Akito
In two years, Tokyo, the city I live in, will host the Olympic Games. I don't even know if I could take part in such a close-by event but now have a chance to go to Russia for this big programme - that's fantastic! This is a now-or never opportunity only given to 12 years old children. I will treasure every encounter and learn as much as possible from this programme. I am looking forward to hearing stories from players as well as learning about traditions and cultures of Russia and other countries.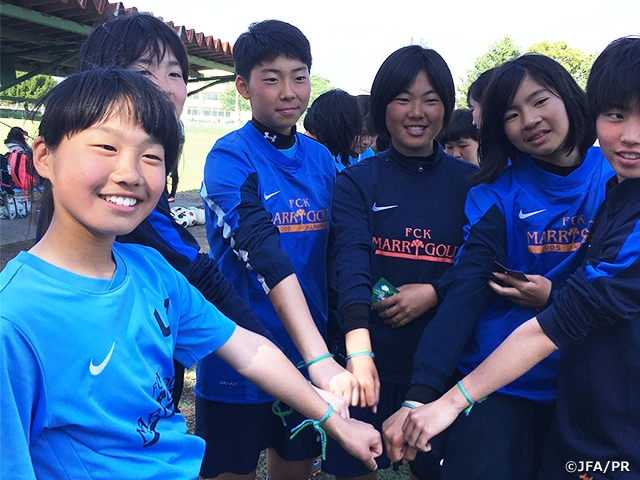 ・FOOTBALL FOR FRIENDSHIPOfficial Website
・List of Social Media (FOOTBALL FOR FRIENDSHIP)