Japan Football Hall of Fame
JFA Hall of Fame Inductee
19th Olympic Games Mexico City (1968) Japan National Team
Special Selection: 15th Japan Football Hall of Fame Inductee in 2018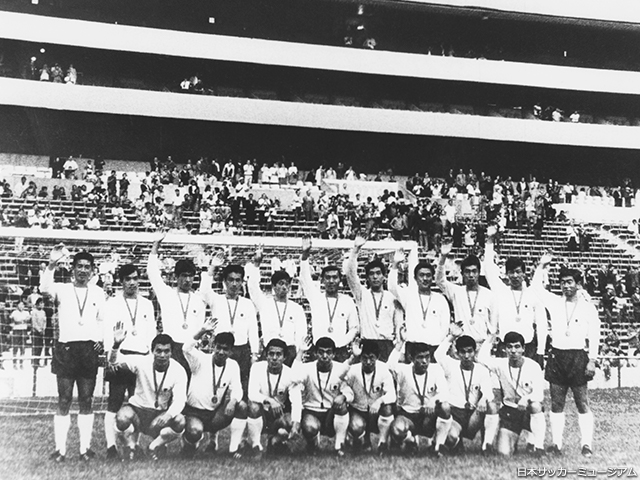 The 19th Olympic Games Mexico City (1968) Japan National Team were the representative side from the country that earned a bronze medal at the Olympic Games (Football).
The team won their first match against Nigeria to start off the group stage, followed by two draws against Brazil and Spain to advance to the knockout stage. The team went onto win their quarterfinal match against France before losing in the semi-finals to Hungary, who later won the gold medal.
In the third-place match held on 24 October, the Japanese side faced the host nation, Mexico. With KAMAMOTO Kunishige and SUGIYAMA Ryuichi combining well with each other, Japan successfully scored two goals, before their goalkeeper YOKOYAMA Kenzo made a superb effort to stop the opponent's penalty kick, as the solid defence line kept a clean sheet.
With the win, the Japan National Team finished in third place to earn the first ever medal in football for an Asian country at the Olympic Games. After scoring seven goals during the competition, Kamamoto was awarded with the top scorer award, while the team was awarded with the Fair-Play Award from both the UNESCO and FIFA.
Coach:NAGANUMA Ken
Assistant Coach: OKANO Shunichiro, HIRAKI Ryuzo
Squad:OGI Aritatsu, KATAYAMA Hiroshi, KAMATA Mitsuo, KAMAMOTO Kunishige, KUWAHARA Yasuyuki, SUGIYAMA Ryuichi, SUZUKI Ryozo, TOMIZAWA Kiyoshi, HAMASAKI Masahiro, MATSUMOTO Ikuo, MIYAMOTO Teruki, MIYAMOTO Masakatsu, MORI Takaji, YAEGASHI Shigeo, YAMAGUCHI Yoshitada, YUGUCHI Eizo, YOKOYAMA Kenzo, WATANABE Masashi
Doctor:SUZUKI Yoshiaki
Masseur:ANZAI Katsuaki