NEWS
Referee's Exchange Programme with Football Federation Australia - Introducing Australian referees invited
28 April 2015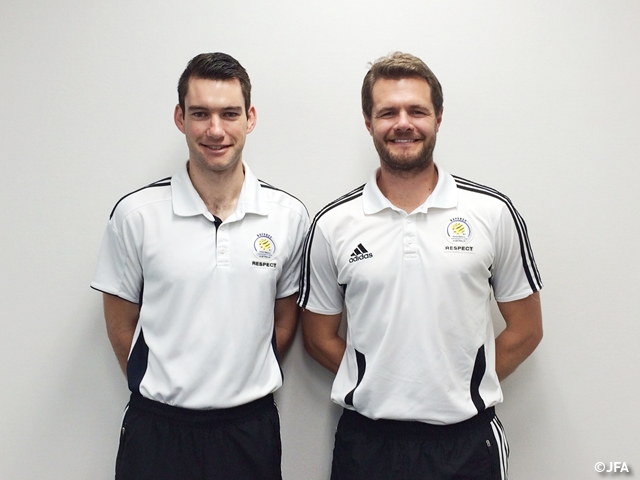 Japan Football Association has an annual Exchange Programme with various countries. This year, JFA had the programme with Australia for the first time, and two Japanese referees experienced the A-League in Australia while two Australian referees to judge upcoming J1 League matches in Japan.
Australia is one of the strongest countries whose national team won the latest AFC Asian Cup 2015 and Australian club team Western Sydney Wanderers won the AFC Champions League in 2014. This time invited Australian referee are introduced.
Australian referees invited
Mr. Christopher BEATH
Mr. Jarred GILLETT
Period: 4/27 to 5/4
Matches in charge:
Matchday 8 and 9. of MEIJI YASUDA J1 League
Japanese referees dispatched to Australia
3/6 to 13: YAMAMOTO Yudai
Matches in charge:
Round 20: Brisbane Roar vs. Western Sydney Wanderers
Round 21: Adelaide United vs. Central Coast Mariners
3/26 to 4/4: ENOMOTO Kazuyoshi
Matches in charge:
Round 23: Newcastle Jets vs. Adelaide United
Round 24: Brisbane Roar vs. Central Coast Mariners
Comments from Australian referees invited
Christopher BEATH, International Referee
I am very excited to referee in Japan again and in particular in the J-League. I wish both teams good luck and fair play.
Thank you.
Note: Christopher BEATH was part of referee team who were in charge of KIRIN CHALLENGE CUP 2012, 2013 and 2014.
Jarred GILLETT, International Referee
I am excited and happy to be refereeing in the J-League 2015. Best of luck to both teams.
Thank you.