NEWS
Ms. OKAJIMA Kikuko named as first Chair of WE League
09 July 2020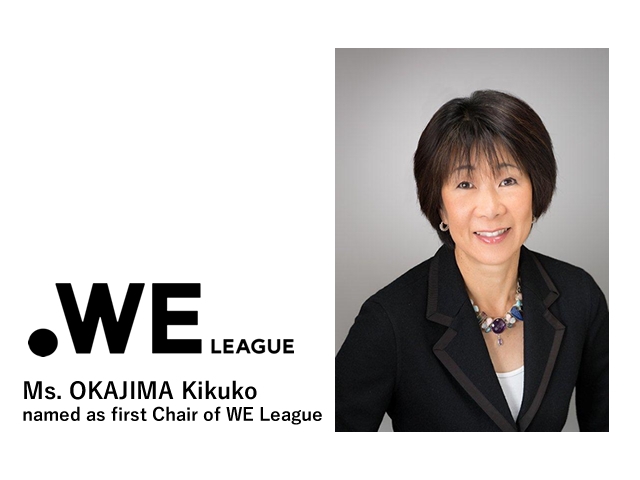 Today, on Thursday 9 July, Japan Women's Football League has reported to Japan Football Association (JFA) executive committee, their decision to appoint Ms. OKAJIMA Kikuko as chair. The decision was made at the general meeting of members held on Friday 3 July, making Ms. Okajima the first chair of Japan Women's Empowerment Football League ("WE League").
Comment of WE League Chair OKAJIMA Kikuko
I am OKAJIMA Kikuko and was appointed as chair of the WE League. In 1972, I started training with a junior high school men's football club before joining FC Jinnan, Japan's first ever women's football club, and I was fortunate enough to be selected into Japan Women's National Team. I was then involved with Japan Women's Football Federation as a member of the executive committee and as the executive secretary. As a person who has experienced the dawn of women's football in Japan, I am delighted to be a part of the inauguration of the first ever professional women's football league in Japan.
There are two missions I would like to accomplish as chair of the WE League. First mission is to make professional WE Leaguers iconic figures for young girls playing football. In the USA, many girls playing football would wear jerseys to attend women's football matches along with their teammates and coaches, and many families with daughters playing football are often seen in the crowd as well. Starting with girls who play football, I hope to create more opportunities for wide variety of people to watch the WE league matches.
As the league name suggest, the other mission of this league is "Women Empowerment". We believe that the development of professional women's sports in Japan can become a symbol that helps take away boundaries from young girls' dreams. We hope to provide a platform where women from various fields can gather and build a community. Through football, we hope to send out messages that give energy to and inspire women all over Japan.
Comment of JFA President TASHIMA Kohzo
First of all, I would like to congratulate Ms. Okajima for becoming the first chair of the WE League. When speaking of the development of women's football in Japan, the success of Nadeshiko Japan is an essential aspect. Since the start of Japan Women's Football League in 1989, for over 30 years, many of our predecessors have helped build the foundation of women's football in Japan, which flourished in 2011 when Nadeshiko Japan claimed championship of the FIFA Women's World Cup. In order to repeat that wonderful experience and to reach new heights, securing platforms and personnel that can help realise children's dreams is essential.
Seeing how football has progressed in Japan since the inauguration of J.League in 1993, it can be said that the league and the national team are a pair of wheels that carry the development of football in a country. Ms. Okajima is a pioneer in women's football and a person who has worked overseas for many years. Through her experience, knowledge, and diversified perspective, we hope to see her guide the WE League to promote, develop, and strengthen women's football in Japan ever than before, and lead the league to realise a society where women can truly thrive.
WE League Chair Profile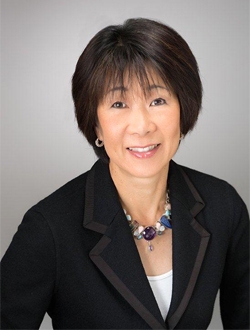 Name
OKAJIMA Kikuko
Date of birth
5 May 1958
Place of birth
Tokyo, Japan (Currently living in Baltimore, Marryland since 1991)
Education
1983 Waseda University, Faculty of commerce
*A 1year exchange program to Ohio Wesleiyan University in a sophomore grade, studied sports medical and coaching
Work experience
1983 Chemical Bank
1988 KOKUSAI Securities
1990 KOKUSAI Singapore Marchant Bank (Singapore)
1991 First National Bank of Maryland (USA)
1999 Riggs Bank (USA)
2004-2019 Merrill Lynch (USA)
Ex.-The Women's Board of Johns Hopkins Hospital- Board Member
Ex.-Calvert School - Board Member
Ex.-Maryland-Kanagawa Sister State Committee Chairman
Ex.-Kanagawa International Policy Advisor
Football history
1972 Joined men's club in junior high school, then to FC Jinnan, the first ever women's club in Japan
1974 Attended to the Leader School run by Tokyo Football Association as the first ever female participant
1978 FC Jinnan participated in the 2nd edition of the AFC Women's Championship
1979 First executive committee member of Japan Women's Football Federation
1983 Participated in the Guangzhou Women's International Tournament as Japan women's national team member
1984 Executive secretary of the Japan Women's Football Federation
    Participated in the Xi'an International Women's Tournament as Japan women's national team member
1989 Retired from football player when transferred to Singapore
1996 Supported scouting operation of women's national team in Atlanta Olympic