NEWS
Message from Chairperson IMAI Junko of JFA Women's Committee
22 May 2020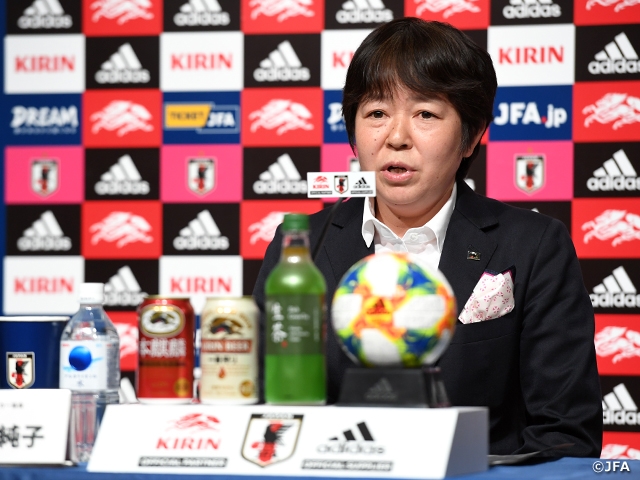 JFA consists a total of 20 committees, each specialising in their own expertise. In concurrence with the reappointment of President TASHIMA Kohzo on 29 March, the head of each committee was named under the new regime. Starting from 11 May, we have been introducing the roles of each committee, along with a message from the chairperson. Today we will introduce the Women's Committee.
The Women's Committee is in charge of strengthening Nadeshiko Japan (Japan Women's National Team) and all categories of Japan Women's National Team. Player development and promotional activities are also key aspects for the committee, as they strive to realise the "Nadeshiko Vision." The committee's programmes are targeted not only for players, but for everybody involved in women's football, including programmes to create environments where women can play football at a regular basis and to train female coaches.
Message from Chairperson IMAI Junko (reappointed)
I was reappointed as chairperson of the women's committee. In the next four years, there are numbers of major events that can dramatically develop and promote women's football: the postponed Tokyo Olympics, the establishment of professional women's league, the implementation of boys'/girls' division at the National Sports Festival, and the Japanese bid for the FIFA Women's World Cup 2023™. These events can bring lots of power to our community and we hope to make the most of this opportunity. Our goal is to double the current player population to 10,000 and bring the gender ration up to 10%. In order to achieve our goal, we will deliver a wide spread of activities to provide easier access to women's football, expand the pool of female players, and capitalise on the preparation works we have done in the past.
I strongly believe that the development of women's football is an essential factor to raise the overall level of the Japanese football community. I hope everybody involved in our community can portray the sport in the same way.