NEWS
U-20 Japan National Team advances to Round of 16 with draw against Italy at the FIFA U-20 World Cup Poland 2019
30 May 2019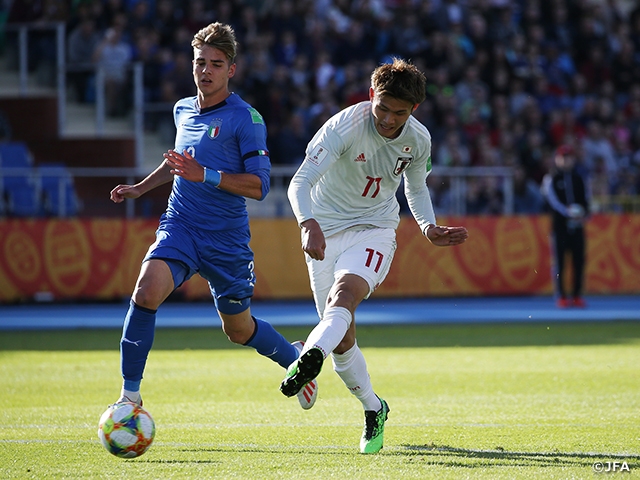 On Wednesday 29 May, the U-20 Japan National Team faced the U-20 Italy National Team in their third group stage match of the FIFA U-20 World Cup Poland 2019. After both sides showcased an intense battle for the entire 90 minutes, the match ended in a scoreless draw.
Japan made four changes from their starting line-up in their second match against Mexico, as WAKAHARA Tomoya started in goal with the defence line featuring SUGAWARA Yukinari, MIKUNI Kenedeiebusu, KOBAYASHI Yuki, and HIGASHI Shunki. It was SAITO Mitsuki and ITO Hiroki named in the defensive midfield role, while NISHIKAWA Jun and YAMADA Kota were placed in the flanks. SAITO Koki and TAGAWA Kyosuke were the two strikers named upfront.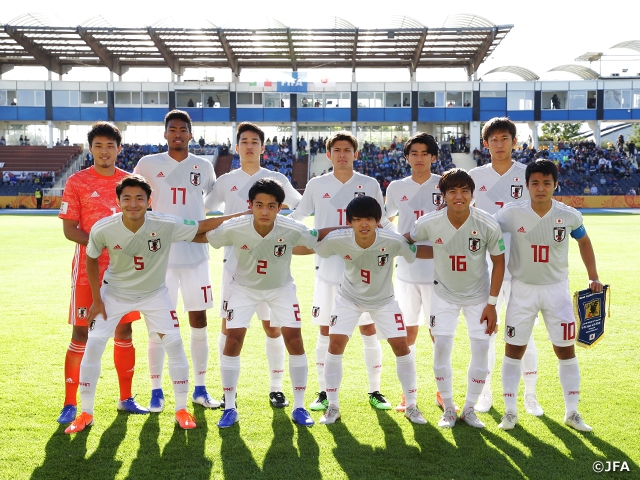 The match saw Japan being the aggressor in the early minutes. Saito Mitsuki started the action in the second minute by striking a shot from distance to threaten the Italian goal. A golden opportunity was created in the ninth minute when Tagawa was brought down inside the box to earn a penalty kick. However, the shot taken by Ito was saved by a superb effort made the Italian goalkeeper.
Despite the missed opportunity, Japan continued to create chances, but an accident forced Japan to use their substitution early. In the 20th minute, Tagawa responded to a pass delivered by Kobayashi to break through and take a shot at the goal, only to see his effort saved by the goalkeeper. During this play, Tagawa injured himself and was forced to be substituted out of the match. Japan remained to play aggressive in the remaining minutes of the first half, but the match entered halftime scoreless.
The second half saw Italy showcasing a solid performance in defence, while anticipating for their chances through their long balls. In contrast Japan tried to create their opportunities by possessing the ball. In the 51st minute, Sugawara fired a shot from the right side, but his attempt went straight at the opposing goalkeeper. Both teams went onto create numbers of chances in the second half, but it was the defensive efforts that shined from the two sides. Japan made their final attempt at goal in the 90th minute, when Yamada connected with a corner kick delivered by Higashi but fell short from finding the net. Despite their efforts to score the deciding goal, the match ended scoreless after 90 minutes of play.
As a result, Japan finished as the runners-up in their group to secure their spot into the knockout stage. After the match, Coach KAGEYAMA Masanaga shared his aspiration towards the next round, "We don't know who we will face yet, but we will continue to showcase our best performance and strive to make our way up in this tournament."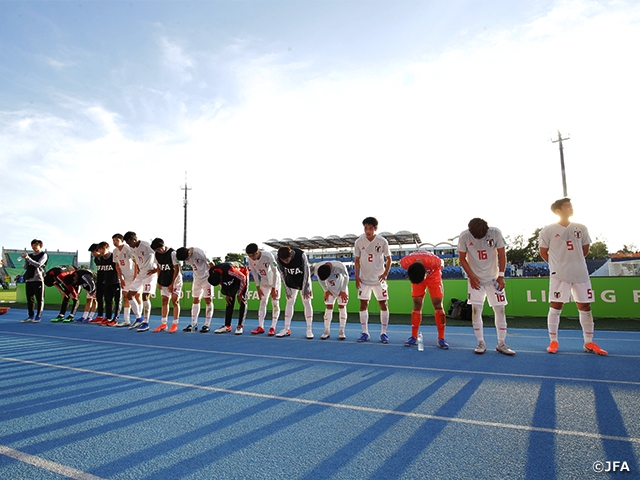 Coach and Players' Comments
KAGEYAMA Masanaga, Coach
We were able to achieve our initial goal of advancing through to the knockout stage because our players were able to improve their performances through each match. However, we entered today's match with the intention to win against Italy to top our group, so our players looked very disappointed after the match. Now that we are through the group stage, we have earned our chance to make our way up in this tournament. We will prepare our conditions to reach the highest stage possible.
MF #7 ITO Hiroki (Nagoya Grampus)
I was playing rather deep today, but I was able to receive the ball often and help the team move the ball around. In the scene where I took the penalty, I was aiming towards the upper right corner and struck the ball hard. I felt sorry for my team, but I managed to reset my mind and continue on with my play. Prior to the match, we spoke during our meeting to fight with a common goal, and in that sense, I feel like everyone on this team was giving their best efforts to win the match today.
MF SAITO Mitsuki (Shonan Bellmare)
I feel like we were able to surprise our opponents with our aggression in the early minutes of the match, and that has allowed us to create many opportunities in the first half. However, we ended up finishing the match scoreless. We knew our opponents were strong in defence and the match could play out the way it did. So, it was important for us to capitalise our opportunities when we had the momentum going in the first half. But for now, I am glad we were able to achieve our initial goal of advancing through to the knockout stage.
FW #14 NISHIKAWA Jun (Toko Gakuen High School)
We were able to enter the match well, but it's regretful that we couldn't capitalise on our opportunities. I personally wanted to show more aggression on the field to help the team win the match. However, we still managed to keep a clean sheet and earn our spot into the next round, so we should be proud of ourselves. I wasn't able to earn any goals or assists today, so I will feed off of this experience to do better in our next match.
Schedule
FIFA U-20 World Cup Poland 2019
Thu. 23 May
1-1
1st Group Stage Match vs U-20 Ecuador National Team
(Bydgoszcz Stadium, Bydgoszcz)
Fri. 24 May
AM
Training
Sat. 25 May
PM
Training
Sun. 26 May
3-0
2nd Group Stage Match vs U-20 Mexico National Team
(Gdynia Stadium, Gdynia)
Mon. 27 May
PM
Training
Tue. 28 May
PM
Training
Wed. 29 May
0-0
3rd Group Stage Match vs U-20 Italy National Team
(Bydgoszcz Stadium, Bydgoszcz)
Tue. 4 June
17:30
Round of 16 vs Runners-up of Group F
(Lublin Stadium, Lublin)
Fri. 7 or Sat. 8 June
TBC
Quarterfinals
Tue. 11 June
17:30/20:30
Semi-Finals
Fri. 14 June
20:30
3rd Place Match
Sat. 15 June
18:00
Final
*Local time
*The schedule is subject to change due to the team condition, the weather, etc.
FIFA U-20 World Cup Poland 2019
Tournament Dates: Thu. 23 May - Sat. 15 June 2019
Round of 16:
Wed. 5 June 2019, 0:30 (Japan time)
vs Runners-up of Group F