NEWS
U-20 Japan National Team conducts training session to prepare for first match of the FIFA U-20 World Cup Poland 2019
22 May 2019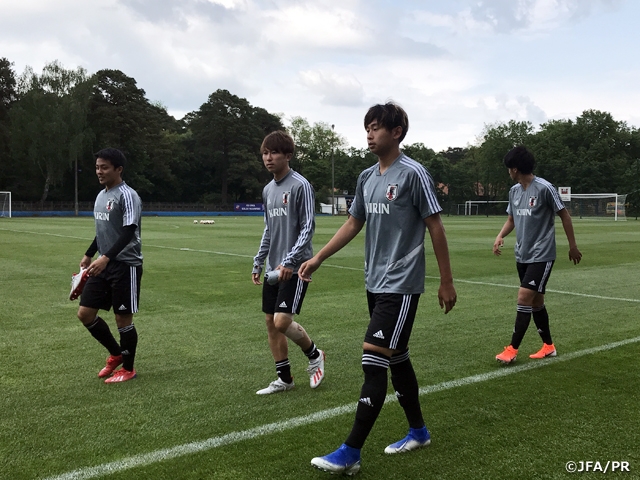 On Tuesday 21 May, with just two more days until their first match of the FIFA U-20 World Cup Poland 2019, the U-20 Japan National Team took their time to walk around their hotel in the morning to visit the sceneries of Bydgoszcz.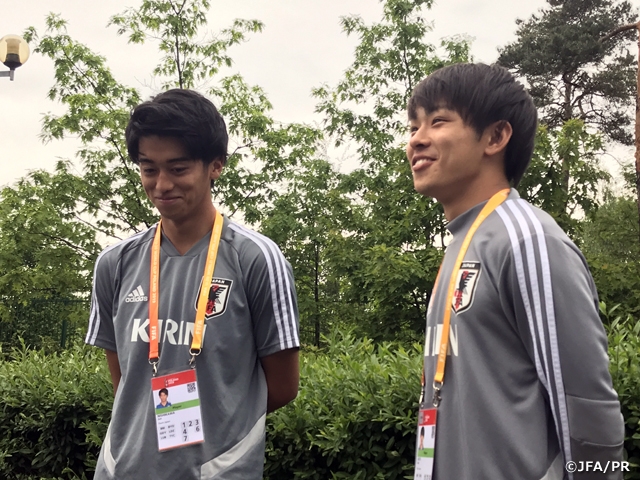 Following their walk, the team held their meeting before lunch, and visited the match venue, Bydgoszcz Stadium in the afternoon. The players observed the atmosphere of the stadium, checked out the pitch condition, and walked through the locker room before heading over to their training field located just outside of Bydgoszcz to conduct a training session.
For the first time in this training camp, the training session was opened to the public and the media for the first 15 minutes. During that time, the players were seen thoroughly going over their warmup routines to stretch their bodies, followed by a conditioning drill where the players ran for three minutes to test their fitness level. The team then went through variations of passing drills before the session went behind closed doors. In the session that lasted for nearly an hour, the team worked to get the players on the same page before their first match of the tournament.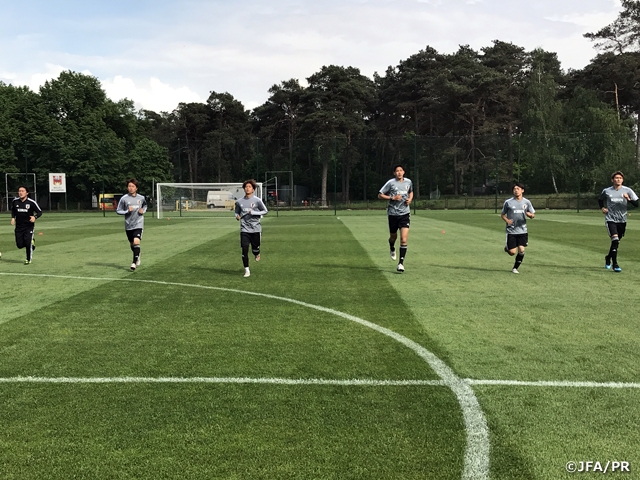 The FIFA U-20 World Cup Poland will kick-off on Thursday 23 May, and Japan will play their first match against Ecuador on that day (Friday 24, 3:30 a.m. Japan time).
Players' Comments
GK #1 WAKAHARA Tomoya (Kyoto Sanga F.C.)
I was given the opportunity to play in some of the matches during the final round of the Asian qualifiers held last year, but more than the joy I felt from winning the qualifiers, I vividly remember the bitterness I felt when my mistake costed the team a goal. If I am given the chance to play during this tournament, I will give my best and play in behalf of those members who we fought together, such as TANI Kosei (Gamba Osaka) and OSAKO Keisuke (Sanfrecce Hiroshima). For me this is my first World Cup. Until now, I have never been nervous, but I am gradually getting a sense of nervousness in a good way. Despite the nervousness I am feeling right now, I am still able to focus on our trainings, so I've been able to condition myself in a very good form. I hope to showcase a good performance so that I can spread the name of my club team to the world.
DF #4 SEKO Ayumu (Cerezo Osaka)
The World Cup is just about to begin, and I am looking forward to playing against the world's best players. We have been able to prepare ourselves well until this point. As a centre half, my ability to hold off the highly talented South American players should play a key role in our way to victory. This is my only shot at the U-20 World Cup, so I will give my utmost efforts and leave no regrets. Especially for me, I remember the bitterness I felt after missing out on the U-17 World Cup in 2017 after sustaining an injury, so I will use that memory as my motivation to work even harder.
Schedule
Sun. 12 May
16:00
Training *Open to the public
Mon. 13 May
5-0
Training Match vs Ryutsu Keizai University
*Open to the public
Wed. 15 May
AM/PM
Training
Thu. 16 May
AM/PM
Training
Fri. 17 May
1-2
Friendly Match vs U-20 Colombia National Team
Sun. 19 May
AM
Training
Mon. 20 May
PM
Training
Tue. 21 May
PM
Training
Wed. 22 May
PM
Official Press-conference/Training
FIFA U-20 World Cup Poland 2019
Thu. 23 May
20:30
1st Group Stage Match vs U-20 Ecuador National Team
(Bydgoszcz Stadium, Bydgoszcz)
Fri. 24 May
AM
Training
Sat. 25 May
PM
Training
Sun. 26 May
15:30
2nd Group Stage Match vs U-20 Mexico National Team
(Gdynia Stadium, Gdynia)
Mon. 27 May
PM
Training
Tue. 28 May
PM
Training
Wed. 29 May
18:00
3rd Group Stage Match vs U-20 Italy National Team
(Bydgoszcz Stadium, Bydgoszcz)
Sun. 2 - Tue. 4 June
TBC
Round of 16
Fri. 7 or Sat. 8 June
TBC
Quarterfinals
Tue. 11 June
17:30/20:30
Semi-Finals
Fri. 14 June
20:30
3rd Place Match
Sat. 15 June
18:00
Final
*Local time
*The schedule is subject to change due to the team condition, the weather, etc.
FIFA U-20 World Cup Poland 2019
Tournament Dates: Thu. 23 May - Sat. 15 June 2019
Group Stage:
Fri. 24 May 2019 03:30 (Japan time)
vs U-20 Ecuador National Team
Sun. 26 May 2019 22:30 (Japan time)
vs U-20 Mexico National Team
Thu. 30 May 2019 01:00 (Japan time)
vs U-20 Italy National Team