NEWS
JEF United denies Cerezo Osaka's three-peat claiming first JOC Junior Olympic Cup title - JOC Junior Olympic Cup 21st All Japan Youth Women's Football Tournament
08 January 2018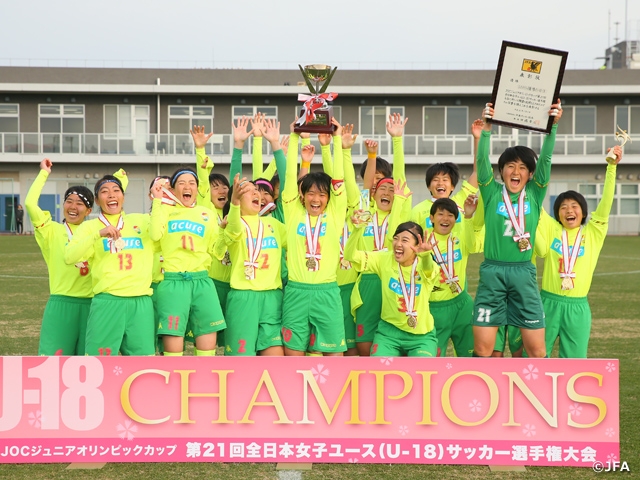 The 21st All Japan Youth (U-18) Women's Football Tournament, one of the competitions of the JOC Junior Olympic Cup endorsed by the Olympics Committee of Japan, had its final and third-place match on Sunday 7 January at J-GREEN Sakai in Osaka as JEF United Ichihara Chiba Ladies U-18 (Kanto2/Chiba) captured their first-ever championship.
Third-place match
Urawa Red Diamonds Ladies Youth (Kanto3/Saitama) 0-3 (0-2, 0-1) Nippon TV Menina (Kanto1/Tokyo)
In the third-place match held before the final, Urawa Red Diamonds Ladies Youth and Nippon TV Menina squared off against each other. Nippon TV took the initiative early on, as they kept pressure on Urawa, forcing turn overs, spreading the field and successfully completing their passes. Nippon TV opened the scoring in the 28th minute, as midfielder YAMAMOTO Yuzuki netted a shot from just outside the penalty area. Soon after, midfielder IWASAKI Kokona gave her side a 2-0 lead as she headed a cross into the net on the 36th minute.
In attempt to revitalize their offence, Urawa sent out attacking players onto the pitch in the second half. However, Nippon TV did not show any signs of slowing down. In the 54th minute, forward HIJIKATA Maya scored a goal, extending their lead to 3-0. They then sent out defender ONO Nana, who's part of the U-18 Japanese Women's National Team, to ensure their clean sheet. Nippon TV successfully shuts out Urawa to claim their 3-0 victory.
Match details (Japanese version only)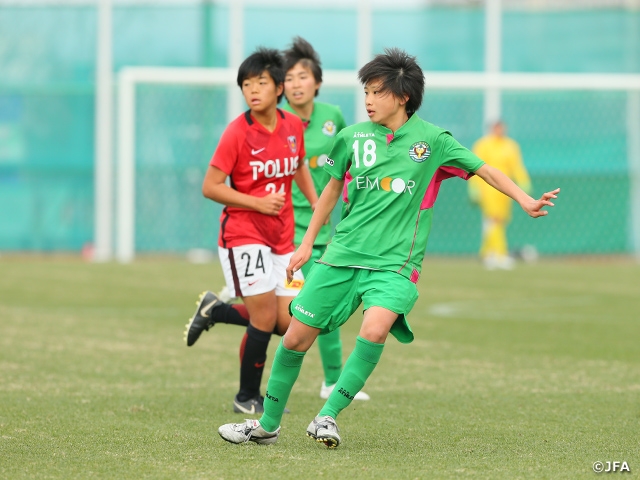 Final
Cerezo Osaka Sakai Girls (Kansai1/Osaka) 0-1 (0-1, 0-0) JEF United Ichihara Chiba Ladies U-18 (Kanto2/Chiba)
In the final between the two-time defending champion Cerezo Osaka Sakai Girls and last year's fourth-place finisher JEF United Ichihara Chiba Ladies U-18, both sides showed very little attacking threats. Cerezo showed dominance in ball possession early on, but could not find ways to get pass the JEF defenders that were dropping deep in their territory. Meanwhile, JEF were able to play their preferred style of soccer, as their coach FUJII Nana mentioned that "this is not a league game so we will simply play the way we are most familiar with." A style in which their attacking players coordinate with their defense line, seeking for counter opportunities with their two forwards IMAMURA Mizuki and SHIINO Ayaka.
The opportunity came on the 29th minute, as the two forwards linked up. Shiino providing the through ball from the half way line, creating an one-on-one situation for Imamura with the goalkeeper. Imamura kept her cool slotting the ball through the goalkeepers leg, giving her team a vital first goal of the game.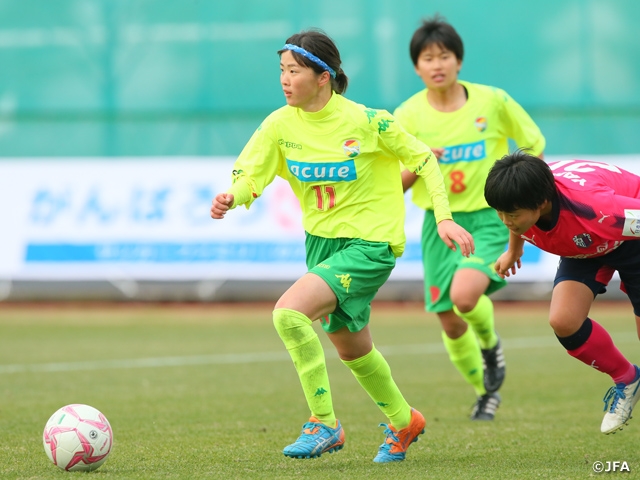 In the second half, Cerezo sends out their attacking players including TANAKA Tomoko, who played for the U-16 Japanese national team last year. Tanaka's attempt on the 47th minute mark, just missed the target following a free kick situation. In the 57th minute, TAKARADA Saori broke through the left flank firing a shot from no angle, but coming up short to score the equalizer.
With the home crowd cheering for them, Cerezo kept its pressure. Midfielder YOSHIZUMI Warai and forward MOMONO Miyuka penetrated the flanks, but at the end JEF's concentration level and momentum they gained after scoring the opening goal were too much for them to handle. JEF kept playing physical and captured their first championship with the 1-0 win.
Match details (Japanese version only)
Coaches' and Players' Comments
TAKEHANA Tomoya, Coach (Cerezo Osaka Sakai Girls)
It was a similar scenario in the semifinals, as we were unable to find ways to score goals against a defensively sound team. We need to train so that we can overwhelm these type of opponents. Otherwise we will have a tough season ahead in the first division (of the Nadeshiko League). We didn't allow much shots, so that highlights even more of the fact that we couldn't score. Winning is important, but our top priority is to gain experience for further development and compete on the top team. It's for sure a frustrating result, but we were able to see good performances from the younger kids, so overall it was a good tournament.
TSUTSUI Riko (Cerezo Osaka Sakai Girls)
We were a little bit off from the beginning and we tried too much to penetrate the center, knowing their fullbacks were strong in the air. We wanted to use the flank more and play simple, but that didn't happen. It's those little things that accumulated which let to that goal we gave up. Throughout the tournament I felt like we were not giving our best. We were too relaxed, and I think our opponent had a stronger will to win, which ultimately reflected the results. You can't lose if you don't concede a goal, so that one goal we allowed is my biggest regret.
FUJII Nana, Coach (JEF United Ichihara Chiba Ladies U-18)
We knew before the game that Cerezo had the edge in terms of experience and the technical aspects. I just feel like we won the game with our determination. If we could score more goals in the first half, it would have been an easier game for us, but we don't have a striker and we're still working on our offence at the moment. So it was our theme this year to try score goals, regardless of the positions. Our players up front understands the importance to defend as a team, and has shown great contribution for the team. Having competed hard with Menina and Reds, us beating Cerezo is a great accomplishment for all Kanto teams.
IMAMURA Mizuki (JEF United Ichihara Chiba Ladies U-18)
It was my last game with my teammates after playing with them for the past six years, so it felt great to win. Speed is my strong point, but I haven't been able to score even after I broke through in recent games. I'm glad I was able to score today. The play before (the scoring scene) we weren't able to relay our passes, and I was talking with (Shiino) Ayaka that we needed to spread the field and then penetrate the center. When the pass went through, I saw an opening between the goalkeeper's legs, so I went for it. We were a little rattled toward the end, but the players on the field kept their cool, talking to each other saying "Let's hang in there."
JFA-TV (Japanese version only)
Final Cerezo Osaka Sakai Girls vs JEF United Ichihara Chiba Ladies U-18
Third-place match Urawa Red Diamonds Ladies Youth vs Nippon TV Menina
JOC Junior Olympic Cup The 21st All Japan Youth Women's Football Tournament
Tournament period: 3 January 2018 (Wed.) - 7 January 2018 (Sun.)
Venue: J-GREEN Sakai (Sakai City, Osaka Prefecture)
Tournament Information