NEWS
Host city representative, Brincar FC, wins the 23rd All Japan Youth (U-15) Futsal Championship for first time
09 January 2018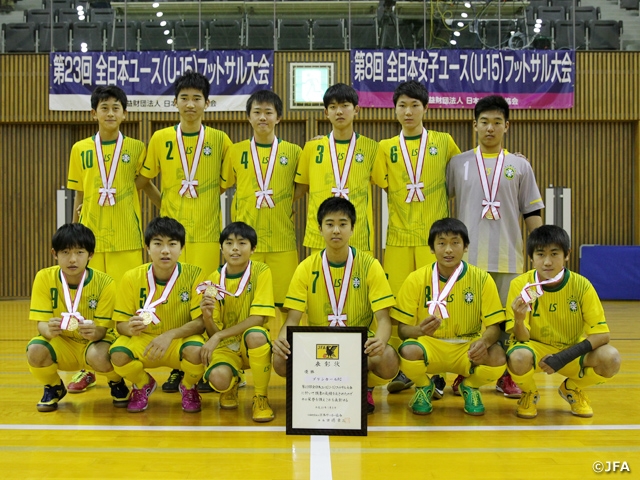 Monday 8 January saw the final round of the 23rd All Japan Youth (U-15) Futsal Championship. As a result of two close games in both semi-final and the final, Brincar FC (Aichi); the representative team of the host city, came out victorious.
The semi-finals kicked off at 10:40. On pitch A, Brincar played against UNIAO U-15(Tokai/Aichi). Although Brincar kept possession from the beginning of the match, the team struggled to get through UNIAO's well organised defence. In the 14th minute, however, OKUNO Shintaro managed to strike the opener, reaching the half way mark 1-0. After Brincar added another goal in the second half, UNIAO came back roaring with their power play levelling the game at two apiece. That didn't stop Brincar from attacking, taking a lead and adding an insurance goal, topping the game 4-2. The team reached the final for the first time in three years.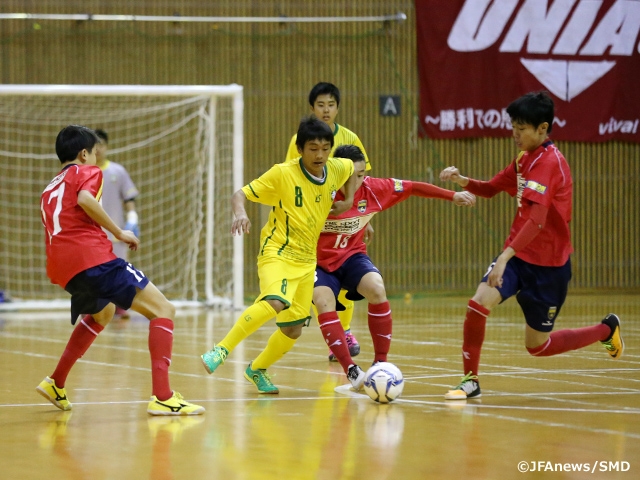 The other semi-final match on pitch C played by FC STAR (Kita Shinetsu 2/Niigata) and NAGAOKA JYFC (Kita Shinetsu 1/Niigata) also turned out to be an exciting match. Seeking for its 4th consecutive championship NAGAOKA JYFC's FUJITA Takahiro opened the scoring in the second minute. Three minutes later, WATANABE Kaisei extends their lead 2-0. FC STAR manages to score a goal with KOKAJI Kaito's shot just before the end of the first half. NAGAOKA JYFC came out firing three more goals in the beginning of the second half. Despite being down four goals, FC STAR never gave up, rallying back into the game. KUMAKURA Koutatsu struck two goals, while KOKAJI scored his second, closing their gap to one goal. But at the end, the four goal deficit was too much to handle, as NAGAOKA JYFC managed to maintain their one-goal lead and won the game 5-4, getting through to the final.
Big guns squared off as Brincar scored a total of 24 goals, and NAGAOKA JYFC with 32 goals up until they faced each other in the final. As expected, many goals were seen in this match. Brincar FC took the initiative as OMORI Ryo scored two goals within the opening 5 minutes of the match, followed by another goal from OKUNO. NAGAOKA JYFC had the upper hand in ball possession, but conceded goals from counter-attacks. They would come back however, FUJITA levels the game scoring three goals in a row. After few more goals exchanged between the two, Brincar regained its lead, sending the game into halftime at 5-4.
The individual skills of Brincar's players shined in the second half. After OKUNO struck his second goal in the 18th minute, OMORI pockets his third of the game just a minute later. At the 22nd minute mark, OKUNO completes his hat trick, followed by two more goals for the team in the 26th and 27th minute, extending Brincar's lead 10-4. Towards the end of the game, NAGAOKA JYFC came out with their power play and managed to score a goal. But at the end, Brincar who showed tremendous fire power, won the championship 10-5 for the first time in team history.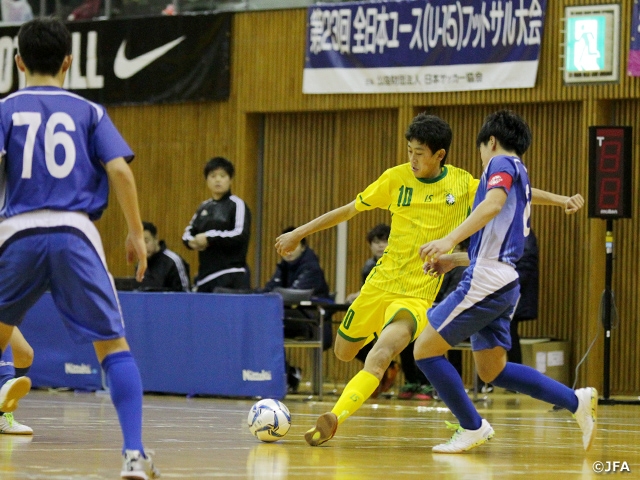 Coaches' and Players' Comments
FURUI Shunpei, Coach (Brincar FC)
I was hoping we play against NAGAOKA JYFC in the final. Because our opponent gave us good competition, our players performed better than usual. I told my players to display what we've been working on, take risks, and attack aggressively. The kids played hard. I'd like to thank all the parents and staffs who supported us, we couldn't have done this without your support. I hope that being successful playing futsal early on, translates to developing good futsal and football player. I hope our kids prove that in their next step of their career.
OKUNO Shintaro (Brincar FC)
I'm just so happy. In the final, I performed as hard as possible. Although I won the Vermont Cup when I was in primary school, I hadn't won any national tournaments at the junior high school level. So I was determined to win this championship. When the opponent levelled the game, I was worried a bit. However, I believed that we could win. The team this year has a strong will to win. Even when we conceded a goal, we were determined to score again, which I believe led us to this result.
NISHIDA Katsuhiko, Coach (NAGAOKA JYFC)
Brincar was strong. When they scored consecutive goals, we looked a little rattled, so I took our time-out early to settle ourselves down. We did manage to level the game from there, however, we lacked players with strong individual characters this year. We do not hold try-outs and all the kids here are kids who simply joined because of their love for the game. I told the players "whenever you struggle in the future, remember today's game, look at this medal, and perform harder." I hope the players will feed off of this experience.
HOSOGOE Kentaro (UNIAO U-15)
I'm grateful that we've come this far as a team. My dream is to become a professional futsal player, and this tournament was a great learning experience. I believe we are the most discipline team in Japan. We are all good friends on and off the pitch, but we know when to be serious. That's why we can concentrate every practice sessions, which I believe is one of the reasons we got so far. I'm very pleased to finish third, as our goal was just to make it to the national championship.
MIMA Yuna (UNIAO U-15)
I first started playing in primary school, and fell in love with futsal. That's when I joined UNIAO. I didn't think there were much physical differences playing against boys until 6th or 7th grade, but I started to notice during 8th and 9th grade. But I didn't want to be left behind, so kept working hard and made it to this championship. Having said that, I didn't perform particularly well in this championship, but I'm here thanks to the hard work from my teammates. I'm planning to leave UNIAO to play football in high school. I'll try to participate in a national tournament, feeding off the experience I gained at UNIAO.
JFA-TV (Japanese version only)
23rd All Japan Youth (U-15) Futsal Championship
Tournament period: Sat. 6 January 2018 - Mon. 8 January 2018
Venue: Aichi / Skyhall Toyota