NEWS
Fujieda Junshin defeats Sakuyo to clinch third crown at 26th All Japan High School Women's Football Championship
08 January 2018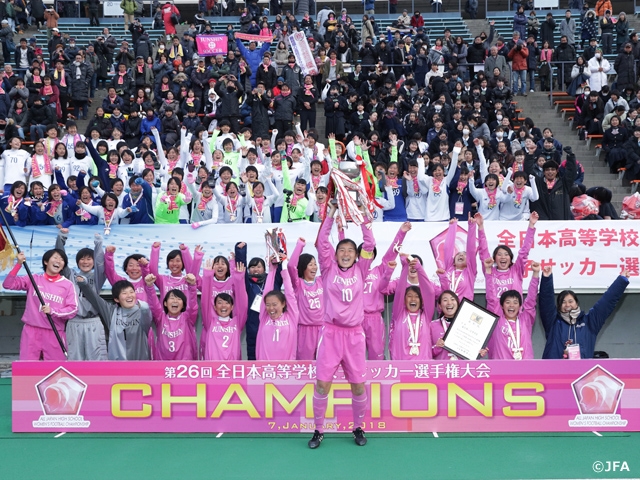 The final of the 26th All Japan High School Women's Football Championship took place on Sunday 7 January at Kobe Sports Park in Hyogo Prefecture and Fujieda Junshin High School (Tokai 2/ Shizuoka); who has claimed the title two years ago, clinched their third championship title in their team history.
Okayama Sakuyo High School 0-2 (0-2, 0-0) Fujieda Junshin High School
Sakuyo High School (Chugoku1/ Okayama), who made their first final appearance came out with high intensity, even applying pressure against possession of Fujieda Junshin's defenders. Once winning the ball, quickly making their transition to offence in order to get close to their opponent's goal in the shortest distance. Their strong intention to take shots were evident as Sakuyo took more shots in the first half. Including the attempt made by forward USHIKUBO Rinko in the 24th minute, where she connected with a free kick delivered by defender HASUWA Makoto from long distance. She timed her header perfectly, but the shot went straight at Fujieda Junshin's goalkeeper.
Meanwhile, Fujieda Junshin sought opportunities by spreading the field and moving the ball around. Orchestrated by midfielder CHIBA Remina's pinpoint mid-range passes, they used the flanks well, making runs down the line and threatening the box with crosses from variety of angles. Despite being suppressed by the aggressive tactics taken by Sakuyo, Fujieda Junshin pounced on their opportunity in the 40th minute. Forward IMADA Sara picked up a deflection resulting from her teammates' pressure, dribbled up the field before feeding the ball to forward AOKI Natsumi, who made a well-timed run into the box. Creating herself a one-on-one situation, her left-footed shot grazed the goalkeeper and rolled into the net.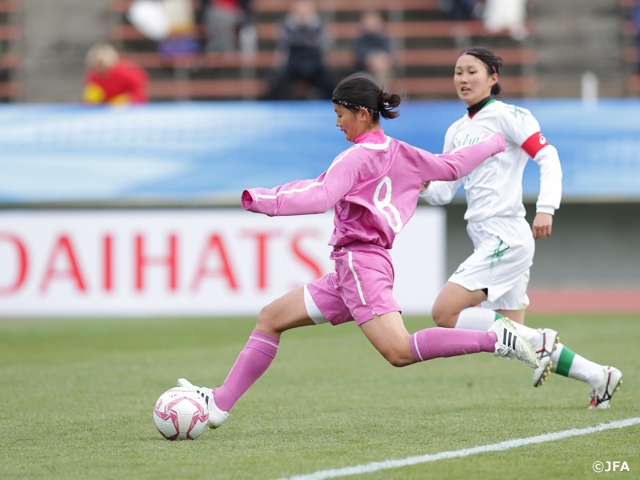 Capitalising on their limited opportunities, Fujieda Junshin found another goal with the clock winding down in the final minute of the first half. Defender OMURA Kotomi received the ball at the centre of the field, which she delivered a long ball towards the box. Midfielder NAMIKI Chinatsu controlled the ball well and fired a shot into the right side of the goal to give her side a 2-0 lead.
In attempt to regain their momentum, Sakuyo sends out attacking players onto the pitch in the 54th and 58th minute. Additionally, they moved up their defender Hasuwa and their defensive midfielder YAMASAKI Suzuho to play in a more offensive position to create more chances up front. Yamasaki would then create an opportunity for her side by posting up right in front of the box in the 68th minute.
With the clock winding down, Sakuyo became more and more desperate to move up the field, eventually rushing their plays and failing to connect passes. Which led Fujieda Junshin to also be impatient, but the two-time champions did not lose all of their concentration. Sakuyo made their last attempt during added time, moving up the field from their own side in a quick counter-attack, but Fujieda Junshin's defensive line, who kept a clean sheet throughout the tournament, shuts out the game with yet another clean sheet to claim their third title in team history.
Match details (Japanese version only)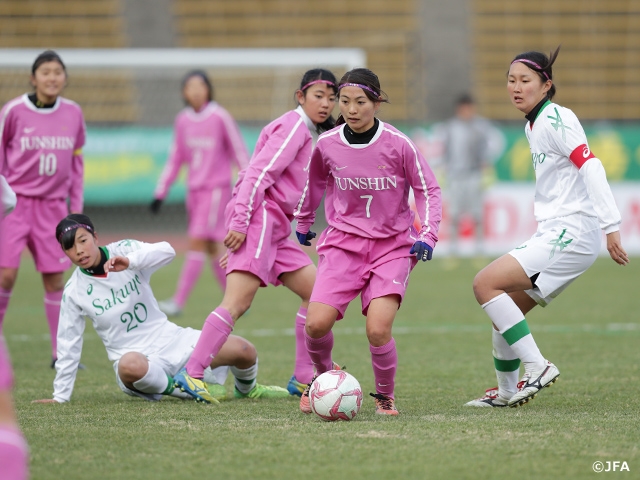 Coaches' and Players' Comments
TATARA Kazuyuki, Coach (Fujieda Junshin High School)
I'm more relieved than happy. We set our goal to win the championship this year. Our opponent dictated the pace during the first half, but we were able to stay in the game, and effectively scoring goals. The second goal in the closing minutes of the first half was crucial for us. We couldn't play our game in the second half as well, but were able to manage the game well to prevent the opponents from attacking. I told my players that as long as we execute what we've been working on, we'll get the results we desire. We were pretty lucky to win the championship last time, but this time we really wanted to earn the title, and I'm proud of my players for achieving it.
CHIBA Remina (Fujieda Junshin High School)
I am thankful for all the support, and I'm happy to win the championship. I always wanted to recreate the feat we accomplished two years ago, but our last tournament ended in a disappointment. We really worked well as a team to win the title this time. We didn't want to lose the mental battle, so went into the finals staying very focused and kept our positive vibes. I'm really proud of our team to keep a clean sheet throughout the tournament and scoring many goals as a team. Because we won the tournament, every team will be coming after us, but I want the younger members not to feel pressured and play their games going forward.
IKEDA Hiroko, Coach (Okayama Sakuyo High School)
It's really disappointing to make them shed bitter tears on this glorious stage. In the first half, we created lots of chances, winning the ball at high positions and utilizing our side backs efficiently, but we couldn't convert them. Conversely, when we moved forward to attack, the opponents showed their strength. What we've been working on has certainly made us stronger, but the fact we could not win here must've meant something. I want my players to cherish this experience and gain the most out of it. Being able to play here is a huge learning experience for their life, and I expect them to be confident and keep up their work on to the next stage.
HASUWA Makoto (Sakuyo High School)
We worked hard to win at our last championship in high school career, so I'm disappointed to be honest. There were tough times during the match, but we kept positive and played as a team. I'm here because of all the support from my teammates throughout the past three years. I tried to support my teammates with a smile until the end. It's not gold, but I'm glad to go home with a silver medal. I hope the younger members will come back to this pitch with this bitter memory and win the Japan championship then.
26th All Japan High School Women's Football Championshi
Tournament period: Sat. 30 December 2017 - Sun. 7 January 2018
Venue: Miki Sogo Bosai Park (Miki City), Goshikidai Sports Park (Sumoto City), Ibuki no Mori stadium (Kobe City), Hiawasenomura (Kobe City), Kobe Sports Park (Kobe City)
Tournament Information