NEWS
Japan wrap up final tune-up for World Cup first match
13 June 2014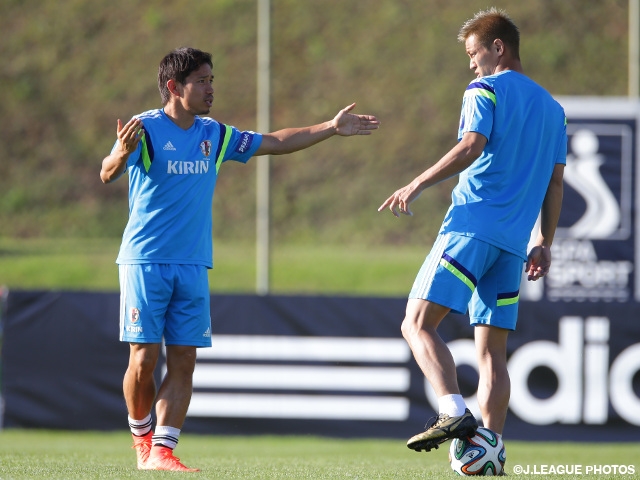 The Japan national World Cup squad had a final tune-up in Itu, Sao Paulo on the 12th June, two days before their first tournament match.
During the practice that lasted for about an hour and a half, they warmed up their bodies by rotating balls, and then went through some physical training to develop their cardiopulmonary functions. After that, they closed the practice session to the media and checked on their plays, mainly on their offensive side of ball considering their opponents.
The team moves to Recife, the site for their first match, and get to have an official practice session at Arena Pernambuco, the match venue, on the 13th. The match will kick off at 10 p.m. On the 14th.
The month-long tournament began on the day with a Brazil-Croatia opener in Sao Paulo. The home side won 3-1.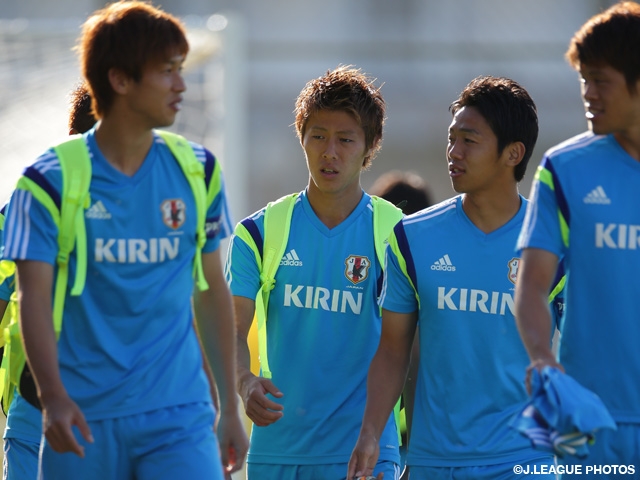 Comments
FW OKAZAKI Shinji(1.FSV Mainz 05/Germany)
We've done what we were supposed to do, and were able to make our final tune-ups as a team. As the days have proceeded, we've been in the mood that we wanted to do something on our own, so anybody could be a hero. We are showing those emotions, and are getting united as a team. I think that we can get in the tournament, being united even more. The team consists of a variety of players and their performances, and we would like to show ourselves as a team. I think that it will all come down to who wants to win more to determine the winners. I want to help the team in that aspect as well.
DF UCHIDA Atsuto(FC Schalke 04/Germany)
Once the tournaments kicks off, I think that we will have more jitters, but we are not going to be overwhelmed by that and want to enjoy playing the games, which I think is the starting point. We will only put out what we've done, but I would personally like to equally play with opposing players on my side. Both in Bundesliga and the UEFA Champions League, there have been great players on the left side, so if I can play how I've usually played, there should not be problems. I returned to Japan having not been satisfied with how I played four years ago, and I have regrets on it. Rather than whether I can be on the field or play better on the pitch, I just want to focus on showing what I've done in Brazil.
FW OKUBO Yoshito(Kawasaki Frontale)
This team has kept doing the same things with the guidance of our head coach in the last four years, so it's totally different from the previous tournament (World Cup). This team is so offensive and has more chances to score than four years ago, which I'm looking forward to. I imagine what will happen once in a while, but it may not happen, and that's something you will never know. I just want to have the best preparation we can.
DF YOSHIDA Maya(Southampton FC/England)
The four players in Cote d'Ivoire's front four are very strong and they are all top-class players. We are not going to do anything differently, but want to keep our concentration with cautions all the time. We all know that we've given up too many goals (lately). As well as in set-plays, we often get beaten even when we have enough people, so what we need to do are, we need to focus in set-plays, and we want to get the opponents away from the goal as much as possible, not stepping back too much. Our defence in the front will be very important as well. I think for many of our players, not just myself, that the match the day after tomorrow will be the most significant match in their careers.
JFA-TV
FW OKAZAKI Shinji

DF UCHIDA Atsuto

FW OKUBO Yoshito
DF YOSHIDA Maya

FW OSAKO Yuya

FW KAKITANI Yoichiro
Schedule
Wed, 21 May ~ Sun, 25 May
-
Training Camp
Sun, 25 May
18:30
"Dream for Our power 2014" send off party
(Tokyo/Yoyogi National Stadium Yoyogi Gymnasiums 1)
Tue, 27 May
1-0
Kirin Challeng Cup2014
vs Cyprus National Team
(SAITAMA Stadium2〇〇2)
Thu, 29 May ~ Fri, 6 June
-
Training Camp
(Unaited States)
Mon, 2 June
International Friendly Match
3-1
vs Costa Rica NationalTeam
(United States/Tampa)
Fri, 6 June
4-3
vs Zambia NationalTeam
(United States/Tampa)
LIVE
Hong Kong : 6/7 07:30~
i-CABLE Sports
Super Soccer Channel 61
Thailand : 6/7 06:30~
True Sport 1
True Sport HD 2
Sat, 14 June
2014 FIFA World Cup Brasil
22:00(JST)
Sun, 15 June 10:00
2014 FIFA World Cup Brazil
vs CÔTE D'IVOIRE National Team
(Arena Pernambuco)
[LIVE]
NHK G Sun,15 June9:00~(12:00)
[VIDEO]
NHK BS-1 Sun, 15 June 19:00~20:54
NHK BS-1 Fri, 20 June 4:00~5:55
NHK BS-1 Sat, 28 June 17:00~18:55
Thu, 19 June
19:00(JST)
  Fri,20 June   7:00
2014 FIFA World Cup Brazil
vs Greece National Team
(Estadio das Dunas)
[LIVE]
NHK BS-1 Fri,20 June 6:00~9:10
NTV Fri,20 June 5:50~9:15
[VIDEO]
NHK BS-1 Fri, 20 June 20:00~21:55
NHK BS-1 Sat, 28 June 19:00~20:55
Tue, 24 June
16:00(JST)
Wed,25 June  5:00
2014 FIFA World Cup Brazil
vs Colombia National Team
(Arena Pantanal)
[LIVE]
Asahi National Broadcasting Wed,25 June 4:40~7:20
[VIDEO]
NHK G  Wed,25 June 9:05~11:00
NHK BS-1 Wed,25 June 20:00~21:55
NHK BS-1 Sat, 28 June 21:00~22:55
※Broadcast time is Japan time.