NEWS
U-22 Japan National Team start final prep-work ahead of the AFC U23 Asian Cup Uzbekistan 2022™ Qualifiers
23 October 2021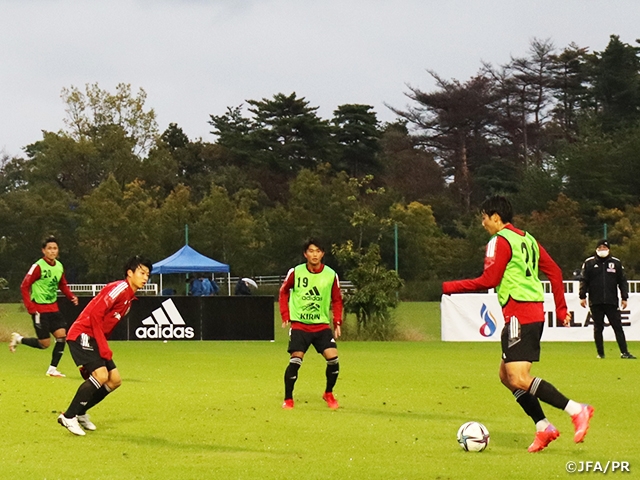 The U-22 Japan National Team is about to enter the AFC U23 Asian Cup Uzbekistan 2022™ qualifiers. The team mainly consists of players of the U-20 category who are born in 2001. With the AFC U-19 Championship and FIFA U-20 World Cup™ being cancelled due to the Covid-19 pandemic, the team has not been able to travel abroad since participating in the AFC U-19 Championship qualifiers in Vietnam in 2019. This is the first international tournament in two years for the team, who has newly started working towards the Paris 2024 Olympic Games, and even under these circumstances, the team will strive to advance through the qualification round as the host nation.
With the cooperation of each club, 23 players were assembled for this tournament, and led by coach TOGASHI Koichi, the team has trained at a rapid pace in September and October. The team will be a fusion of six generations, ranging from J.League and university players born in 1999 to high school players born in 2004. Due to the J.League matches scheduled on the weekend, players reported separately, as nine players reported on Friday 22. Despite the heavy downpour, players showed great enthusiasm in their training to start off the first day. The rest of the players will gather accordingly, and the team will play the U-22 Cambodia National Team on Tuesday 26 and U-22 Hong Kong National Team on Thursday 28.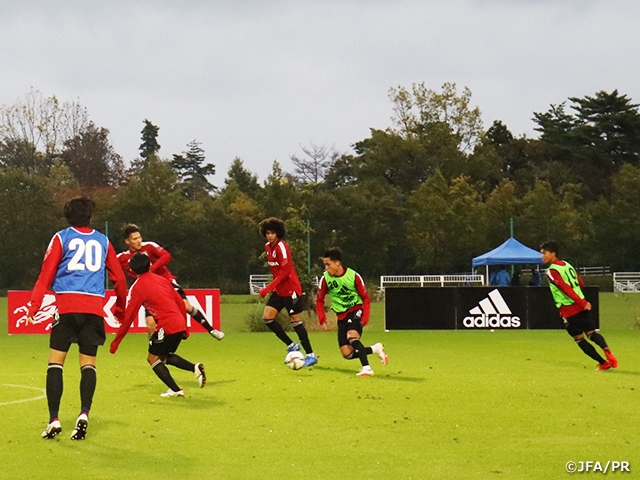 As this qualifying round will be held without spectators, junior high school students of Naraha town and Hirono town (Naraha Junior High School and Hirono Junior High School), which are adjacent to J-Village, created banners with messages written on them for each of the participating teams. Fukushima native Matsui Renji (Hosei University), and YAMAHARA Reon (University of Tsukuba), former player of JFA Academy in Fukushima, were seen taking their time after practice to read through the comments.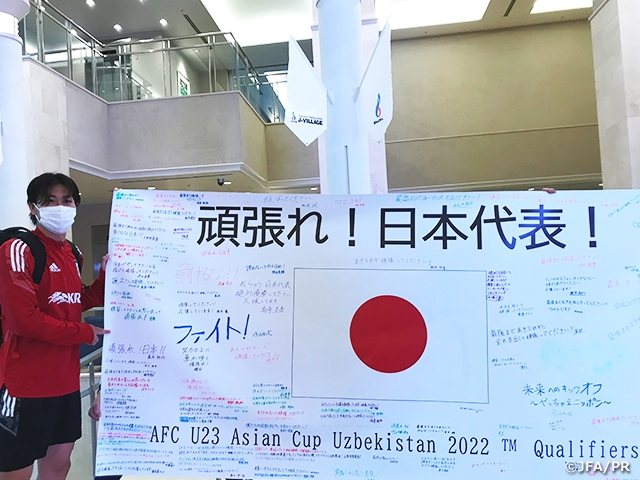 Players' Comments
DF #2 YAMAHARA Reon (University of Tsukuba)
I attended JFA Academy Fukushima during junior high and high school, and although our activities were held in Shizuoka due to the earthquake, I still have special feelings for Fukushima, especially towards Tomioka, Hirono and Naraha towns. Through this tournament, we hope to bring courage and inspiration to the people of Fukushima, and to the people who support us. I think we need to change the point of our attacks by mixing crosses and deep penetrations. I am determined to get myself involved in our team's goals, so I will do my best to create opportunities.
MF #6 MATSUI Renji (Hosei University)
First of all, I would like to express my sincere gratitude to all the people who have worked tirelessly to make this AFC U23 Asian Cup Uzbekistan 2022™ Qualifiers possible. Since Fukushima is my hometown, I really wished that people could come watch our matches, but unfortunately, the matches will be held without spectators. However, I will play with the responsibility and determination as a member of the Japan National Team and do my best to deliver courage and hope to all the people who are supporting us.
MF #11 SATO Kein (Meiji University)
What I have accumulated at Meiji University has led me to this point, and it makes me believe that everything I have done was not a mistake. This is my first international tournament. I would like to represent my country with pride and responsibility and stay eager to make challenges at all times. Speed is part of my strong points, so I hope to make plays that lead directly to goals and showcase my abilities. I will utilise my speed and power to break down the opposing defence, while also making tenacious and persistent efforts to help our defence.
MF #17 MATSUKI Kuryu (Aomori Yamada High School)
I am grateful to be here, but I also believe that just being here is meaningless, so I will give my best effort to earn results. I will focus on communicating with other players and make a case myself through these two matches. We won't know until we actually step on the pitch, but if we can keep our composure I feel like we can outperform our opponents by taking shots from distance and creating opportunities through our passing game.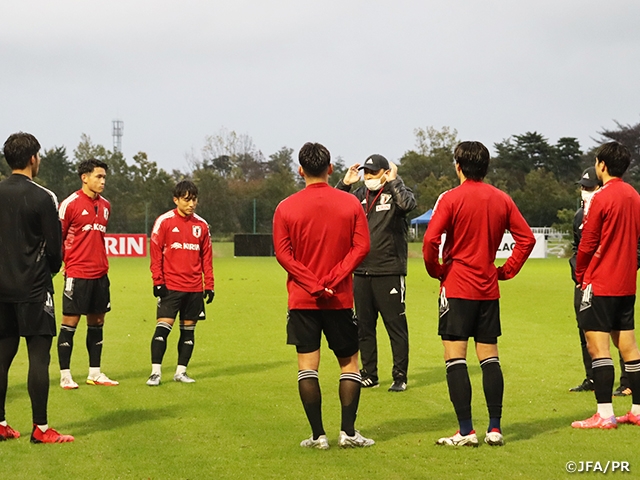 FW #10 LIM Pisoth (U-22 Cambodia National Team)
Thank you for the warm welcome message. We were very happy to see the messages from the junior high school students. We are also thankful for the warm hospitality. We will give our best efforts to win the two matches played in Japan.
GK #1 TSE Ka-wing (U-22 Hong Kong National Team)
The banners prepared by the students in Fukushima were filled with warm words that support and inspire us. The weather in Fukushima may be cold, but the support from the students gave our team great warmth and power. With the support of the people of Fukushima, we will do our best to achieve our goal.
AFC U23 Asian Cup Uzbekistan 2022™ Qualifiers
Dates: Sat. 23 - Sun. 31 October 2021
Venue: J-Village Stadium (Fukushima)