NEWS
【Match Report】U-22 Japan National Team earn 4-0 victory over Cambodia in their first match of the AFC U23 Asian Cup Uzbekistan 2022™ Qualifiers
27 October 2021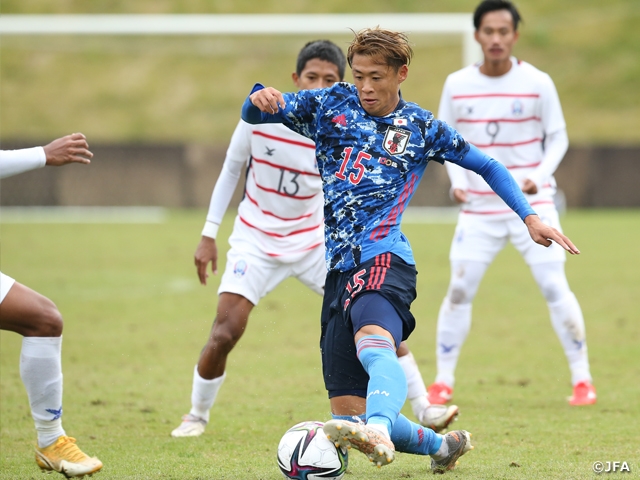 On Tuesday 26 October, the U-22 Japan National Team played their first match of the AFC U23 Asian Cup Uzbekistan 2022™ Qualifiers, where they faced the U-22 Cambodia National Team at J-Village Stadium.
For Japan, this was their first match of the qualifiers, but Cambodia had already played their first match against Hong Kong on 23 Saturday, in which they won 4-2, putting themselves in position where they can advance through with a win over Japan.
Many of the Japanese players were late to join the team due to J.League matches played in the weekend, forcing coach TOGASHI Koichi to "select 11 players who are in good condition for the first match," as the starting line-up mainly featured players who were able to join the team early, and as a result, there were many university and high school students in the line-up.
With SASAKI Masato (Kashiwa Reysol) named as the starting goalkeeper, YAMAHARA Reon (University of Tsukuba), CHASE Anrie (Shoshi High School), TSUNODA Ryotaro (Yokohama F.Marinos), and KATO Hijiri (V-Varen Nagasaki) formed the four-man defence line. MATSUI Renji (Hosei University), TANAKA Satoshi (Shonan Bellmare), and MATSUKI Kuryu (Aomori Yamada High School) were named as the centre midfielders, with KODA Hidemasa (Nagoya Grampus U-18) and SATO Kein (Meiji University) placed in the flanks, while HOSOYA Mao (Kashiwa Reysol) was named as the lone striker.
Although the match was held without spectators due to the Covid-19 pandemic, the match was surrounded with a unique and tense atmosphere, as coach Togashi mentioned, "We looked a lot stiffer than we thorough we would be."
Despite the slow start, one of the scenes that the coach praised his players for "showing what they had prepared for," was a play from a corner kick in the ninth minute, in which Matsuki responded to Kato's delivery at the far side to score the opening goal, as the midfielder later reflected, "we knew from our scouting report that the space would open up." After Koda made it 2-0 just before halftime, Hosoya and NAKAMURA Jiro (Gamba Osaka Youth) each scored a goal in the second half to give Japan a 4-0 victory in their first match of Group K.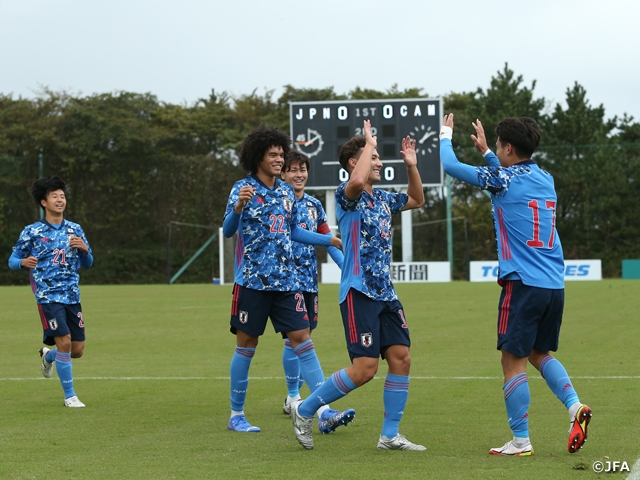 Led by Japanese coach HIROSE Ryu, Cambodia performed well against Japan with their "ball-possessing style," which they have been working on for a long time. Japan Football Association has continuously sent coaches to Cambodia, including Mr. OHARA Kazunori, who has been serving as the technical director since 2015, and Mr. GYOTOKU Koji, who is a national team coach for the younger generation. This match showcased the improvements of Cambodian football, as coach Hirose later mentioned, "We are rapidly improving the level of skills and tactics."
After winning their first match, Japan will play against the U-22 Hong Kong National Team two days later, on Thursday 28, also at J-Village Stadium. With the team competing in a tight schedule, coach Togashi suggested that he will be rotating the squad to keep the players fresh, as he mentioned, "Our overall performance should not change regardless of who is on the pitch."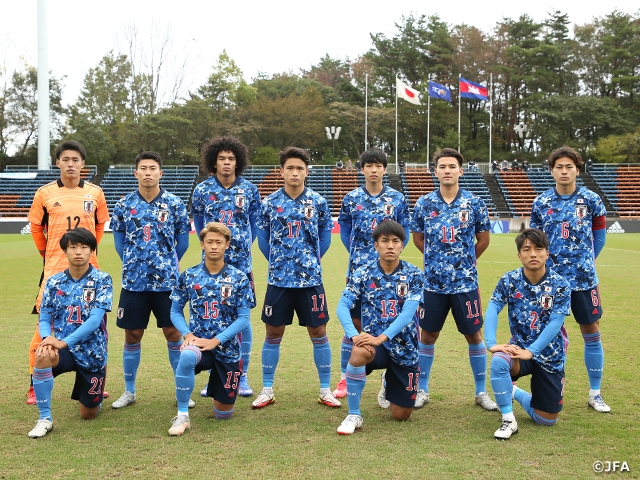 Coach and Players' Comments
TOGASHI Koichi, Coach
With this being our first international match in two years, the players looked a bit nervous when we first stepped on the pitch. However, we managed to win the match by scoring multiple goals while keeping a clean sheet, which is the most ideal way to start off the qualifiers. In an international match like this, it is important to take advantage of the restarts, so it was great to see our side score the opener from a corner kick.
DF #22 CHASE Anrie (Shoshi High School)
My nervousness disappeared halfway through the match. Although I was able to respond well against the first two counterattacks, I was late in responding the third and fourth counters. I also think we were a bit too cautious in our build-ups. The high school players were scoring goals, so I wanted to score too, but I was really disappointed that I couldn't.
MF #17 MATSUKI Kuryu (Aomori Yamada High School)
With this being our first international match in a while, it was difficult to make adjustments. It was also the first time we played with this particular squad, so we tried to stay on the same page and work together to win the match. At a personal level, I focused on receiving the ball while facing forward, anticipated to deliver vertical passes, and tried to get the third player involved in our attacks.
MF #21 KODA Hidemasa (Nagoya Grampus U-18)
In the scene where I scored the goal, I was in a one-on-one situation, so I was determined to convert the opportunity. The fact that I was fully committed to take a shot helped me score that goal. I am also glad that I was able to showcase my dribbling skills today. Although I was a bit nervous at the beginning of the match, I got used to the pressure midway into the first half and was able to showcase my usual performance from there on.
FW #9 HOSOYA Mao (Kashiwa Reysol)
I was able control the ball with my first touch and attack the goal when I scored the goal. It was a play that I had confidence in, so I am glad I was able to capitalise on it. There were plenty of opportunities throughout the match, so I feel like I could have scored a hat-trick. In order to survive at this level, I need to be able to convert those chances, so I will try to do a better job in our next match against Hong Kong.

AFC U23 Asian Cup Uzbekistan 2022™ Qualifiers
Dates: Sat. 23 - Sun. 31 October 2021
Venue: J-Village Stadium (Fukushima)