NEWS
U-19 Japan National squad's first friendly against U-19 Argentina
06 December 2016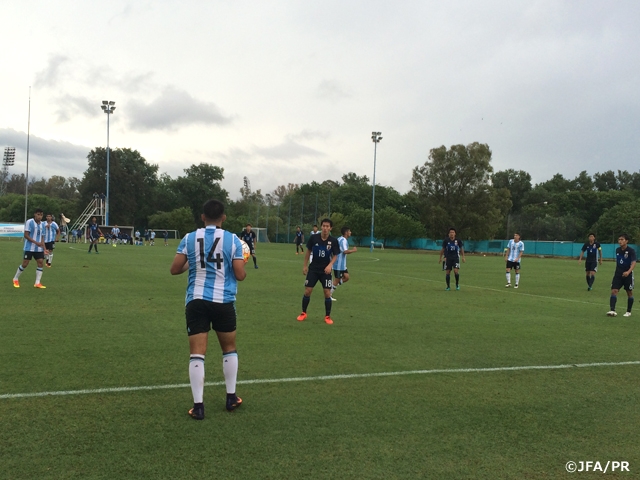 International Friendly First Match vs U-19 Argentina National Team
2016-12-5(Mon.) - 16:00 (Japan Time) Playing Time 90min.(45min.×2)
Argentine Football Association Pitch(Argentina/Buenos Aires)
U-19 Argentina National Team 2-1(1-0, 1-1)U-19 Japan National Team
Scores
13' goal against(U-19 Argentina National Team)
49' goal against(PK) (U-19 Argentina National Team)
65'  HARA Teruki(U-19 Japan National Team)
Starting Line-ups
GK:YAMAGUCHI Louis
DF:YANAGI Takahiro, HASHIOKA Daiki, MACHIDA Koki, URATA Itsuki
MF:NAGANUMA Yoichi, ICHIMARU Mizuki, HARA Teruki, KUROKAWA Atsushi
FW:WADA Masashi, NAKAMURA Shunta
Substitutions
GK:KOJIMA Ryosuke, WAKAHARA Tomoya
DF:FUJITANI So, ITAKURA Kou, NAKAYAMA Yuta, FUNAKI Kakeru
MF:ENDO Keita, TOMIYASU Takehiro, SAKAI Daisuke, MIYOSHI Koji
FW:OGAWA Koki, KUBO Takefusa

HT YAMAGUCHI Louis → WAKAHARA Tomoya
60' KUROKAWA Atsushi → ENDO Keita
60' WADA Masashi → KUBO Takefusa
75' HASHIOKA Daiki→ TOMIYASU Takehiro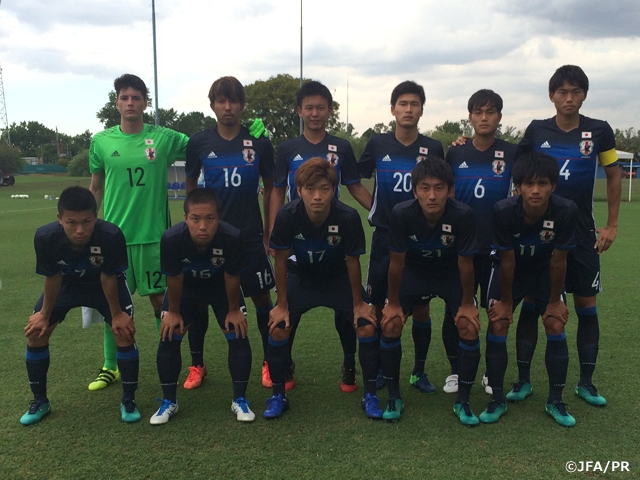 Match Report
The fifth day of the tour saw the first friendly against U-19 Argentina. The game kicked off in light rain. Facing the strong pressure from Argentina, the Japanese squad struggled to pass the ball around. Then, in the 13th minute, Japan let the opponents break through their defence due to a careless mistake and failed to clear the ball forward after stealing it back in their penalty area. The opponents' forward reacted to the loose ball and his shot unfortunately hit a Japanese player's foot and went into the goal. Japan conceded an opener from bad luck. Thereafter, the Japanese side was not able to take the initiative in the strong wind and rain, and after 30 minutes of the first half they were not able to create any goal-scoring opportunities until halftime.
The rain eased during halftime. Although Japan were eager to score the equaliser in the second half, the team let the opponents intercept due to poor passing between Japanese defenders in the 49th minute and they then committed a foul off a cross in front of goal, giving away a penalty. Argentina converted the spot kick, stretching their lead to two goals. After 60 minutes, KUBO and ENDO came off the bench and replaced WADA and KUROKAWA in order to push the team forward and create goal-scoring opportunities. In the 65th minute, KUBO intercepted the ball on the left side and dribbled into the opponents' penalty area. Although Argentina once defended, HARA, who swiftly reacted to a loose ball, struck a strong long-distance goal with his right foot to close the gap. Japan continued to put pressure up front and attempted to steal the ball, looking for another goal. However, they could not find the target until the final whistle. Japan did find their rhythm after 15 minutes in the second half, but could not level the game. The team lost the first friendly 1-2.
The second friendly against Argentina will be held on Wednesday 7 December.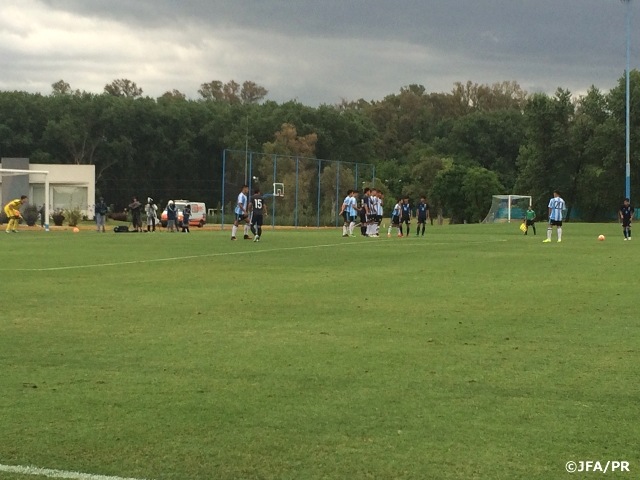 Players' Comments
DF #6 URATA Itsuki (FC Ryukyu)
In today's game, it was great to experience 'the international level': a pass, which would usually go through, was intercepted, and I struggled to keep possession. I'd like to stay positive, because we found through today's match what we need to improve as a team and as individuals.
DF #20 HASHIOKA Daiki (Urawa Red Diamonds Youth)
By playing against Argentina, I realised that I have to become more competitive on the ball. It was a great experience to play against Argentina, one of the strongest teams in the world. I strongly feel I need to raise my level to meet the international standard. I'm truly frustrated to find my performance today would not work at this level. Since I have only a few opportunities, I'd like to make the most of it, learning from today's defeat for the future.
FW #15 NAKAMURA Shunta (Kashiwa Reysol U-18)
Although I knew the opponents' superiority in competitiveness on the ball, I was overwhelmed in the first half both in attack and defence by their strength, which were much stronger than I expected. In the second half, we managed to adjust ourselves and found our rhythm a little. Having said that, their individual skills were excellent and I found that I needed to improve myself more. Personally, as I struggled to take shots, I need to work on that. I'm determined to win the second friendly by playing as a united team.
MF #7 KUROKAWA Atsushi (Omiya Ardija)
I experienced top international quality in today's friendly against Argentina. Although our team were under pressure most of the time in the first half, scoring one goal in the second half brought us something for the future. Personally, I found many aspects that require improvements to stay competitive at a international level, but I believe my plays worked against the opponents to a certain extent. As we have one more game to play, I'd like to prepare well to get a win.
MF #11 NAGANUMA Yoichi (Sanfrecce Hiroshima)
I was really pleased to play a friendly against Argentina, who ranks higher in the FIFA World Ranking than us. At the same time, it meant a lot to us to see how well the Japanese squad (including myself) could perform against a formidable team. Unfortunately, we failed to take the initiative due to our careless mistakes and we could not display our playing style because we needed to focus on defence. Although I tried to think how I could contribute, nothing worked out within the 90 minutes. I'd like to prepare well, so that we can test ourselves and learn something as a team and as individuals.
Schedule
Fri. 2 December
16:00
Training (Club Atletico Banfield)
Sat. 3 December
2-0
Training Match
vs Club Atletico Lanus (Club Atletico Lanus)
Sun. 4 December
10:00
Training (Sofitel)
Mon. 5 December
1-2
International Friendly Match 1st
vs U-19 Argentina National Team (Ezeiza, Buenos Aires)

Tue. 6 December
10:00
Training (Argentine Football Association)
Wed. 7 December
10:00
International Friendly Match 2nd
vs U-19 Argentina National Team (Argentine Football Association)

Thu. 8 December
10:00
Training (Boca Juniors)
* After training, Boca Juniors Museum visit
*Local Time
*The schedule is subject to change due to the team condition, the weather, etc.