NEWS
U-19 Japan National squad's second friendly against U-19 Argentina
08 December 2016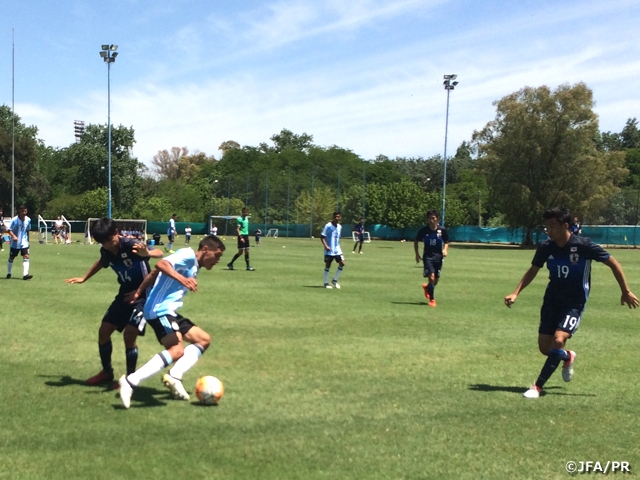 International Friendly Second Match vs U-19 Argentina National Team
2016-12-7(Wed.) - 10:00 (Local Time) Playing Time 90min.(45min.×2)
Argentine Football Association Pitch(Argentina/Buenos Aires)
U-19 Japan National Team 1-2(0-1, 2-0)U-19 Argentina National Team
Scores
40' OGAWA Koki(U-19 Japan Natonal Team)
47' goal against(CK)(U-19 Argentina Natonal Team)
85' goal against(U-19 Argentina Natonal Team)
Starting Line-ups
GK:KOJIMA Ryosuke
DF:FUJITANI So, ITAKURA Kou, NAKAYAMA Yuta, FUNAKI Kakeru
MF:ENDO Keita, TOMIYASU Takehiro, SAKAI Daisuke, MIYOSHI Koji
FW:OGAWA Koki, NAKAMURA Shunta
Substitutions
GK:YAMAGUCHI Louis, WAKAHARA Tomoya
DF:YANAGI Takahiro, HASHIOKA Daiki, MACHIDA Koki, URATA Itsuki
MF:NAGANUMA Yoichi, ICHIMARU Mizuki, HARA Teruki, KUROKAWA Atsushi
FW:WADA Masashi, KUBO Takefusa

HT NAKAMURA Shunta → KUBO Takefusa
73' MIYOSHI Koji → HARA Teruki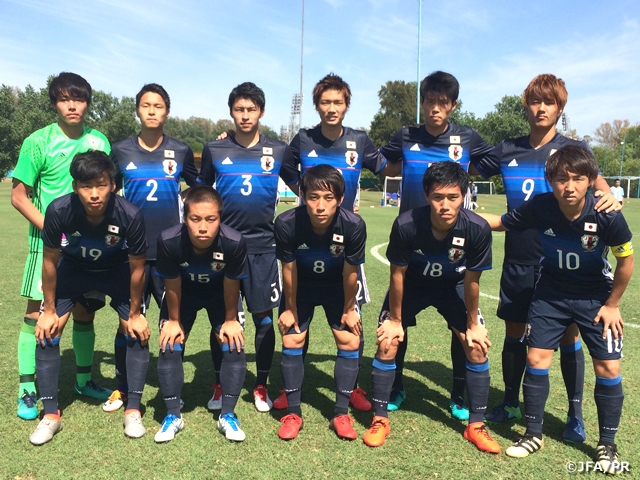 Match Report
The second friendly against U-19 Argentina kicked off under clear skies at 10:00. Japan, who had lost their first game 1-2, replaced 10 players to face the second match. They passed the ball around, observing the opponents' movements, under fierce pressure from Argentina at the beginning of the match. However, they often let the opponents to intercept the ball in the centre of the pitch, allowing them to create several goal-scoring opportunities. After staying patient against Argentine attacks, in the 40th minute, OGAWA stole the ball near the centre circle, dribbled up the field and fired a shot with his right foot 30 metres away from the goal. The shot went into the right-hand corner. Japan succeeded in striking the opener before halftime.
After 47 minutes, at the beginning of the second half, Japan gave a corner kick away from a careless mistake. The opponent, who ran to receive the ball at the near side, managed to score from a difficult angle. Although Japan let Argentina score the equaliser, they were eager to strike goals with both MIYOSHI and ENDO at each side and KUBO, who came off the bench. In the 85th minute, the Japanese defenders made another error in passing, letting the opponents counter attack to turn the match around. Although ITAKURA moved his position forward in order to level the game with long-distance balls, Japan could not find the target and lost the match 1-2.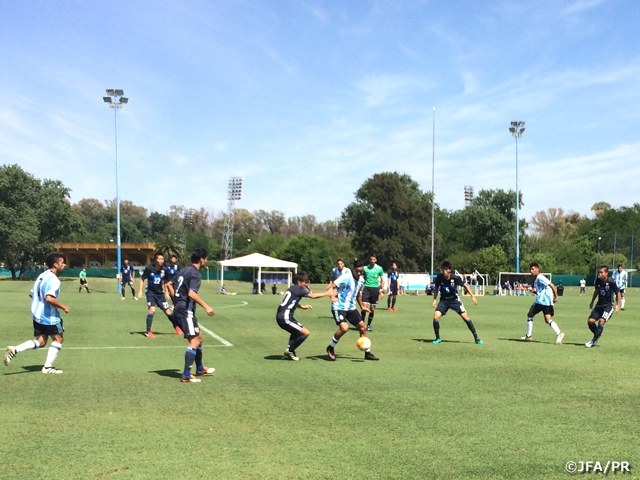 Players' Comments
MF #10 SAKAI Daisuke (Oita Trinita)
Argentina were quicker to move first to the ball in both attack and defence with solid basic skills. They also had physical toughness and strength on the ball, which we can seldom experience in Japan or Asia. We have to learn from this experience, so that we can improve ourselves in the remaining six months before the FIFA U-20 World Cup.
MF #8 MIYOSHI Koji (Kawasaki Frontale)
I faced the match to get a good result and finish the trip on a high note. As it was the second friendly against Argentina, we played aggressively to win the ball and went close to the goal, knowing our problems and achievements from the previous game. However, we struggled to perform efficiently against a team who had the momentum and initiated fierce attacks. Personally, I couldn't keep the ball after intercepting. I also found my problem was in judging where to pass. As a team, since we did create chances when we were playing at a good distance, we'd like to do so more often. I'm sure we can go close to the goal by sharing the same vision in the team, on top of using our individual skills. I need to improve my judgment and playing technique to be more competitive at the international level. Hopefully, we can display what we learned from this experience in the World Cup.
GK #1 KOJIMA Ryosuke (Waseda University)
The opponents kept possession and pressed us throughout the game. Despite a difficult time in defence in the first half, we performed patiently to score a goal from our goal-scoring opportunity, which was really good. In the second half, the opponents kept their rhythm and we tended to give the ball away right after intercepting. We couldn't find our rhythm in attack. We conceded our second goal when we were struggling and failed to refresh our mind. I don't think a team can find its rhythm without good performances from individuals or the team as a whole. So I'd like to practice hard back in my club, so I can impact matches with my individual skills.
FW #9 OGAWA Koki (Jubilo Iwata)
We found many areas to work on in the game. Personally, I didn't initiate enough movements up front, which occasionally halted our attacks. So I'd like to do something about it. As we struggled as a team because of our own mistakes, it's vital for us to improve the accuracy of our plays when we have possession of the ball. We only have a limited time before the FIFA U-20 World Cup, and I'd like to make the most of each activity with the national team.
DF #2 FUJITANI So (Vissel Kobe)
In today's game, we made many frivolous errors as a team and as individuals. We struggled to keep possession due to careless mistakes. Also, I couldn't stay competitive on the ball to intercept it, which is an area I need to work on. I learned that we wouldn't get a win if we keep making simple mistakes. I think we have gained a meaningful experience through this tour.
Schedule
Fri. 2 December
16:00
Training (Club Atletico Banfield)
Sat. 3 December
2-0
Training Match
vs Club Atletico Lanus (Club Atletico Lanus)
Sun. 4 December
10:00
Training (Sofitel)
Mon. 5 December
1-2
International Friendly Match 1st
vs U-19 Argentina National Team (Ezeiza, Buenos Aires)

Tue. 6 December
10:00
Training (Argentine Football Association)
Wed. 7 December
1-2
International Friendly Match 2nd
vs U-19 Argentina National Team (Argentine Football Association)

Thu. 8 December
10:00
Training (Boca Juniors)
* After training, Boca Juniors Museum visit
*Local Time
*The schedule is subject to change due to the team condition, the weather, etc.