NEWS
U-19 Japan squad tune up for match against Argentina
05 December 2016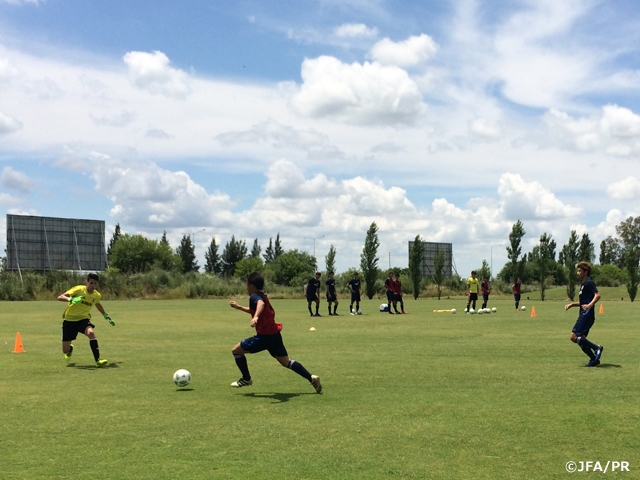 On December 4, the U-19 Japan national team, who defeated Club Atletico Lanus 2-0 in a training match yesterday, held a practice session in the morning. After a brief warm-up, they had 3-on-2 passing drills and worked on 6-on-6 exercises plus a goalkeeper in a half-sized pitch. In offence they focused on creating scoring opportunities in front of the goal, while in defence their training centred on the timing of pressuring the opponents in the defensive line. Thereafter, they checked on their positioning at set plays. Lastly, they were divided into groups according to their positions and trained separately.

After practice, they went out to have a lunch at a restaurant in Buenos Aires. The players filled their stomach with the famous Argentine meat. They were also heartened by the delicious meal.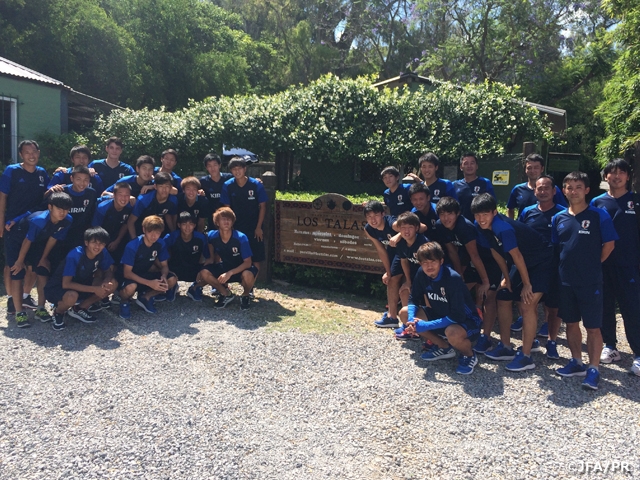 The team will play their first friendly match against U-19 Argentina on Monday 5.
Players' Comments
MF #18 ENDO Keita (Yokohama F・Marinos)
I would like to correct the issues I had from yesterday's game before the training match against Argentina. I think we have done a good preparation as a team, so we want to win by all means. Individually, I want to play better so I can score another goal in the next game.
DF #16 YANAGI Takahiro (F.C. Tokyo)
I think we have prepared ourselves very well as a team for the international friendly against Argentina. We would like to cherish this opportunity to play against one of the best teams in the world. I want to see how much I can play against them and absorb many things through the game.
MF #5 TOMIYASU Takehiro (Avispa Fukuoka)
This is our first national team activity since the Asian qualifiers in October. We were able to qualify for the U-20 World Cup, but that competition is already over. Since we do not have much time left until the World Cup, we need to spend the remaining time wisely and start working on the details. I believe Argentina are different from any other opponents we've met. I expect their level of football will be much higher and I cannot guess how I would feel by actual playing against them. Sensing the top-quality football, we would not only look to win the match but perform well also. I look forward to competing against them as a team and as individual.
DF #3 NAKAYAMA Yuta (Kashiwa Reysol)
While reflecting on yesterday's game, we prepared for tomorrow's game. This is the last activity for the national squad this year, and we would like to make this a productive one by improving the team. We don't have many occasions to play against South American teams, so I will give my best every single day, so at the end of the camp I will be able to say 'it was an excellent experience'.
DF #19 FUNAKI Kakeru (Cerezo Osaka U-18)
In defence, we focused on defending collectively in front of the goal. In offence, we were looking at taking the right positioning during build-ups. Defensively, I think that I can get closer to the opponents more. We will play against Argentina tomorrow, reflecting on what we did today. We will not only try to win the match, but consider the performance also.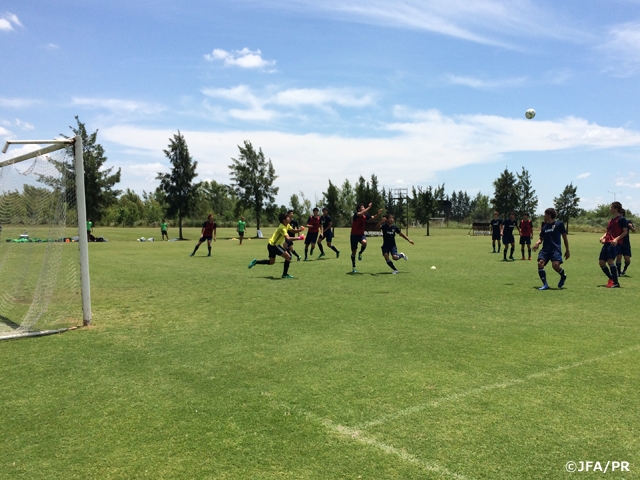 Schedule
Fri. 2 December
16:00
Training (Club Atletico Banfield)
Sat. 3 December
2-0
Training Match
vs Club Atletico Lanus (Club Atletico Lanus)
Sun. 4 December
10:00
Training (Sofitel)
Mon. 5 December
16:00
International Friendly Match 1st
vs U-19 Argentina National Team (Ezeiza, Buenos Aires)

Tue. 6 December
10:00
Training (Argentine Football Association)
Wed. 7 December
10:00
International Friendly Match 2nd
vs U-19 Argentina National Team (Argentine Football Association)

Thu. 8 December
10:00
Training (Boca Juniors)
* After training, Boca Juniors Museum visit
*Local Time
*The schedule is subject to change due to the team condition, the weather, etc.