NEWS
U-19 Japan National Team clinch maiden AFC championship title on penalties
31 October 2016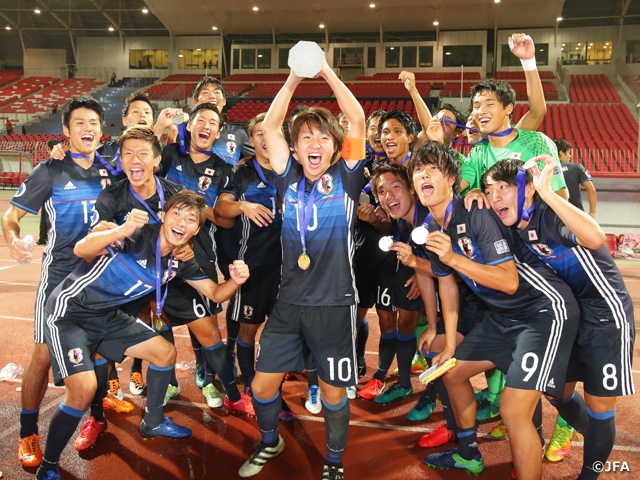 AFC U-19 Championship Bahrain 2016 Final vs U-19 Saudi Arabia National Team
2016-10-30 (Sun.)- 17:30 Playing Time: 120 min. (45min.×2, 15min.×2)
Bahrain National Stadium (Manama/Bahrain)
U-19 Japan National Team 0-0(0-0, 0-0, extra time 0-0, 0-0, PK 5-3)U-19 Saudi Arabia National Team
Starting Line-ups
GK:KOJIMA Ryosuke
DF:FUJITANI So, TOMIYASU Takehiro, NAKAYAMA Yuta, FUNAKI Kakeru
MF:DOAN Ritsu, ICHIMARU Mizuki, SAKAI Daisuke, MIYOSHI Koji
FW:OGAWA Koki, IWASAKI Yuto
Substitutions
GK:HIROSUE Riku, WAKAHARA Tomoya
DF:HATSUSE Ryo, ITAKURA Kou, MACHIDA Koki, IWATA Tomoki
MF:ENDO Keita, NAGANUMA Yoichi, HARA Teruki
FW:NAKAMURA Shunta, KISHIMOTO Takeru

60' MIYOSHI Koji → ENDO Keita
75' ICHIMARU Mizuki→ HARA Teruki
94' FUJITANI So → HATSUSE Ryo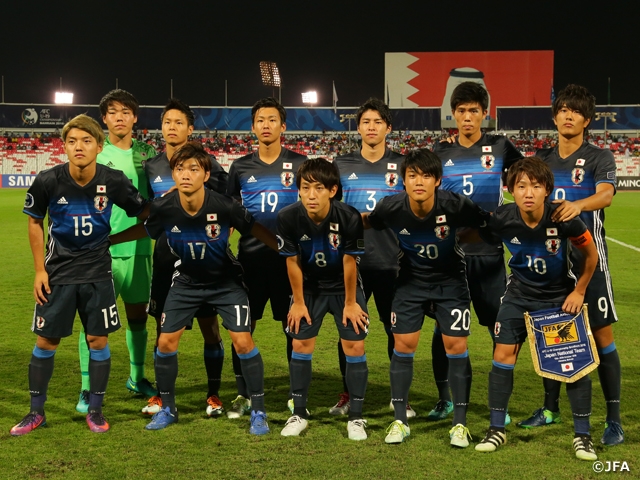 Match Report
As the U-19 Japan National Team were looking for their first-ever AFC championship title, their final opponents in this year's competition held in Bahrain were Saudi Arabia, who edged Iran with a 6-5 penalty win in the close semi-final contest. As Saudi Arabia is adjacent to the host country, a lot of supporters gathered at the stadium for the match. The attendance of the 3,500 spectators is much larger than the ones in the past matches, where Japan played in this tournament.
Japan reshuffled the starting eleven players in their semi-final match against Vietnam, but this time they shifted back to the same line-up of the quarterfinal against Tajikistan.
Saudi Arabia created a chance early on, but Japan got out of trouble thanks to the fine save by goalkeeper KOJIMA Ryosuke (Waseda University). Then, both sides failed to capitalise on their goal-scoring opportunities in the first half which ended scoreless.
Also in the second half, neither Japan nor Saudi Arabia finished their attacks with a shot partly because of a mounting pressure competing in the final. Midfielders ENDO Keita (Yokohama F. Marinos) and HARA Teruki (Ichiritsu Funabashi High School) were subbed in for midfielders MIYOSHI Koji (Kawasaki Frontale) and ICHIMARU Mizuki (Gamba Osaka) respectively, but Japan were still unable to change the course of the game.
The match got into extra-time after 90 minutes of a scoreless contest. However, both sides still remained levelled even after a pair of 15-minute additional halves. The closely-contested final now had to be decided by penalty shootout.
While Japan netted their first four kicks, Saudi Arabia's fourth kicker failed his attempt. Japan's fifth player, forward OGAWA Koki (Jubilo Iwata), found the back of the net, striking the game winner of the fierce 120-minute match. Japan clinched their maiden U-19 Asian championship in their history.
The Japan team received the Fair Play Award and midfielder DOAN Ritsu (Gamba Osaka) grabbed the Most Valuable Player of the tournament.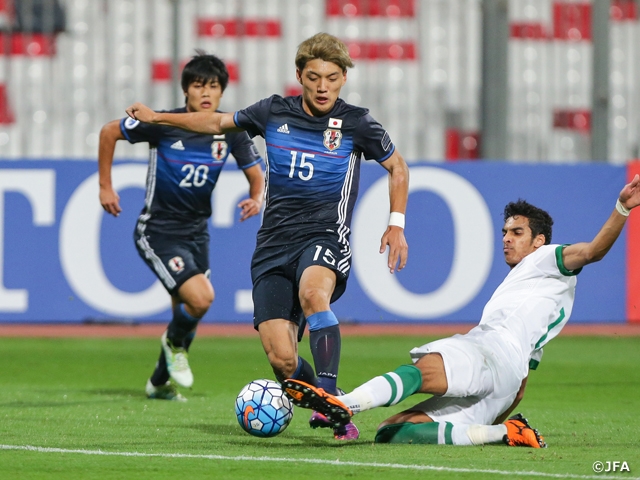 Coach's and Players' Comments
UCHIYAMA Atsushi, Coach
Before the match I knew it would be a tough match, and it was actually tougher than I expected. The match could have gone either way, but we had a little more luck at the end in the penalty shootout. Throughout the six tough matches, I am impressed with the performance of my players.
MF #10 SAKAI Daisuke (Oita Trinita)
I'm very happy to finish this tournament in the best way possible - winning the championship. Everyone on the team got together to battle it out. As a result, we became the Asian champions. But, we only have half a year prior to the U-20 World Cup. It's a short period of time. We will work hard and try to improve the team further.
MF #15 DOAN Ritsu (Gamba Osaka)
Honestly, I'm surprised I was selected as the most valuable player of the championship. I am over the moon to get such a prestigious award as well as winning the tournament. Scoring and assisting goals were difficult throughout the championship. However, I always tried to help out my team through hard-working in defence. I wouldn't be able to attain this award by myself, so I want to thank all my teammates.
DF #3 NAKAYAMA Yuta (Kashiwa Reysol)
I'm so happy to achieve our first championship title with a complete clean sheet. Saudi Arabia were tough, but we all worked together and battled it out. We will try to improve our team to get good results in the world stage next year as the Asian champions.
Schedule
AFC U-19 Championship Bahrain 2016
Thu. 13 October
PM
Training
Fri. 14 October
3-0
vs Yemen (Bahrain National Stadium)
Sat. 15 October
AM
Training
Sun. 16 October
PM
Training
Mon. 17 October
0-0
vs Iran (Bahrain National Stadium)
Tue. 18 October
AM
Training
Wed. 19 October
PM
Training
Thu. 20 October
3-0
vs Qatar (Bahrain National Stadium)
Fri. 21 October
TBC
Training
Sat. 22 October
16:00-17:30
Training(Al Ahli Club)
Sun. 23 October
16:00-17:30
Training(Al-Najma Club)
Mon. 24 October
4-0
Quarterfinal vs Republic of Tajikistan
Tue. 25 October
TBC
Training
Wed. 26 October
TBC
Training
Thu. 27 October
3-0
Semifinal vs Vietnam
Fri. 28 October
TBC
Training
Sat. 29 October
TBC
Training
Sun. 30 October
0-0
PK: (5-3)
Final vs Saudi Arabia
*Local Time
*The schedule is subject to change due to the team condition, the weather, etc.
*The Championship's top four ranked teams will then fly the Asian flag at the FIFA U-20 World Cup Korea Republic 2017. If Korea Republic, the hosting country of 2017 FIFA U-20 World Cup, advances to the semifinals, the playoff matches will be held deciding the fifth place among the four losing teams in the quarterfinals.
AFC U-19 Championship Bahrain 2016
2016-10-13(Thu.)~2016-10-30(Sun.)
More Information