NEWS
U-18 Japan Women's Futsal National Team defeats Chile to record back-to-back victories at the 3rd Youth Olympic Futsal Tournament Buenos Aires 2018
11 October 2018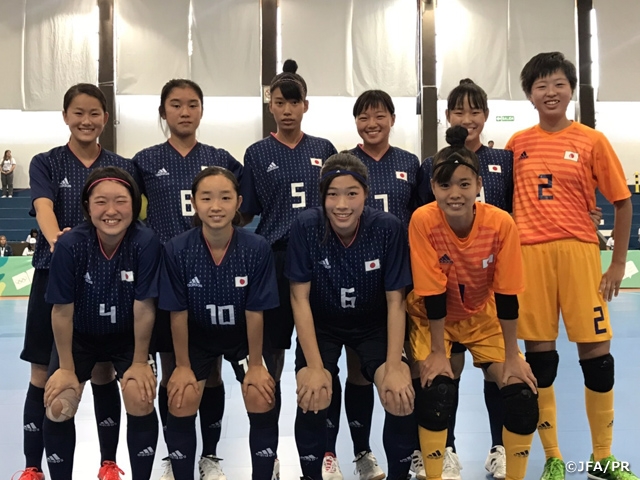 The 3rd Youth Olympic Futsal Tournament 2nd Group Stage Match
vs U-18 Chile Women's Futsal National Team
Wed. 10 October 2018 Kick-off 14:00 (Local time)
Main Futsal Hall (Buenos Aires, Argentina)
U-18 Japan Women's Futsal National Team 4-1 (1-1, 3-0) U-18 Chile Women's Futsal National Team
Scores
14' MIYAMOTO Mai (U-18 Japan Women's Futsal National Team)
18' goal against (U-18 Chile Women's Futsal National Team)
24' MAEDA Miu (U-18 Japan Women's Futsal National Team)
28' ARAI Ichika (U-18 Japan Women's Futsal National Team)
34' own goal (U-18 Japan Women's Futsal National Team)
Starting Line-up
GK: SUTO Yuria
FP: YOKOYAMA Rinka, IKEUCHI Aki, MAEDA Miu, YAMAKAWA Rikako
Reserves
GK: KOBAYASHI Mitsuki
FP: MIYAMOTO Mai, OINO Sara, ARAI Ichika, ABE Mirano
Match Report
On Wednesday 10 October, the U-18 Japan Women's Futsal National Team played their second group stage match of the 3rd Youth Olympic Futsal Tournament Buenos Aires 2018, and won against the U-18 Chile Women's Futsal National Team 4-1.
Two days after their first group stage match against Cameroon, the team faced Chile in their second match where a win can put them in commanding position to advance through the group stage. The match started with the Chilean side dropping deep to defend against the Japanese side who showed an aggressive approach to take the initiative. Japan struck the first goal in the 13th minute when MIYAMOTO Mai captured the goal, but soon conceded the equaliser in the 17th minute, when their opponent's goalkeeper struck a long ball directly into the net.
Despite conceding the goal in an unfortunate fashion, Japan managed to find their rhythm in the second half, as they rallied with multiple goals. Japan regained their lead with MAEDA Miu's 23rd minute goal from a corner kick, followed by ARAI Ichika's first goal of the tournament scored in the 27th minute. An own goal extended Japan's lead in the 33rd minute, as the match ended with a final score of 4-1. As a result, Japan marked consecutive victories in the group stage.
Japan will now face the U-18 Dominican Republic Women's Futsal National Team in their third match of the group stage with the advancement into the final round at stake. The match is scheduled on Thursday 11 October with a kick-off time of 14:00 local time.
Players' Comments
FP #4 MAEDA Miu (Fukui Maruoka RUCK)
I am glad we managed to win the match today, and I am also happy to score goals in back-to-back matches. However, there were numbers of scenes where I should have scored, so I still need to improve on my finishing touches. We will be facing another match tomorrow, but we will give our best to earn three points.
FP #6 ARAI Ichika (Fukui Maruoka RUCK)
In our previous match against Cameroon, I failed to convert some critical chances, so I am glad I managed to score and assist a goal each in today's match against Chile. We managed to showcase what we have worked on during yesterday's training session. We will continue to give our best tomorrow, when we face Dominican Republic.
Schedule
The 3rd Youth Olympic Futsal Tournament
Mon. 8 October
6-2
1st Group Stage Match vs Cameroon @Main Futsal Hall
Tue. 9 October
AM/PM
Training
Wed. 10 October
4-1
2nd. Group Stage Match vs Chile @CeNARD Hall
Thu. 11 October
14:00
3rd Group Stage Match vs Dominican Republic
@Main Futsal Hall
Fri. 12 October
AM/PM
Training
Sat. 13 October
14:00
4th Group Stage Match vs Portugal @CeNARD Hall
Sun. 14 October
AM/PM
Training
Mon. 15 October
14:00/16:00
Semi-Finals @Main Futsal Hall
Tue. 16 October
AM/PM
Training
Wed. 17 October
15:30
3rd Place Match @Main Futsal Hall
18:00
Final @Main Futsal Hall
*Local Time
*The schedule is subject to change due to the team condition, the weather, etc.