NEWS
U-18 Japan Women's Futsal National Team concludes training camp with match against Kanto Women's Select Team
30 September 2018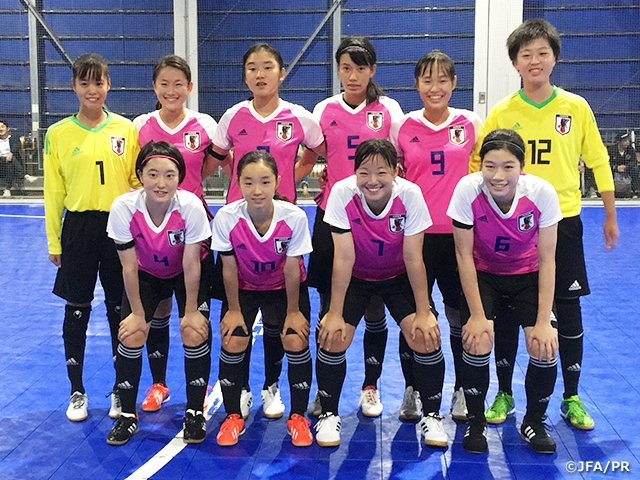 Training Match vs Kanto Women's Select Team
Sat. 29 September 2018 Kick-off 20:30 Match duration 35mins×2
MIZUNO Futsal Plaza Ajinomoto Stadium, Tokyo
U-18 Japan Women's Futsal National Team 3-6 (0-4, 3-2) Kanto Women's Select Team
Scores
1' goal against (Kanto Women's Select Team)
5' goal against (Kanto Women's Select Team)
10' goal against (Kanto Women's Select Team)
15' goal against (Kanto Women's Select Team)
30' goal against (Kanto Women's Select Team)
32' MAEDA Miu (U-18 Japan Women's Futsal National Team)
34' MIYAMOTO Mai (U-18 Japan Women's Futsal National Team)
38' goal against (Kanto Women's Select Team)
40' ABE Mirano (U-18 Japan Women's Futsal National Team)
Starting Line-up (1st half)
GK: SUTO Yuria
FP: YOKOYAMA Rinka, MAEDA Miu, YAMAKAWA Rikako, IKEUCHI Aki
Starting Line-up (2nd half)
GK: KOBAYASHI Mitsuki
FP: MIYAMOTO Mai, OINO Sara, ARAI Ichika, ABE Mirano
Match Report
On Saturday 29 September, the U-18 Japan Women's Futsal National Team conducted their second day of the domestic training camp.
The team was seen going through core trainings in the morning, followed by a shooting drill and a half court 5 vs 5 mini-scrimmage. In the afternoon, the team worked on their set-plays ahead of the training match scheduled at night.
Just one day after the team was gathered, the U-18 Japan Women's Futsal National Team faced the Kanto Women's Select Team, a team that consists many players who has featured the national team in the past. The training match kicked-off at 20:30 and the U-18 side conceded multiple goals as they struggled to respond against the quick and aggressive pressure applied by their opponents. The team conceded the first goal in the first minute, followed by another goal in the fifth minute, in which both were conceded from a counter attack. Two more goals were added to the Kanto Women's side in the 10th and 15th minute, as the first half ended with a score of 0-4. After conceding the fifth goal in the 30th minute, the U-18 side finally found their rhythm as MAEDA Miu scored their first goal in the 32nd minute, followed by MIYAMOTO Mai's 34th minute goal. ABE Mirano fired a powerful shot to score the final goal in the closing minute to end the match with a final score of 3-6.
The team will now attend the inauguration ceremony on Sunday 30 September, along with other athletes and staffs who are attending the 3rd Youth Olympic Games before departing to Argentina.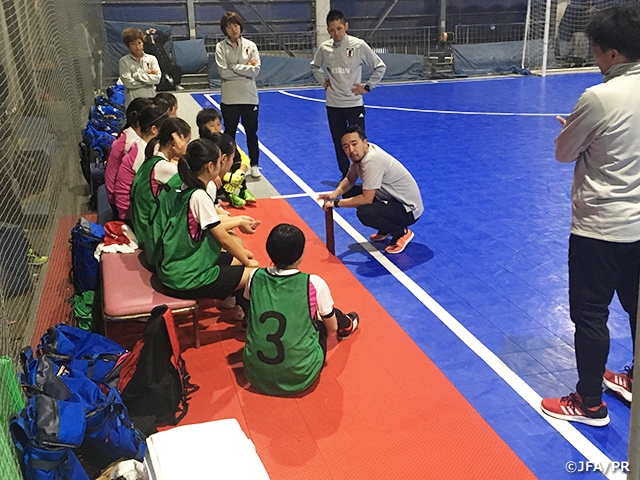 Players' Comments
FP #4 MAEDA Miu (Fukui Maruoka RUCK)
Although we lost the match 3-6, we managed to display some of our attacking patterns we have been working on in our trainings. We also managed to score from set-plays so that's something we need to keep working on. We must all review how we conceded the goals today and make the necessary adjustments as a team. From here until our first match of the tournament, we will take each training session seriously and enter the tournament with a positive vibe.
FP #7 MIYAMOTO Mai (Kyoto Seika Gakuen High School)
It took us a while until we got used to our opponents in this training match and conceded multiple goals in the early minutes, which is something we must improve on. However, I am glad that I was able to score a goal and managed to keep up with my marking player. At this Youth Olympic Games, I will play with pride and confidence that I am representing my country. Also, as an individual player, I will perform so that I can entertain the spectators, while enjoying myself at the same time. We will give our best to earn positive results while we enjoy ourselves.
Schedule
Fri. 28 September
14:00
Training (MIZUNO Futsal Plaza Ajinomoto Stadium)
*Open to the public
Sat. 29 September
10:00
Training (MIZUNO Futsal Plaza Ajinomoto Stadium)
*Open to the public
15:00
Training (MIZUNO Futsal Plaza Ajinomoto Stadium)
*Open to the public
3-6
Training Match vs Kanto Women's League Select Team
(MIZUNO Futsal Plaza Ajinomoto Stadium) *Open to the public
Tue. 2 October
AM/PM
Training
Wed. 3 October
AM/PM
Training
Thu. 4 October
AM/PM
Training
Fri. 5 October
AM/PM
Training
Sun. 7 October
AM/PM
Training
The 3rd Youth Olympic Futsal Tournament
Mon. 8 October
14:00
1st Group Stage Match vs Cameroon
@Main Futsal Hall
Tue. 9 October
AM/PM
Training
Wed. 10 October
14:00
2nd. Group Stage Match vs Chile
@CeNARD Hall
Thu. 11 October
14:00
3rd Group Stage Match vs Dominican Republic
@Main Futsal Hall
Fri. 12 October
AM/PM
Training
Sat. 13 October
14:00
4th Group Stage Match vs Portugal
@CeNARD Hall
Sun. 14 October
AM/PM
Training
Mon. 15 October
14:00/16:00
Semi-Finals @Main Futsal Hall
Tue. 16 October
AM/PM
Training
Wed. 17 October
15:30
3rd Place Match @Main Futsal Hall
18:00
Final @Main Futsal Hall
*Local Time
*The schedule is subject to change due to the team condition, the weather, etc.