NEWS
U-16 Japan National Team finishes in second place with win over Czech in U-16 Four Nations Tournament
11 February 2018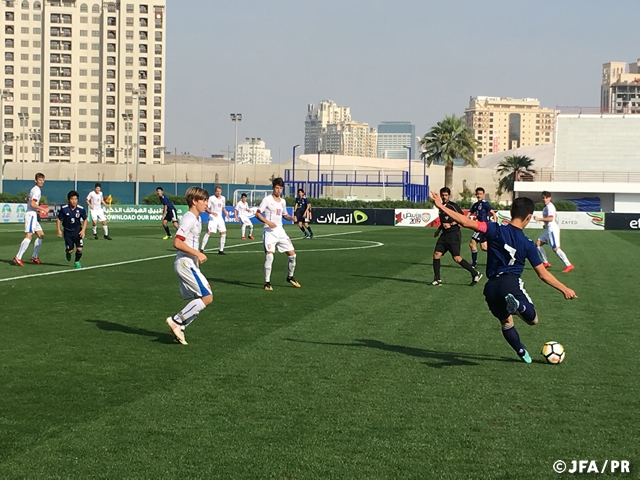 U16 Four Nations Tournament 3rd Match vs U-16 Czech Republic National Team
10 February 2018 (Sat.) Kick-off 15:30(Local Time) Playing Time 90min.(45min.×2)
Dubai Police Club (Dubai / UAE)
U-16 Japan National Team 1-0 (0-0, 1-0) U-16 Czech Republic National Team
Scores
60' OSAWA Tomoya (U-16 Japan National Team)
Starting Line-ups
GK: SASAKI Masato
DF: SUETSUGI Hikaru, HANDA Riku, ARAKI Ryotaro, NAKANO Shinya
MF: YOKOKAWA Asahi, YAMAUCHI Kakeru, NISHIKAWA Jun, MITO Shunsuke
FW: AOKI Yosuke, TANAKA Zen
Reserves
GK: YAMADA Taiki
DF: MUKAI Hayate, MATSUMOTO Taichi
MF: SUMI Kohshiro, TANIGUCHI Taisei, MORITA Sho
FW: OSAWA Tomoya
Substitutions
58' AOKI Yosuke → OSAWA Tomoya
77' MITO Shunsuke → MORITA Sho
88' NISHIKAWA Jun → TANIGUCHI Taisei
Match Report
U-16 Japan National Team took on Czech Republic in their third and last match during their UAE trip. The Czech side has previously drawn against Belgium, who Japan lost in their opener. After both teams have played in two contests, Czech were in good position to win the championship with a victory, while Japan would lose out of contention in case they drop another match.
Early in the match, the Japanese side looked a little shaky, as they may have been feeling the pressure from their opponent. They were forced to play in their half for a while, but with the help of the Czech side's errors, Japan started to pick up their pace. In the 33rd minute, midfielder MITO Shunsuke penetrated the left flank and took a shot. Just a minute later, NISHIKAWA dribbled passed two defenders before firing a shot. Both efforts were denied by the opposing defence, but Japan created many opportunities as the game progressed. However, neither teams were able to create a goal threating opportunity, and the match went into half time scoreless.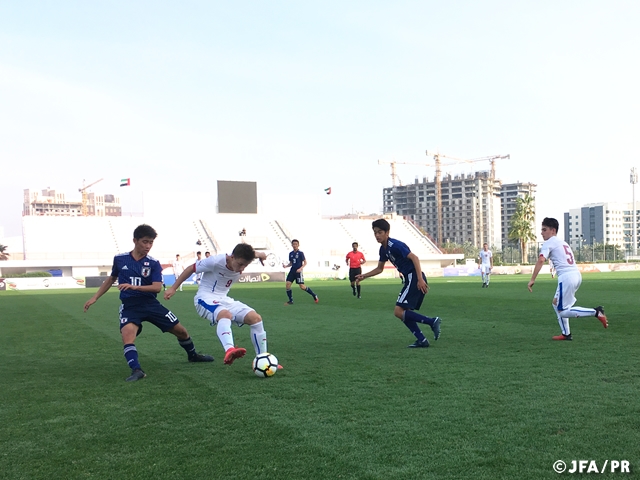 The game saw a quick turn of an event in the second half, when the Czech side sent a through ball down the left flank. Defender SUETSUGI Hikaru was beaten by a Czech player and allowed a shot in the 54th minute, but the shot was just off target. In the 58th minute, forward OSAWA Tomoya was subbed in for fellow forward AOKI Yosuke. The substitution brought an instant effect to the game, as Osawa got to the end of midfielder YAMAUCHI Kakeru's floated ball, and with a well-timed volley, he opened the scoring in the 60th minute.
Japan came close to scoring their second goal in the 73rd and 75th minute, when forward TANAKA Zen broke through the Czech defence in both occasions, but neither opportunities turned out successful. Meanwhile Czech came back creating their own chances to level the match, but the Japanese defenders HANDA Riku and Suetsugi played physical to keep their opponents out. Both sides created goal-scoring opportunities, but none of the efforts led to any more goals before the match ended at 1-0. Japan secured their lead and grabbed one last win to close out the tournament as the runners-up with two wins and one loss.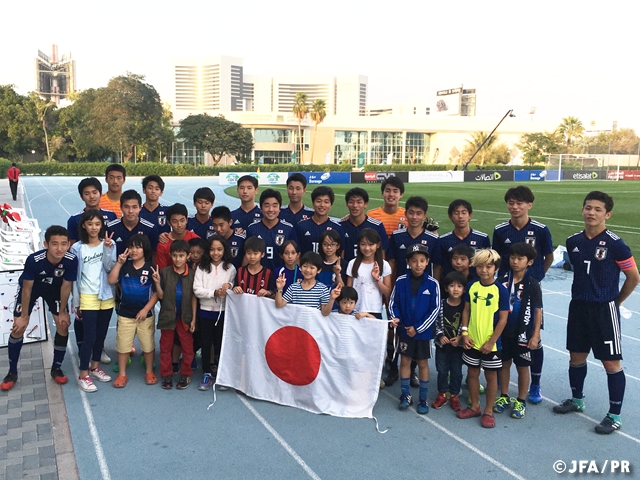 Coaches' and Players' Comments
MORIYAMA Yoshiro, Coach
Our first trip as U-16 Japan National Team started out during the high school entrance exam season for the ninth grade students, and it made it difficult for us to setup the team. Some of the players seemed to be affected by lack of training.
In the first match against Belgium, we made a lot of mistakes on and off the ball, struggled to keep possession of the ball. And as a result we couldn't create any goal-scoring opportunities. Conversely, Belgium blasted some powerful shots to get on the score sheets. We got off to a shameful start with a 3-0 loss. Before the second match against UAE, we held a meeting to go over the films from the first match. We talked out what we needed to improve and shared our thoughts. We had to feed off of the loss, but had to move on at the same time. The game was a night game, and the fact that the turf was wet and slippery worked in our favour. We played the vertical passes well, successfully adding layers to our attacks with third and fourth players getting involved. All that resulted in a 2-0 victory for us. Our third match was against Czech, who were the leaders after two matches. Early on, we struggled against our opponents' long balls and one-on-one situations, but managed to score a goal in the second half, thanks to those great performances shown by the players coming off the bench. The last 20 minutes, the Czech side came out full-on with their counter-attacks and powerful plays, but we stuck together as a team. Our players worked really hard and showed a lot of heart to keep that clean sheet.
We were together for only 10 days, but each day we saw improvements as a team, and saw each individuals' willingness to help out the team. I was deeply moved by our players efforts and eagerness to obtain a team victory in the last match. However, we have to acknowledge what we lacked, such as our quality of plays on the move, and decision makings in both offence and defence. I hope that each players recognise these points and take it back to their daily trainings as homework. I have great expectations for these kids going forward, and I would like to thank all the players' parents, schools, and club teams for allowing these kids to participate this trip.
DF #5 SUETSUGI Hikaru (Sagan Tosu U-15)
I couldn't perform the way I wanted and failed to help the team in the second match, so I braced myself up even more today. Coach Moriyama said at the pre-game meeting, "if you can keep your opponents scoreless, the chances will come." So, my main focus was to keep a clean sheet. While doing so, I tried to showcase my strength. I made lots of technical mistakes, easily gave up the ball and narrowed down the passing course after failing to create depth. It was a match where I had lots to improve, but I'm glad to be able to help the team keep a clean sheet and win. I will take what I felt on and off the pitch during this one-week trip back to my team and further develop myself to make the squad for the final round of Asian qualifiers.
FW #11 TANAKA Zen (Sagan Tosu U-15)
As a team, we tried to bring out the best of what we've trained during this trip and I personally tried to score to help the team win. But in the first half, we couldn't play the way we wanted and just couldn't find our rhythm offensively. In the second half, we got into our groove and scored a goal. We were determined to keep the one-goal lead, and we managed to win the game. As a forward, I naturally seek for results, and there were things that were apparent to me that I felt like I need to improve on, so I will take that back to Japan and train to become a better player.
FW #18 OSAWA Tomoya (Omiya Ardija Junior Youth)
I focused on sharing plans with other forwards and to combine with them, while personally improving on off the ball movements in front of the goal. I'm glad that I was able to score as a substitute, off of that movement in front of goal that I had in mind. But at the same time I found more issues that needs to be worked on. In situations where you are ahead 1-0, losing the ball because of your own play is a very tough thing to swallow and it puts your team at risk. I need to make better decision makings depending on the situation. Also, I feel like I had chances to score more, but I couldn't capitalise, so that's something I need to work on as well. I will go back to Japan with all of the things that occurred to me during this UAE trip and work on them.
Schedule
U16 Four Nations Tournament
Tue. 6 February
0-3
1st Match vs U-16 Belgium
Wed. 7 February
AM/PM
Training
Thu. 8 February
2-1
2nd Match vs U-16 UAE
Fri. 9 February
AM/PM
Training
Sat. 10 February
1-0
3rd Match vs U-16 Czech
*Local Time
*The schedule is subject to change due to the team condition, the weather, etc.
U16 Four Nations Tournament
6 February 2018 - 10 February 2018
For Tournament Information