NEWS
U-16 Japan National Team beat UAE in second match of U-16 Four Nations Tournament
09 February 2018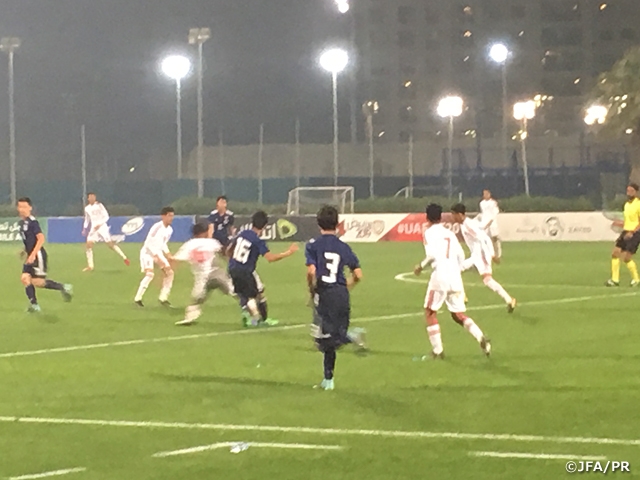 U16 Four Nations Tournament 2nd Match vs U-16 UAE National Team
8 February 2018 (Thu.) Kick-off 19:00(Local Time) Playing Time 90min.(45min.×2)
Dubai Police Club (Dubai / UAE)
U-16 Japan National Team 2-1 (0-0, 2-1) U-16 UAE National Team
Scores
57' NISHIKAWA Jun (U-16 Japan National Team)
76' MITO Shunsuke (U-16 Japan National Team)
84' Goal against (U-16 UAE National Team)
Starting Line-ups
GK: SASAKI Masato
DF: MATSUMOTO Taichi, HANDA Riku, MITO Shunsuke, NAKANO Shinya
MF: MORITA Sho, YAMAUCHI Kakeru, TANIGUCHI Taisei, SUMI Kohshiro, NISHIKAWA Jun
FW: AOKI Yosuke
Reserves
GK: YAMADA Taiki
DF: MUKAI Hayate, SUETSUGI Hikaru
MF: ARAKI Ryotaro, YOKOKAWA Asahi
FW: OSAWA Tomoya, TANAKA Zen
Substitutions
HT NAKANO Shinya → ARAKI Ryotaro
63' SUMI Kohshiro → YOKOKAWA Asahi
71' NISHIKAWA Jun → OSAWA Tomoya
71' AOKI Yosuke → TANAKA Zen
80' TANIGUCHI Taisei → MUKAI Hayate
80' MORITA Sho → SUETSUGI Hikaru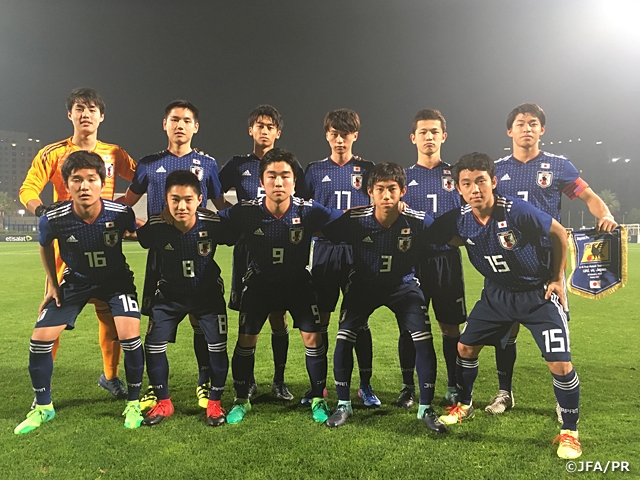 Match Report
U-16 Japan National Team played their second match of the UAE trip, facing the host, U-16 UAE National Team. Following a loss in their first match, both teams were eager to win. After reflecting on their first match, Japan's coach MORIYAMA Yoshiro pumped-up the players before sending them off to the pitch.
In the first half, Japan faced a counter-attacking UAE side who utilised long balls when they gained possession. Japan had issues with their defensive line heading into the match, but team captain HANDA Riku managed to control the defensive line well, giving no critical chances for the host team. Japan was able to move the ball around in the midfield, creating numbers of goal scoring opportunities, but the game went into half time scoreless.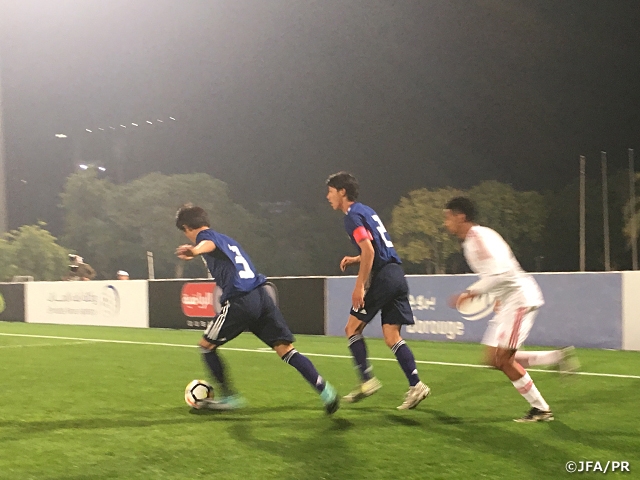 Second half saw the Japanese side getting used to the pressure applied by the UAE side. Japan also seemed to find their rhythm as they passed the ball around. Then, in the 57th minute, midfielder NISHIKAWA Jun collected the ball following a turnover in the midfield. His left footed shot from long distance found the net, giving Japan their first goal of the tournament. Japan added another goal in the 76th minute, when midfielder MITO Shunsuke got to the end of a through ball sent by fellow midfielder YAMAUCHI Kakeru. Being up two goals, it was thought that Japan had a commanding lead, however, Japan would concede a goal in the 84th minute. UAE forced a turnover in the midfield, quickly sending a long feed upfront. With the Japanese defenders not being able to react in time, it created an one-on-one situation, allowing UAE to score a goal. UAE gained momentum after this goal, and the Japanese goal was threatened for the remainder of the game, but the Japanese defence, led by goal keeper SASAKI Masato didn't allow another goal, earning their first victory of the tournament, 2-1.
U-16 Japan National Team is scheduled to face U-16 Czech Republic National Team on Saturday 10 March.
Players' Comments
GK #12 SASAKI Masato (Kashiwa Reysol U-15)
I'm happy with the win today. Our team was united as one, and we had high motivation heading into the game today. I was able to be involved in our build-ups and contribute to our offence with my passing, but I wasn't able to communicate well with the defence line when our opponent kept on sending the long balls. We need to be more eager to keep a clean sheet. In our last game against Czech Republic, we need to be more detail oriented. We need to show our willingness to score, work hard to keep a clean sheet, and win as a team, so that we can grow both as a team and as an individual.
DF #2 HANDA Riku (Montedio Yamagata Youth)
Reflecting on our last match, we focused on reducing errors with our short passes, and to defend in a more compact formation. We were able to move the ball around and create chances in the first half. We created chances from set plays as well, but couldn't capitalize on those opportunities. That's something we need to improve on. In the second half, we were able to score two goals, but allowed a goal after a horizontal pass being intercepted. Coach Moriyama has told us that if you allow a goal to an Asian team, they will gain momentum off of it, and we definitely saw that today. It was a good thing that we were able to experience it before the final qualification round. We will work hard as a team to win our next game as well.
DF #4 MATSUMOTO Taichi (Tokyo Musashino City FC U-15)
I am happy to be called-up to the national team for the first time. My main focus today was to control the defence line, which was part of our issue in the previous match against Belgium. I was able to display my strength with the long balls and passes towards our forwards. It's been a while since I last played with foreign players, and their physical strength and speed were evident. It's something we don't see in Japan very often. Once we go back to Japan, we need to work on the things we lacked, so that we can adjust to these kind of opponents in the future.
MF #6 NISHIKAWA Jun (Toko Gakuen High School)
It's a good thing that we finished the second game with a victory. We had a good vibe going during our warm-ups, and we were able to head into the game with a good form. It was great that we scored, but there were much more chances that we should have scored, so we need to heighten our quality there, both as a team and as an individual. We faced a team who gained great momentum after scoring a goal. This experience should help us moving forward into the final qualification rounds. We need to feed off of this experience and have a good preparation ahead of our third match against Czech Republic.
Schedule
U16 Four Nations Tournament
Tue. 6 February
0-3
1st Match vs U-16 Belgium
Wed. 7 February
AM/PM
Training
Thu. 8 February
2-1
2nd Match vs U-16 UAE
Fri. 9 February
AM/PM
Training
Sat. 10 February
15:30
3rd Match vs U-16 Czech
*Local Time
*The schedule is subject to change due to the team condition, the weather, etc.
U16 Four Nations Tournament
6 February 2018 - 10 February 2018
For Tournament Information