NEWS
U-16 Japan National Team defeats Iraq to earn four straight victories and wins the title at the 5th WAFF U-16 Championship 2018
10 August 2018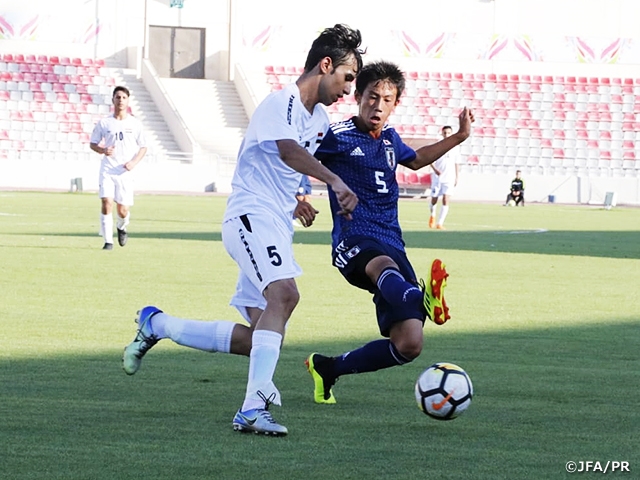 The 5th WAFF U-16 Championship 2018 vs. U-16 Iraq National Team
Thu. 9 August 2018 Kick-off time 17:00 (Local time)
Match duration 90mins (45mins x2)
King Abdullah Ⅱ Stadium, Amman
U-16 Japan National Team 3-1 (0-0, 3-1) U-16 Iraq National Team
Scores
49' TOYAMA Shoji (U-16 Japan National Team)
65' goal against (U-16 Iraq National Team)
88' NAKANO Keita (U-16 Japan National Team)
90' NAKANO Keita (U-16 Japan National Team)
Starting Line-up
GK: NOZAWA Taishi Brandon
DF: MURAKAMI Keishi, NAGATA Yuri, SUZUKI Kaito, SUMI Kohshiro
MF: MITO Shunsuke, YAMADA Nao, NAKANO Shinya, NAKANO Ryuma
FW: NAKANO Keita, TOYAMA Shoji
Reserves
GK: SASAKI Masato, JONES Rei
DF: HANDA Riku, TAJIMA Mitsuki, ISHIDA Yusuke, SAKO Maaya
MF: YOKOKAWA Asahi, KONDO Kuraba, NARUOKA Hikaru, UEDA Keita
FW: YOSHIDA Yuji, AOKI Yusuke
Substitutions
HT MURAKAMI Keishi → UEDA Keita
60' TOYAMA Shoji → YOSHIDA Yuji
83' NAGATA Yuri → YOKOKAWA Asahi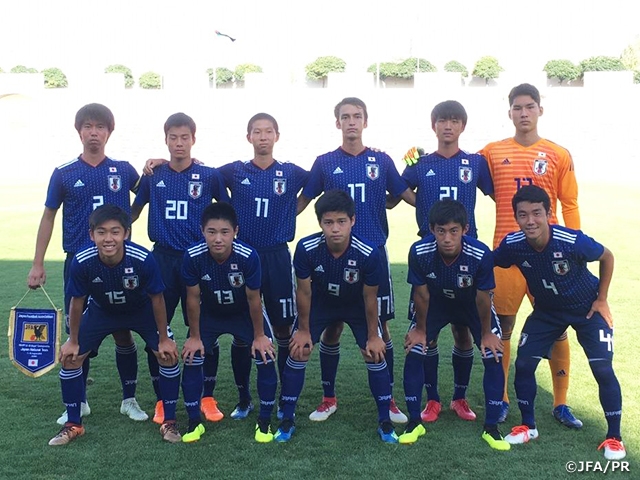 Match Report
On Thursday 9 August, the U-16 Japan National Team took on the U-16 Iraq National Team in their last match of the 5th WAFF U-16 Championship 2018 and came out with a 3-1 victory.
After three matches, the Japanese players were sent on to the pitch one last time by coach MORIYAMA Yoshiro with his messages of "Determination," "Even harder intention to fight," and "Aggressive attacking style from the first second to the very last second of the match." The team showcased great focus from the beginning of the match and possessed the ball mainly in the opponents' end. Yet the finishing plays lacked quality and Japan struggled to create a goal scoring opportunity. Conversely, Japan allowed an opportunity to Iraq, but fortunately, their attempt also came short to find the net, as both teams ended the first half scoreless.
Japan came out in the second half just the way they did in the first half, as they applied aggressive pressure to take the initiative. In the 49th minute, forward TOYAMA Shoji carried the ball up in the middle as his teammates combined to create space for Toyama to take a shot. His right-footed shot successfully found the back of the net to give Japan the opening goal. Despite Japan's effort to maintain their momentum, Iraq exploited a momentary gap of the Japan's defence. The Japanese defence line mishandled the ball delivered from the opposing goalkeeper, allowing the Iraqi forward to capitalise on this mistake to equalise the match. In efforts to retake the lead, Japan kept on pressing, but the go-ahead goal was hard to be found. However, in the 88th minute, forward NAKANO Keita drilled a direct free-kick from the left side to give Japan the long-awaited goal. Japan sealed the deal in the 90th minute, when Nakano broke away into the open space after his fellow forward, YOSHIDA Yuji flicked the long ball delivered from goalkeeper NOZAWA Taishi Brandon. Nakano calmly converted this one-on-one opportunity against the goalkeeper to further extend the lead. The match ended with a final score of 3-1.
The U-16 Japan National Team managed to win close matches one after another, as they recorded four victories to earn the tournament title. The team did showcase many flaws during the course and will certainly take home some tasks to work on, but this result has given them a major confidence boost ahead of this September's AFC U-16 Championship Malaysia 2018.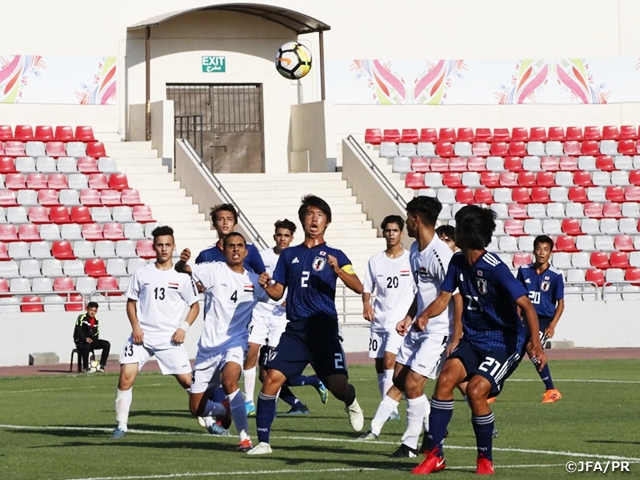 Players' Comments
DF #4 SUMI Kohshiro (FC Tokyo U-18)
This tournament was the last tournament we were going to play before the AFC U-16 Championship, which is the final qualifiers in Asia, and I have learnt many things here. Although we were able to win our last match, considering our performance, it was rather disappointing. This trip reminded us that we cannot take our daily trainings for granted, and that we must maintain a high intention even after we go back to our clubs. I will give everything I've got to prepare myself ahead of the AFC U-16 Championship and earn our spot into the FIFA U-17 World Cup.
MF #5 NAKANO Shinya (Sagan Tosu U-15)
We started off well in today's match against Iraq, but we lacked quality in our final-third and failed to convert our chances. In the second half, we corrected our plays in the final-third, and managed to score goals. During this tour, we had many matches where we gave the opponents chances to attack, so must make the adjustments as a team. It was a great experience for us to play against the elite teams in Asia before the AFC U-16 Championship. We want to take advantage of this experience to earn the top spot in Asia at the AFC U-16 Championship and move on to the FIFA U-17 World Cup.
MF #13 MITO Shunsuke (JFA Academy Fukushima U18)
I am glad that we finished the last match of this trip against Iraq with a win. Also, it was good that we won every match of this trip. But when you look at each match carefully, there were many situations where we were caught off guards in defence. I think it will be difficult for us to win at the AFC U-16 Championship if we don't correct those aspects. We have less than a month before the final qualifiers. So, we must setup our mindset ahead of the competition. This trip taught me that I need to change my mindset and fight harder. We don't have much time left before the championship, so we must stay focused and keep working hard to improve both as a team and as an individual.
MF #15 NAKANO Ryuma (Kyoto Sanga F.C. U-18)
We had a hard time scoring goals in today's match against Iraq, but we made adjustments during halftime as a team and managed to pull off a win. I am glad of this result, but I personally couldn't perform well, as I lacked quality in my final-pass, shots, and crosses, so I must practice more. During this tour in Jordan, I got to experience the unique playing style of other Asian teams that we can't experience in Japan. It has given me a great learning experience as I found many tasks I must work on once I return to Japan. We will work hard to win out of the AFC U-16 Championship to earn a spot into next year's FIFA U-17 World Cup.
Schedule
The 5th WAFF U-16 Championship 2018
Wed. 1 August
1-0
1st Match vs U-16 Yemen National Team
(Amman/King Abdullah Ⅱ International Stadium)
Thu. 2 August
TBC
Training
Fri. 3 August
2-1
2nd Match vs U-16 India National Team
(Amman/King Abdullah Ⅱ International Stadium)
Sat. 4 August
TBC
Training
Sun. 5 August
3-2
3rd Match vs U-16 Jordan National Team
(Amman/King Abdullah Ⅱ International Stadium)
Mon. 6 August
TBC
Training
Tue. 7 August
TBC
Training
Wed. 8 August
TBC
Training
Thu. 9 August
3-1
4th Match vs U-16 Iraq National Team
(Amman/King Abdullah Ⅱ International Stadium)
Fri. 10 August
TBC
Training
*Local Time
*The schedule is subject to change due to the team condition, the weather, etc.
WAFF U-16 Championship
Three member associations of the WAFF (West Asian Football Federation), Jordan, Yemen, and Iraq will be joined by India and Japan.