NEWS
U-16 Japan National Team wins the CFA Jiangyin International Youth Football Tournament despite scoreless draw with U-17 China PR National Team
21 May 2018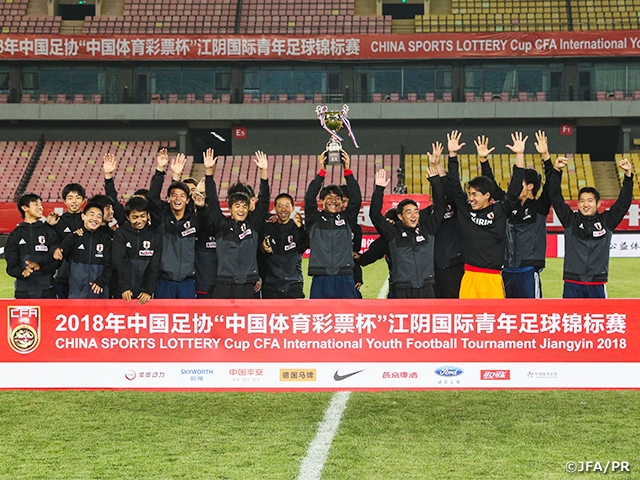 CFA International Youth Football Tournament Jiangyin 2018
3rd Match vs U-17 China PR National Team
Sun. 20 May Kick-off 19:35 Playing Time 90min. (45min×2)
Jiangyin Sports Centre Stadium (China PR)
U-16 Japan National Team 0-0 (0-0, 0-0) U-17 China PR National Team
Starting Line-ups
GK: SASAKI Masato
DF: SUZUKI Kaito, HANDA Riku, SAKO Maaya, NAKANO Shinya
MF: YAMANE Riku, YOKOKAWA Asahi, SUMI Kohshiro, MITO Shunsuke
FW: TOYAMA Shoji, NISHIKAWA Jun
Reserves
DF: IWASAKI Mana, NAGATA Yuri, IBI Shunto
MF: YAMAUCHI Kakeru, AOSHIMA Kenta, SUTOH Naoki, NARUOKA Hikaru
FW: SAEKI Shinnosuke, NAKANO Keita, SHIMOKAWA Haruki
Non-Registered Player
NOZAWA Taishi Brandon
Substitutions
HT MITO Shunsuke → NARUOKA Hikaru
HT SUMI Kohshiro → NAKANO Keita
58' TOYAMA Shoji → AOSHIMA Kenta
77' YAMANE Riku → YAMAUCHI Kakeru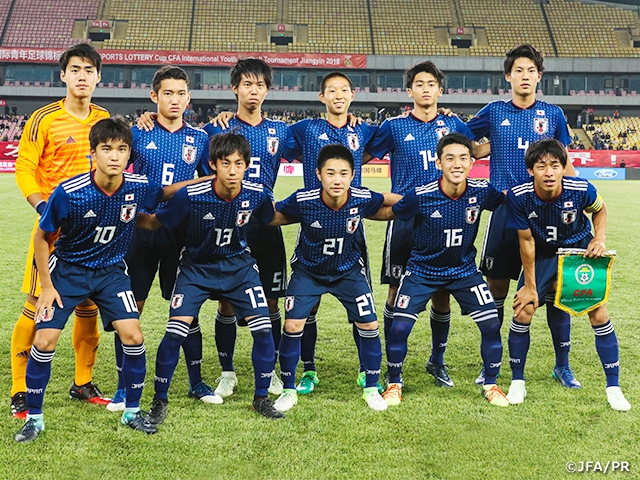 Match Report
On Sunday 20 May, the U-16 Japan National Team finished the CFA International Youth Football Tournament Jiangyin 2018 with a scoreless draw against the host, U-17 China PR National Team.
With just one win away from taking the title, Coach MORIYAMA preached his players the importance of keeping a fighting attitude while showing persistence towards victory. However, it was the Chinese side who came out showcasing their strong will, taking the initiative of the match from the early minutes. With the home crowd supporting their back, China created many opportunities, giving little room for Japan to pick up their rhythm. But in the 11th minute, Japanese forwards TOYAMA Shoji and NISHIKAWA Jun connected the ball following a counter attack, allowing midfielder MITO Shunsuke to strike a shot, but his attempt was just wide of the goal. The first half ended scoreless, as the Japanese defence showed great collective effort to keep the home team from scoring a goal.
Despite Japan's efforts to change the tide of the match, China PR remained to apply pressure, keeping control of the match. In the 56th minute, China PR came close to scoring off a corner kick, but the final shot was just off target. Japan went onto move the ball around from side to side but came short from creating a goal scoring opportunity. In the 87th minute, midfielder AOSHIMA Kenta chased a through ball delivered by fellow midfielder YAMAUCHI Kakeru, before launching a shot, but failed to hit the target. The game ended in a scoreless draw.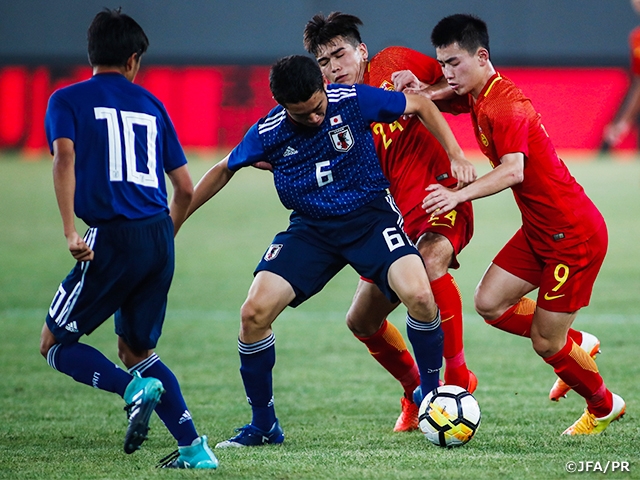 With a final record of two wins and a draw, Japan was crowned champions of the tournament, but their performances were far from their top form. Ahead of the AFC U-16 Championship Malaysia 2018, many of their flaws were exposed during this tour.
Coach's and Players' Comments

MORIYAMA Yoshiro, Coach (U-16 Japan National Team)
We initiated this year's U-16 National Team in February with new staffs, but we elected to give our players time to compete for their starting role in their own club teams during March and April. Therefore, our participation in this CFA Jiangyin International Youth Football Tournament marked the first oversea tour for us in three months. In this tournament, the Iran National Team brought their U-16 team, while the Kyrgyz Republic National Team and China PR National Team brought their U-17 team, which were a category older than our team. Facing physically stronger teams, we wanted to counter and overwhelm the opponents with our techniques, decision makings, mobility, and collective team efforts, but we could not show any of those qualities on the pitch, making it hard on ourselves.
All three matches were very close, and our defence won the title for us as we only allowed one goal throughout the tournament. However, all of our players and staffs knows that we did not perform well in these three matches. We faced teams who played their defence line deep, teams who placed many players in front of their goal, and teams anticipating counter attacks from turnovers. Against all of these teams, we failed to create opportunities with intention, nor could we generate effective passes to exploit the space behind the opposing defence line. There were scenes where we didn't battle for the loose ball and avoided contact in fifty-fifty situations.
Ahead of the AFC U-16 Championship Malaysia 2018 (FIFA U-17 World Cup Asian Qualifiers) I will like the players to reflect on themselves and strive to improve their performances. Each individual must improve their quality and decision makings under pressure, while enhancing their physical agility and mental strengths to compete. Starting from the 11th of next month, we will be facing international powerhouses such as Paraguay, Senegal, and Spain at the U-16 International Dream Cup 2018 JAPAN presented by The Asahi Shimbun. Thus, I am looking forward for both our players and staffs to show up in a better form.
I will like to thank the Chinese Football Association for inviting us to such a wonderful tournament. With their efforts, the tournament ran seamlessly, and the entire experience during our stay was spectacular. I would also like to thank the club teams, All Japan High School Athletic Federation, schools and parents for understanding, and giving these kids this opportunity. Thank you very much.
DF #4 SAKO Maaya (Tokyo Verdy Youth)
The fact we won the tournament title is a positive result. However, our performance was poor throughout the tournament, and the fact we couldn't win our last match was regretful. I felt the need for all of us to work even harder and continue to strive to better ourselves in order to compete against the top flight in the world. I will be committed to improve myself and work harder from now on, and I will get much much better than I am now.
DF #5 SUZUKI Kaito (Jubilo Iwata U-18)
Reflecting on today's match, I felt that I have long ways to go. Not only in my performance, but in phycological aspects, as I felt I lacked the commitment and responsibility to fight as a member of the national team. During our meeting, we were told that only 1% of us will make it to the top team of the national team. Based on the data we were shown, there will be much more players making their way up, despite them not being called up at this age category. I really want to survive and compete in the higher age categories. I must rethink and improve my daily routine to improve myself physically. I must mentally make a radical change and become more independent to manage myself. The AFC U-16 Championship in the summer will be a much tougher competition. If we can make our way into the World Cup, we can play against many teams around the world, which will give us a great opportunity to improve ourselves. I will keep striving each and everyday in order to better myself from now on.
Schedule
CFA International Youth Football Tournament Jiangyin 2018
Wed. 16 May
1-0
1st Match vs U-17 Iran National Team
(Jiangyin Sports Centre Stadium)
Thu. 17 May
PM
Training
Fri. 18 May
2-1
2nd Match vs U-17 Kyrgyz Republic National Team
(Jiangyin Sports Centre Stadium)
Sat. 19 May
TBC
Training
Sun. 20 May
0-0
3rd Match vs U-17 China PR National Team
(Jiangyin Sports Centre Stadium)
*Local Time
*The schedule is subject to change due to the team condition, the weather, etc.