NEWS
U-16 Japan National Team marks consecutive victory in CFA Jiangyin International Youth Football Tournament with win over U-17 Kyrgyz Republic National Team
19 May 2018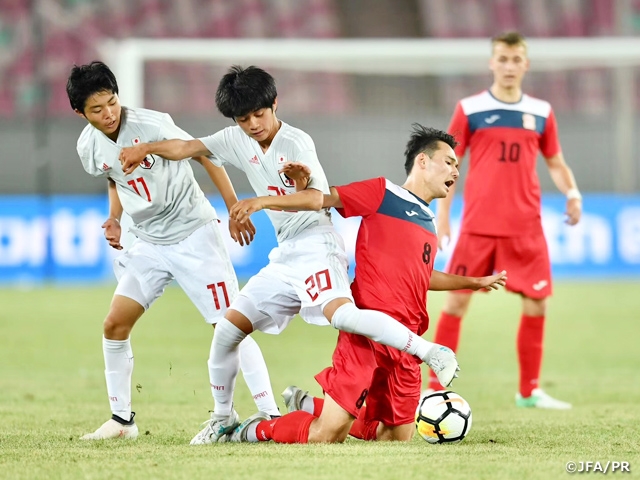 CFA International Youth Football Tournament Jiangyin 2018
2nd Match vs U-17 Kyrgyz Republic National Team
Fri. 18 May Kick-off 19:35 Playing Time 90min. (45min×2)
Jiangyin Sports Centre Stadium (China PR)
U-16 Japan National Team 2-1 (2-0, 0-1) U-17 Kyrgyz Republic National Team
Scores
14' TOYAMA Shoji (U-16 Japan National Team)
17' TOYAMA Shoji (U-16 Japan National Team)
82' Goal against (U-17 Kyrgyz Republic National Team)
Starting Line-ups
GK: NOZAWA Taishi Brandon
DF: SUZUKI Kaito, IWASAKI Mana, NAGATA Yuri, NAKANO Shinya
MF: SUTOH Naoki, YAMANE Riku, YOKOKAWA Asahi, SAEKI Shinnosuke
FW: TOYAMA Shoji, SHIMOKAWA Haruki
Reserves
GK: SASAKI Masato
DF: SUMI Kohshiro, SAKO Maaya, HANDA Riku, IBI Shunto
MF: YAMAUCHI Kakeru, MITO Shunsuke, AOSHIMA Kenta, NARUOKA Hikaru
FW: NISHIKAWA Jun, NAKANO Keita
Substitutions
HT YAMANE Riku → NARUOKA Hikaru
HT TOYAMA Shoji → IBI Shunto
65' NAKANO Shinya → SUMI Kohshiro
65' YOKOKAWA Asahi → YAMAUCHI Kakeru
70' SUZUKI Kaito → AOSHIMA Kenta
77' SUTOH Naoki → NAKANO Keita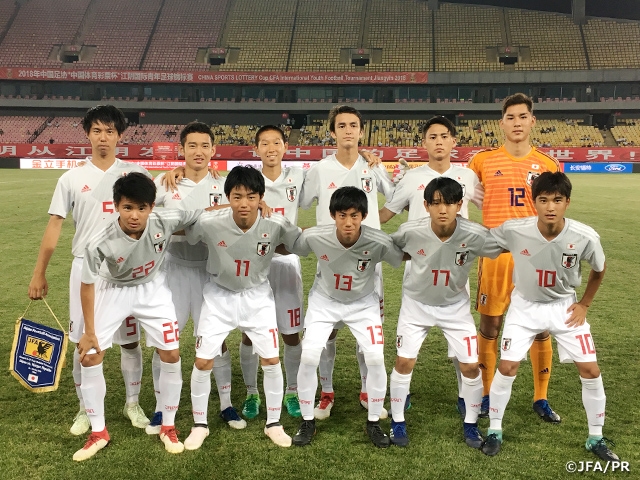 Match Report
On Friday 18 May, the U-16 Japan National Team played their second match in the CFA International Youth Football Tournament Jiangyin 2018, recording their second victory with win over the U-17 Kyrgyz Republic National Team, 2-1.
Prior to the match, Coach MORIYAMA addressed the players to fight as team, demanding a collective effort from all 22 players selected into the travel squad. He also told the players to focus on the quality of their final touches and to stay mobile throughout the match. With their opponents dropping deep to defend, Japan started out the match applying pressure from the attacking third. They created numbers of chances up front but came short from scoring a goal. Conversely, they gave up an opportunity for Kyrgyz Republic to take a shot following a loose ball coming off a long ball. In the 14th minute, Japanese forward TOYAMA Shoji broke through into the penalty box, drawing a foul. He then converted the spot kick himself to give Japan the opening goal. Three minutes later, Toyama once again broke through chasing a through ball delivered by YAMANE Riku and calmly slotted the ball into the net after beating the opposing goalkeeper. With an early 2 goal lead, Japan continued to attack the opposing goal, creating numerous opportunities, but failed to extend the lead. The defence played well to block the opponents to keep a clean sheet, entering halftime with a score of 2-0.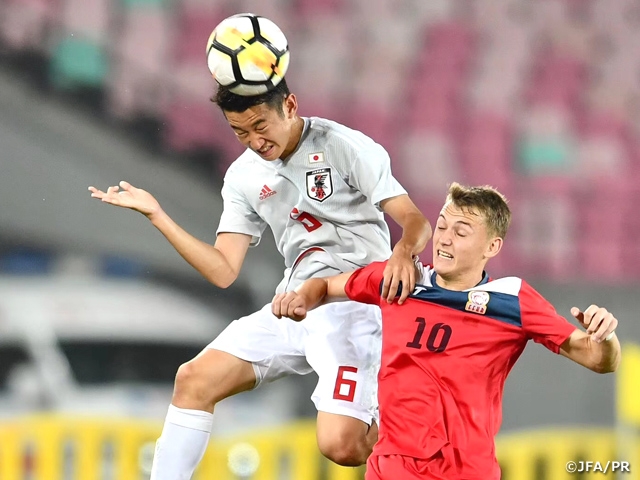 In efforts to score more goals, Japan entered the second half with a new look in their formation. However, they struggled to keep possession, failing to create goal scoring opportunities. The score board remained the same until the 82nd minute, when Kyrgyz Republic capitalised a penalty kick after being fouled in the box. While the Kyrgyzstani side gained momentum after this goal, Japanese substitutes NARUOKA Hikaru and YAMAUCHI Kakeru made an attempt at goal but were both denied by the opposing goalkeeper. After both sides failed to capitilise their opportunities, the match ended with a final score of 2-1.
Despite winning both of their matches played in the competition, Japan exposed many flaws, showing room for improvements. The next match against the U-17 China PR will be the last match of this tournament, but they will keep striving ahead of the AFC U-16 Championship in the summer.
Players' Comments
DF #2 IWASAKI Mana (Yokohama F・Marinos Youth)
In this trip to China, I was given my first opportunity to play in our second match against Kyrgyz Republic. We shared our thoughts about the first match, both positives and negatives ahead of this match. We kept good condition and atmosphere as a team, and we managed to keep our motivations high. I think it helped us enter the match well and led to the two goals we scored early. However, we made many easy mistakes, allowing our opponents to rally back in the second half and conceding a goal later in the match. Although we won the match, we saw many flaws that needs to be improved. We will continue to talk each other as a team and improve ourselves so that we can dominate our opponents in the proceeding matches.
DF #13 NAKANO Shinya (Sagan Tosu U-15)
We entered the match very well today against Kyrgyz Republic. Personally, I feel like I managed to deal with the ball delivered into the space behind us. It was good that our team managed to score early. We will like to play well against China PR and go back to Japan with a victory.
MF #6 YOKOKAWA Asahi (Shonan Bellmare U-18)
I am glad we won against Kyrgyz Republic today. However, we are not satisfied with how we won the match. We lacked quality in our final third, while we gave up easy mistakes in our build-ups, giving up opportunities for our opponents. We need to communicate more with each other, as our opponents got ahead of us in many scenes today. We must improve ourselves ahead of our next match against China PR and display a better performance than today. We will do our best to win all three matches and win the title before heading back to Japan.
Schedule
CFA International Youth Football Tournament Jiangyin 2018
Wed. 16 May
1-0
1st Match vs U-17 Iran National Team
(Jiangyin Sports Centre Stadium)
Thu. 17 May
PM
Training
Fri. 18 May
2-1
2nd Match vs U-17 Kyrgyz Republic National Team
(Jiangyin Sports Centre Stadium)
Sat. 19 May
TBC
Training
Sun. 20 May
19:35
3rd Match vs U-17 China PR National Team
(Jiangyin Sports Centre Stadium)
*Local Time
*The schedule is subject to change due to the team condition, the weather, etc.