NEWS
SAMURAI BLUE holds first training session at Tajikistan - 2022 FIFA World Cup Qatar Asian Qualification Round 2
13 October 2019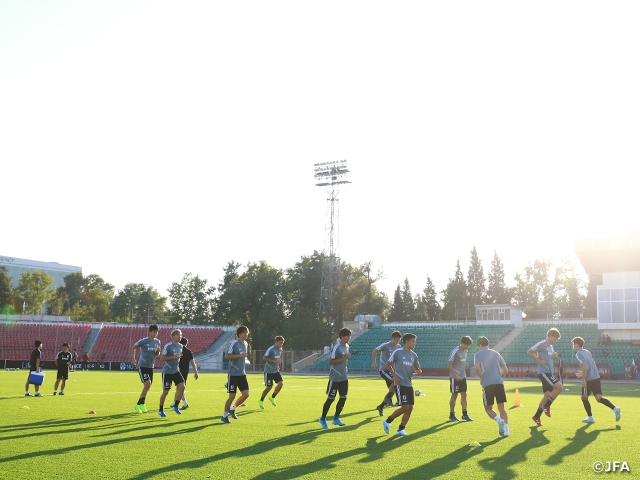 After arriving to Dushanbe on the night before, the SAMURAI BLUE (Japan National Team) held their first training session in Tajikistan on the evening of Saturday 12 October. Ahead of the session, the team took their time to walk around the stadium in the morning to loosen up their bodies and relax their minds following a long travel.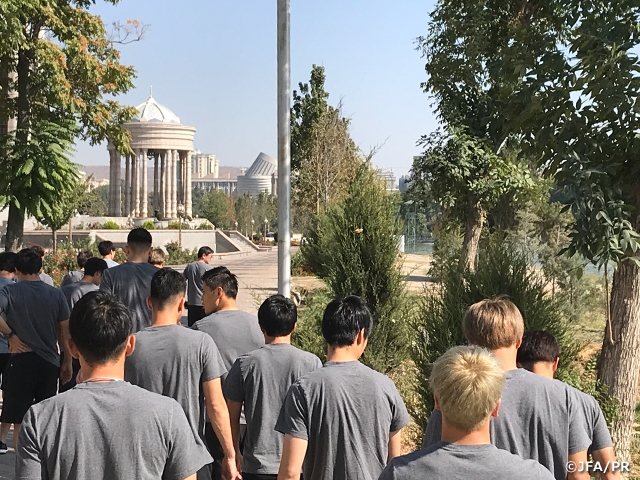 The training session took place at the match venue, Republican Central Stadium, a stadium with artificial turf installed as the pitch surface. While NAGATOMO Yuto (Galatasaray S.K.) and YOSHIDA Maya (Southampton FC) remained at the hotel to go over a separate menu to condition themselves, the remaining 21 players showed up to the stadium and checked out the pitch condition.
The field players who started in the match against Mongolia went through light conditioning drills to recover from the match and left the session in about 30 minutes. The remaining players were seen going through possession drills and shooting drills to work up a sweat.
With the training session being opened to the public, many Japanese fans who lives in Tajikistan came to watch the session and cheered on the players.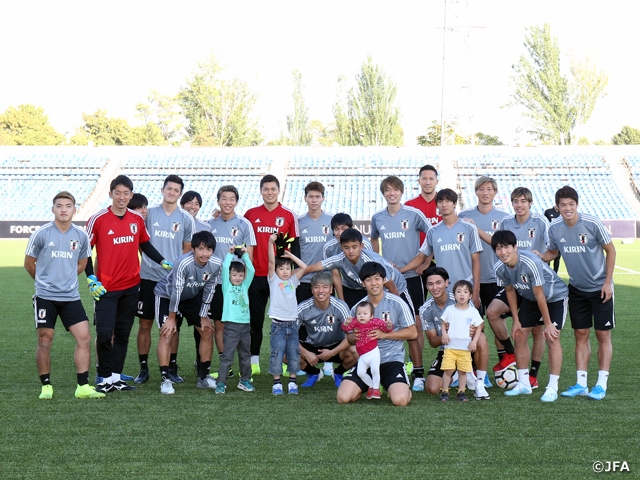 The SAMURAI BLUE will face the Tajikistan National Team on Tuesday 15 October with a kick-off time of 17:15 local time (21:15 Japan time).
Players' Comments
DF #16 MUROYA Sei (F.C. Tokyo)
I received the phone call when I was at home, went straight to Narita, left the country in the next morning, and now I am in Tajikistan. Life can be so exciting at times, and I am just enjoying the moment right now. I have been playing in the league matches and training with my team, so I am not worried about my fitness level. However, I am not used to playing on artificial turf, so I must get used to it within the limited time frame. I hope to give my utmost efforts to help the team earn a victory.
MF #6 ENDO Wataru (VfB Stuttgart)
I was seeing myself spending more time playing as a defensive midfielder, and I was getting more eager to score a goal, so I am really happy that I was able to score my first goal as a member of the national team. I had no issues with the long travel, and I am not feeling anything irregular at this point, so I just hope to condition myself as usual ahead of the match. Although our next match is an away game, we will prepare ourselves in the same way we did against Mongolia. We will maintain our focus for the entire 90 minutes and give our best efforts to keep a clean sheet while capitalising on our opportunities to score goals.
Schedule
SAMURAI BLUE (Japan National Team) Squad, Schedule
2022 FIFA World Cup Qatar and AFC Asian Cup China PR 2023 Preliminary Joint Qualification - Round 2
Tajikistan National Team vs SAMURAI BLUE (Japan National Team)
Match Date: Tue. 15 October 2019, 17:15 (21:15 Japan time)
Match Venue: Republican Central Stadium, Tajikistan