NEWS
SAMURAI BLUE takes group lead with 6-0 victory over Mongolia - 2022 FIFA World Cup Qatar Asian Qualification Round 2
11 October 2019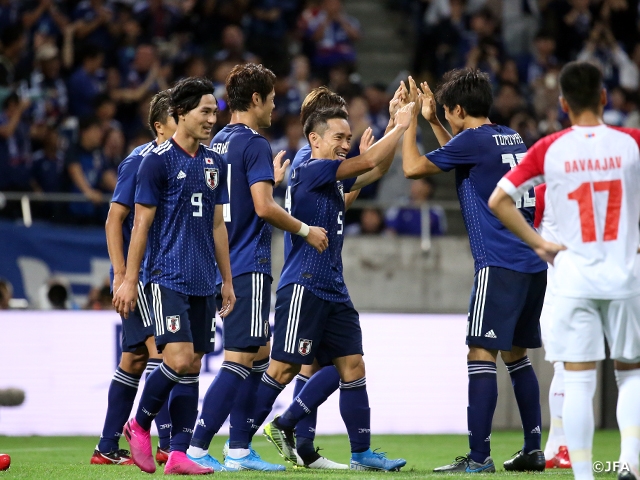 The SAMURAI BLUE (Japan National Team) faced the Mongolia National Team on Thursday 10 October at Saitama Stadium 2002, where they took the group lead at the second round of the FIFA World Cup Qatar Asian qualifiers with a 6-0 victory.
The home side showcased complete dominance over Mongolia, as they registered four goals in the first half including the opener scored by MINAMINO Takumi (FC Red Bull Salzburg) and NAGATOMO Yuto's (Galatasaray S.K.) first goal scored for the national team in 10 years.
Following their match against Myanmar in September, Japan made three changes to their line-up, as NAGAI Kensuke (F.C. Tokyo) was named as the lone striker, while ITO Junya (KRC Genk) and ENDO Wataru (VfB Stuttgart) were positioned in the midfield. For Endo, this was his first start since January's AFC Asian Cup, while Ito and Nagai made their return to the starting line-up since the match against El Salvador this June.
The match saw Japan taking full control from the start. Despite missing their ace, OSAKO Yuya (Werder Bremen) with an injury, Ito showed his presence at the flank, as he combined well with SAKAI Hiroki (Olympique de Marseille) and Minamino to create opportunities for Japan.
The opening goal came in the 22nd minute, when Ito responded to a through ball delivered by Sakai at the right flank. The cross delivered by Ito found Minamino inside the box, as the Japanese midfielder struck a header into the net.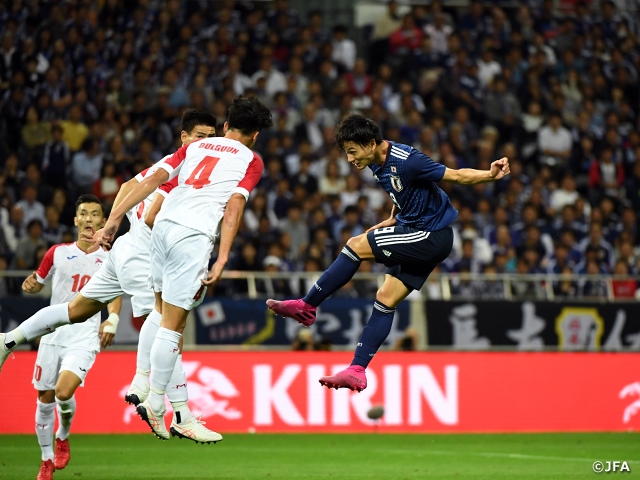 YOSHIDA Maya (Southampton FC) converted a goalmouth scramble following a corner kick delivered by NAKAJIMA Shoya (FC Porto) in the 29th minute, to make it 2-0. Four minutes later, Ito combined with Minamino to break into the penalty area and delivered a perfect setup for Nagatomo, who scored his first goal since 8 October 2009. For the veteran fullback, this was his fourth goal in 120 caps for the national team.
Ito marked his third assist of the match in the 40th minute, when he delivered the cross that led to Nagai's goal to make it 4-0 at halftime.
In efforts to stop the momentum of the home side, Mongolia made adjustments to their formation in the second half, but Japan continued to dominate the match, as Endo converted a corner kick in the 56th minute to extend the lead to five goals.
Japan made changes around the hour mark, as ANZAI Koki (Portimonense S.C.) replaced Sakai, KAMADA Daichi (Eintracht Frankfurt) came in for Minamino, and HARAGUCHI Genki (Hannover 96) in for Nagai. With Nagai leaving the field in the 70th minute, Kamada shifted into the lone striker role for the remainder of the match.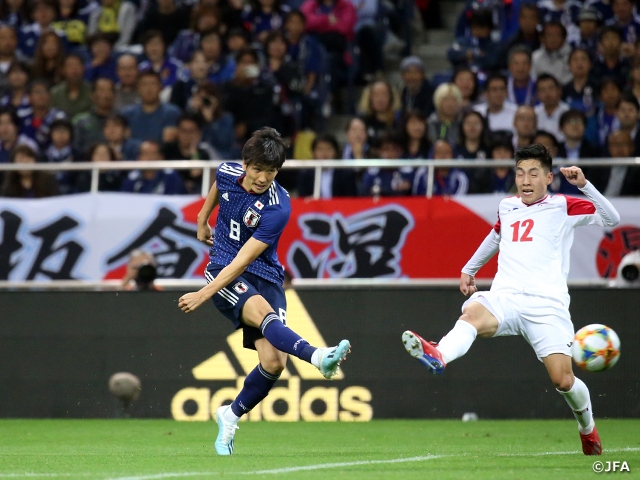 In the 82nd minute, Kamada converted a deflection coming off a shot taken by Endo to register his first goal with the national team. With TOMIYASU Takehiro (Bologna FC 1909) sustaining an injury at the final minutes, Japan was forced to play with 10 players for the remainder of the match but continued to apply pressure upfront to finish the match with a score of 6-0.
Japan demonstrated their dominance by taking 32 shots, while keeping away Mongolia from taking a single shot during this match. With this result, Japan has now taken the lead in Group F, as they tied Tajikistan in points while taking the lead in goal difference. On this day, Kyrgyz Republic won against Myanmar 7-0 to step into third place. Mongolia now drops to fourth, while Myanmar sits at fifth place.
The SAMURAI BLUE will now face an away match against the Tajikistan National Team on Tuesday 15.
Coaches and Players' Comments
MORIYASU Hajime, Coach of SAMURAI BLUE (Japan National Team)
I am glad that we were able to deliver a victory to our fans in our first home game. Our players fought with a strong determination to deliver this victory to our home fans. Ahead of this match, I have told my players to showcase intelligent plays while working hard to outperform our opponents, and the players did just that to earn this result. Regardless of who we face, we must get our jobs done in each match, and through these experiences, the team and the players must all strive to reach a higher level ahead of the World Cup. Ito has played in the Champions League and his growing confidence was on display in today's performance. The team continued to show their aggression in the second half but left an impression that we played with less intensity and quality, which leaves us room for improvements. We will continue to work hard to improve our teamwork and strive to become a better team.
DF #5 NAGATOMO Yuto (Galatasaray S.K.)
I entered today's match with a strong intention to score a goal. The goal was setup perfectly for me. We knew our opponent was going to block off the central area, so we focused on penetrating the flanks. We delivered the ball into the open space and mixed up crosses to keep our opponents guessing. Today's performance really shows the maturity of our team.
DF #22 YOSHIDA Maya (Southampton FC)
The early goal really helped us take control of the match, but we still missed many of our opportunities. The players who were newly named into the starting line-up and those who came in as substitutes showcase a great performance today. I am just glad that we were able to earn three points.
MF #7 SHIBASAKI Gaku (Deportivo de La Coruna)
Including how we penetrated the flanks, I feel like we were able to showcase many variations in our attacks. Both Nagai and Ito did well to show their compatibility with the team, and their speed were very effective in a match like this. I think we were successful in a sense where we managed to add another option to our strategy.
MF #9 MINAMINO Takumi (FC Red Bull Salzburg)
With this being our first home game, I really wanted to win, so I am glad that I was able to help the team by scoring a goal. The absence of Osako did not bother me much. It was great to see our team prove that we can showcase a high-level performance regardless of who starts the match.
MF #14 ITO Junya (KRC Genk)
It was important that we score the first goal today, so I kept my composure and repeatedly delivered crosses which eventually led to a goal. In order to showcase my strong point, I had to receive the ball in the flanks, so I focused on my positioning. We didn't have much time to train for this match, so we had to just dive into it, but we did a fine job to communicate with each other and created numbers of great opportunities.
Michael WEISS, Coach of Mongolia National Team
I have great respect towards the Japanese spirit of never giving up and the intensity shown in their attacks, but they were just too much for us today. We wanted to keep our defence compact and although we managed to keep the score tied for the first 20 minutes, after we conceded the opening goal, it all fell apart. We weren't able to get anything going in our offence neither. We did however make an effort to rally back for a short stint in the second half. This was a harsh result for our players, but I hope they have taken something back from this experience.

Schedule
SAMURAI BLUE (Japan National Team) Squad, Schedule
2022 FIFA World Cup Qatar and AFC Asian Cup China PR 2023 Preliminary Joint Qualification - Round 2
SAMURAI BLUE (Japan National Team) vs Mongolia National Team
Match Date: Thu. 10 October 2019, 19:35
Match Venue: Saitama Stadium 2002, Saitama
Tajikistan National Team vs SAMURAI BLUE (Japan National Team)
Match Date: Tue. 15 October 2019, 17:15 (21:15 Japan time)
Match Venue: Republican Central Stadium, Tajikistan