NEWS
SAMURAI BLUE travels to Tajikistan ahead of 3rd match at the 2022 FIFA World Cup Qatar Asian Qualification Round 2
12 October 2019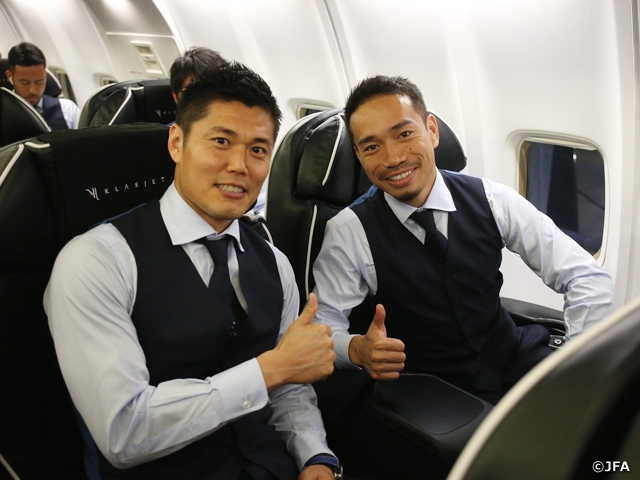 One day following their 6-0 victory over the Mongolia National Team at the second round of the FIFA World Cup Qatar Asian qualifiers, the SAMURAI BLUE (Japan National Team) made their ways to Tajikistan on Friday 11 October to face their third match.
The team left their hotel at 7:00 in the morning and arrived at Narita International Airport around 9:00. MUROYA Sei (F.C. Tokyo), who was newly called-up to replace the injured TOMIYASU Takehiro (Bologna FC 1909), joined the team at the airport. After traveling for nearly an entire day, the team arrived at Dushanbe, the capital city of Tajikistan, just before midnight. The team will start their training from the following day to prepare for their match against Tajikistan.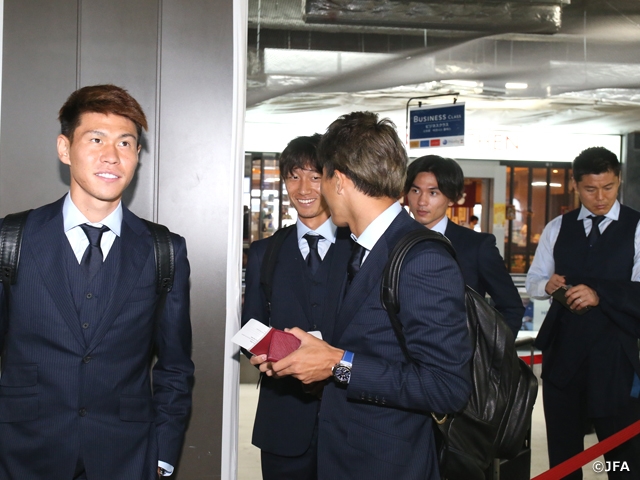 Coach's Comment
MORIYASU Hajime, Coach of SAMURAI BLUE (Japan National Team)
It was unfortunate that Tomiyasu had to leave the team with an injury, and I am sure he is feeling very disappointed right now. He was playing very solidly yesterday, so it is a major blow for the team, but I wish him for a fast recovery, and I hope to see him back in full strengths soon. I made my decision to call-up Muroya to balance out the team. We have players who can fill-in the shoes of Tomiyasu and I am sure they are motivated to showcase their abilities in our next match. Every player on this squad are worthy of playing in any match, so once I assess how fatigued the players are from this long travel, I will decide who will play in our next match. Tajikistan has won two matches already, and they are a strong team with great techniques. I am sure that they will showcase a solid performance in defence to anticipate for their opportunities to counter, just like the teams we've faced in the previous two matches. In order to achieve our goal, we must focus on our daily tasks and strive to make progress each day.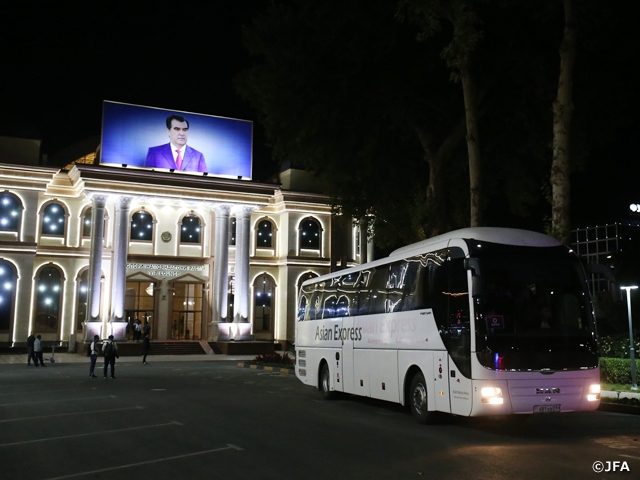 Schedule
SAMURAI BLUE (Japan National Team) Squad, Schedule
2022 FIFA World Cup Qatar and AFC Asian Cup China PR 2023 Preliminary Joint Qualification - Round 2
Tajikistan National Team vs SAMURAI BLUE (Japan National Team)
Match Date: Tue. 15 October 2019, 17:15 (21:15 Japan time)
Match Venue: Republican Central Stadium, Tajikistan