NEWS
Japan Futsal National Team begins training in Bangkok ahead of International Friendly Match against Thailand Futsal National Team
31 January 2019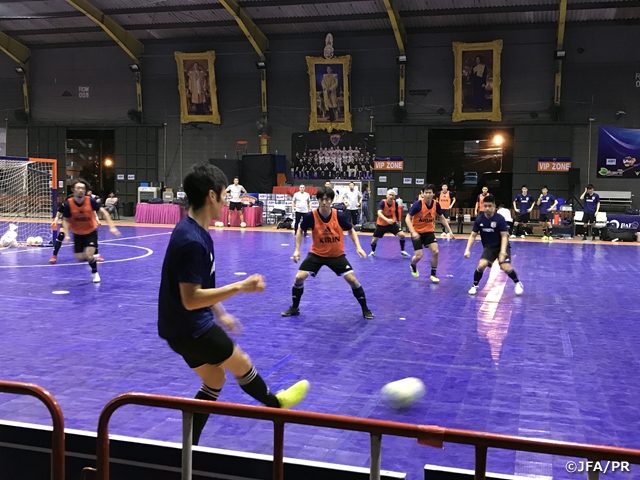 On Tuesday 29 January, the Japan Futsal National Team started its training camp in Bangkok, Thailand. The 16-man roster for this Thailand tour features 14 players who currently plays in the domestic league, while HENMI Katsutoshi Rafael and SHIMIZU Kazuya were called up from Portugal and Spain respectively.
Despite the long travel, the team held its first training session on the evening of day one. Under the hot weather of Bangkok, where the temperature rose over 30 degrees Celsius, the players were seen working up a sweat while enthusiastically communicating with each other.
Day two featured a two-part session, where the team trained both in the morning and the afternoon. Ahead of the training session, Coach Bruno GARCIA gathered the team for a meeting to go over the team concept and tactics for their international friendly match against the Thailand Futsal National Team.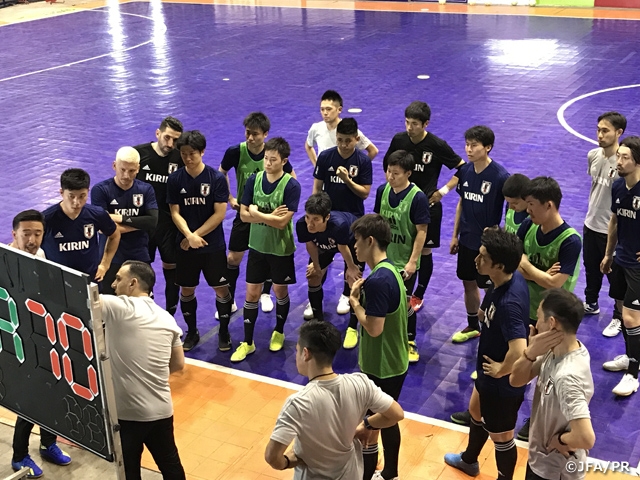 The morning session started with a warmup routine directed by their Physical Coach SHIMOJI Tatsuaki. The team then went over drills in 2 vs 2 and 3 vs 3 formats, while they concluded their workout with a 5 vs 5 scrimmage.
Following a lunch break, the goalkeepers were regathered on the court for a goalkeeping training session conducted by GK Coach UCHIYAMA Keitaro. During this period, the field players were not present on the court, as the entire session was devoted for the goalkeepers. The players worked out for about an hour to go over drills that mainly emphasised shot blocks.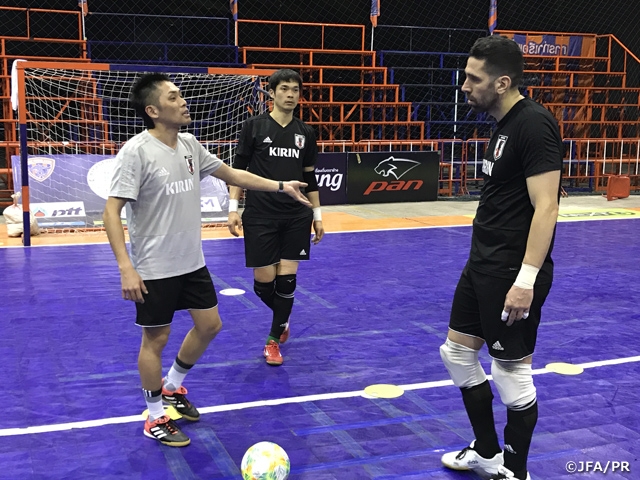 The rest of the team showed up to the court following a team meeting, as the players were seen going over their power-plays and then went onto play a scrimmage to conclude the day.
The Japan Futsal National Team will hold an official training session on Thursday 31 before playing an international friendly match against the Thailand Futsal National Team.
Coach and Players' Comments
UCHIYAMA Keitaro (GK Coach)
We emphasised on the shot blocking techniques in today's goalkeeping training session by working on three different variations. During the session, the players showcased what they have been working on in their daily basis, as well as their eagerness to challenge new tasks, and we were able to conduct a training session with great quality ahead of the upcoming match. Following tomorrow's official training session, we will play two international matches. They will be difficult matches, but we will do our best to help the team out.
GK #2 HIYAMA Shogo (Shriker Osaka)
We were able to hold a quality preparation session ahead of our match against Thailand. During our goalkeepers' session, we managed to simulate the upcoming match and work on the small details. We will continue to work hard tomorrow, so that we can earn a victory at the match.
FP #3 SHIRAKATA Hidekazu (Vasagey Oita)
We were able to conclude three training sessions here in Thailand, and we have been able to spend a quality time here. The level of each play is so much higher here, and I must get used to this level. We will enter the two matches against the Thailand Futsal National Team with pride and give our very best.
FP #16 SHIMIZU Kazuya (ElPozo Murcia FS)
We have been able to get used to this weather and hold a training session at a high level. In order to achieve our goal, we cannot waste any time here. We are entering each session with a strong intention to heighten our combination to earn better results at our future matches.
Schedule
Tue. 29 January
PM
Training
Wed. 30 January
AM/PM
Training
Thu. 31 January
AM/PM
Training
Fri. 1 February
AM
Training
19:00
International Friendly Match
vs Thailand Futsal National Team (Bangkok Arena)
Sat. 2 February
AM/PM
Training
Sun. 3 February
AM
Training
16:00
International Friendly Match
vs Thailand Futsal National Team (Bangkok Arena)
*Local Time
*The schedule is subject to change due to the team condition, the weather, etc.