NEWS
Japan Beach Soccer National Team shuts out Palestine to earn ticket into the World Cup at AFC Beach Soccer Championship Thailand 2019
16 March 2019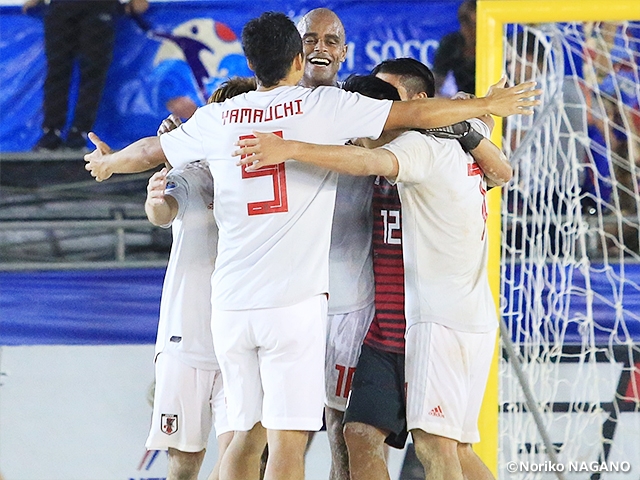 On Friday 15 March, the Japan Beach Soccer National Team played the semi-final match of the AFC Beach Soccer Championship Thailand 2019 against the Palestine Beach Soccer National Team. Japan scored a total of six goals, including MOREIRA Ozu's superb freekick, to advance through to the final as well as to qualify for their 10th straight FIFA Beach Soccer World Cup.
The semi-final match kicked-off at 7 p.m. local time with a temperature of 28 degree Celsius. Although the players and coaches were seen indulging the joy of their quarterfinal victory over Iran on the day before, the team had already reset their focus back to the competition, as they entered the match with their eyes set to qualify for the World Cup.
The first period saw the Japanese pivot attacking the goal with aggression. In the sixth minute, AKAGUMA Takuya received the ball in front of the goal before making a swift turn and striking the ball into the net. Japan created multiple opportunities following their opener, and it was Moreira who capture the second goal, when he launched a beautiful free kick that shook the net.
In the second minute of the second period, YAMAUCHI Shusei controlled the long feed from his goalkeeper TERUKINA Shingo to allow OBA Takaaki to fire a shot to make it 3-0. While Japan continued to threaten the opposing goal, they struggled to capitalise on their chances, as Coach RAMOS Ruy was seen shouting from the bench to encourage his players. Just before the end of the second period, Japan earned a penalty kick, but the spot kick was denied by the opposing goalkeeper.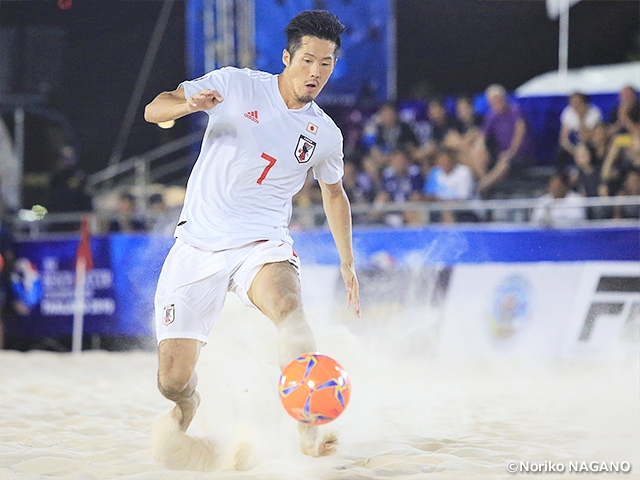 In the early minutes of the third period, a Palestinian player was shown a red card after committing a foul to Akaguma. Despite earning another penalty kick, Japan failed to convert this spot kick as well. However, Moreira capitalised on a freekick to further extend the lead for Japan, followed by a goal scored by Yamauchi, to make his case for the golden boot award of this tournament. In the closing seconds of the match, MATSUO Naoya converted a deflection created by a shot taken by Oba to make it 6-0 before hearing the final whistle.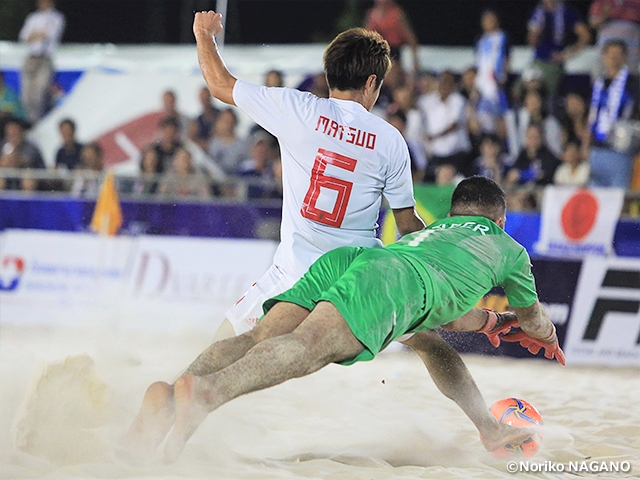 Throughout the match, Coach Ramos was seen encouraging his players with a tense tone, as he kept on telling his players not to sit on their laurels. Japan is now one step away from taking the Asian title with the possibility of producing the tournament MVP and the top scorer award.
Japan will now face the UAE Beach Soccer National Team in the tournament final on Sunday 17, with a kick-off time of 7 p.m. local time (9 p.m. Japan time).
Coach and Players' Comments
RAMOS Ruy, Coach
In our group stage matches against Kuwait and Bahrain, we scored many goals, but didn't execute our game plan. Maybe it was caused by the pressure applied by the opponents, I honestly don't know the reason. Our players might have been satisfied by earning a spot into the World Cup, but we are here to win the title. Yes, we played an exhausting overtime match against Iran yesterday, but that is not an excuse for us.
FP #6 MATSUO Naoya (Aveldage Kumamoto BS)
We really didn't like playing against neither Oman nor Iran at the quarterfinals, so we are just relieved to earn a spot into the World Cup. Coach Ramos has always told us that he wants to take us to the World Cup, but it was our job to take him to the World Cup, so I am glad we accomplished that goal. If I stayed patient until the final period, I knew I would be getting a chance to score, so I am glad I kept running. In today's match, I was very keen on scoring a goal, and I focused on getting myself in a free position, but it didn't seem work in my favour, until the last moment when the deflection of Oba's shot came my way. My strong intention to score a goal has led to that goal.
FP #7 OBA Takaaki (Free Agent)
Although I was able to score a goal today, there were much more chances I should have converted. We managed to take many shots but lacked quality in our final touches. If we could have capitalised on more of those opportunities, that match would've been much easier for us. We must make the necessary adjustments ahead of the final. It makes a world of difference if we win the title and head into the World Cup, rather than finishing as runners-up and entering the World Cup, so we will prepare ourselves well to win the final and enter the World Cup with a positive vibe.
FP #10 MOREIRA Ozu (Tokyo Verdy BS)
I was honestly too overwhelmed after yesterday's match. Of course, today's match was also a very important match for us, but I reached my peak of excitement yesterday. Following yesterday's match, we kept on telling each other that we must reset our minds and focus on the match against Palestine. We must focus on capitalising on our opportunities, because if we don't convert those chances, our opponents will punish us by scoring their chances. If the offence can score more goals, we can shed off the pressure on our defence.
Schedule
AFC Beach Soccer Championship Thailand 2019
Fri. 8 March
8-1
1st Group Stage Match vs Kuwait Beach Soccer National Team (@Main Arena)
Sat. 9 March
TBC
Training
Sun. 10 March
7-1
2nd Group Stage Match vs Qatar Beach Soccer National Team (@Main Arena)
Mon. 11 March
TBC
Training
Tue. 12 March
6-2
3rd Group Stage Match vs Bahrain Beach Soccer National Team (@Main Arena)
Wed. 13 March
TBC
Training
Thu. 14 March
3-2
Quarterfinals vs Iran Beach Soccer National Team
(@Main Arena)
Fri. 15 March
6-0
Semi-Finals vs Palestine Beach Soccer National Team
(@Main Arena)
Sat. 16 March
TBC
Training
Sun. 17 March
19:00
Final vs UAE Beach Soccer National Team
(@Main Arena)
*Local time
*The schedule is subject to change due to the team condition, the weather, etc.