NEWS
Japan Beach Soccer National Team advances through group stage in 1st place with convincing win over Bahrain at AFC Beach Soccer Championship Thailand 2019
13 March 2019
On Tuesday 12 March, the Japan Beach Soccer National Team played their third group stage match against the Bahrain Beach Soccer National Team, who has also won their first two group stage matches. With the help of OKUYAMA Masanori's consecutive goals scored in the second period, Japan went onto win the match 6-2 to advance through to the next round as group leaders.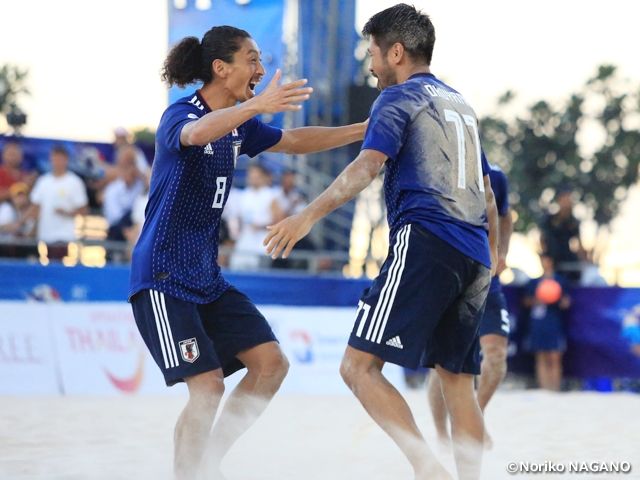 The match kicked-off at 5:30 p.m. local time under the temperature of 27 degrees Celsius. In the second minute of the match, Japan's captain MOREIRA Ozu scored the opening goal. However, Bahrain responded with the equaliser just two minutes later, when a long feed from the goalkeeper was converted with a header.
The second period saw Japan entering the court with a different mindset. In the 16th minute, AKAGUMA Takuya struck a bicycle kick after receiving the ball from Moreira to give Japan the lead once again. Following this goal, the Japanese pivot, Okuyama, showcased a string of wonderful individual efforts. In the 18th minute Okuyama received the ball from KOMAKI Masayuki and fired a bicycle kick into the left corner of the goal. Just moments later, the throw by the Japanese goalkeeper TERUKINA Shingo picked out Okuyama and this time he struck a bicycle kick into the right side of the goal to further extend Japan's lead. Moreira captured the team's fifth goal after OBA Takaaki and Komaki connected the ball to him. Despite conceding a goal in the 22nd minute from a penalty kick, Japan managed to end the second period with a three-goal lead.
Early in the third period, Moreira forced a turnover before sending the ball to YAMAUCHI Shusei, who calmly converted the opportunity. Despite seeing the Bahraini side running out of gas, Japan struggled to score further goals. Coach RAMOS was seen sending encouragements to his players, but the match ended with no further action, as Japan took down the match with a final score of 6-2. As a result, Japan advanced to the knockout stage as the group leaders. With Iran losing to Oman to finish as the runners-up of Group D, Japan will now face their number one rival of this tournament, Iran, in the quarterfinals.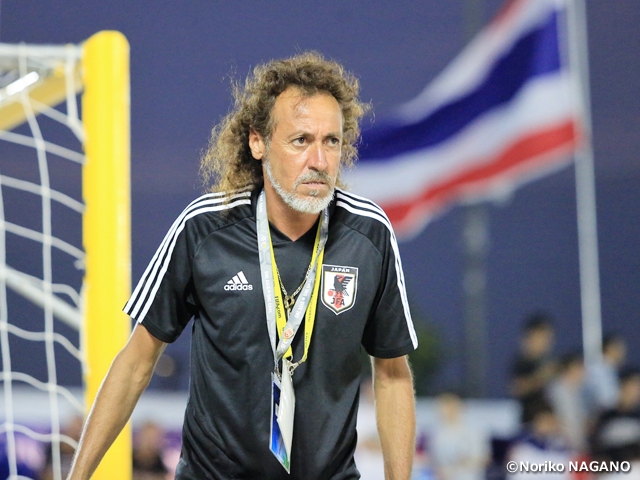 The quarterfinals will take place on Thursday 14, with a kick-off time of 5:30 p.m. local time (7:30 p.m. Japan time).
Coach and Players' Comments
RAMOS Ruy, Coach (Japan Beach Soccer National Team)
It's great that we have won the match, but I am not totally satisfied with our performance. From time to time, we played well, but we made too many mistakes and had to score more goals. It would have been better if we were able to pick our momentum towards the next match while we pay respect to our opponents. With the team facing stronger opponents, our performance has picked up gradually from the first two matches, but we still need to do a better job.
FP #3 IINO Tomoyuki (Tokyo Lequios BS)
Following the result from our last tournament appearance, we entered this tournament with a strong intention to win the title. We saw both positive and negative scenes in today's match, but it means a lot that we were able to win the match with a total team effort. I personally wanted to make overlapping runs to take shots after the ball was sent to our pivot, but I wasn't able to execute the plays as I planned. We need to condition ourselves so that we can enter the next match in a better form.
FP #7 OBA Takaaki (Free Agent)
We have been conceding the opening goal in our recent matches, so we need to score the first goal and build a positive momentum during the first period. I feel like that is an aspect the team must priorities to work on. I am always keen to make the assist to help the team win, but I must also become able to score goals myself to help the team when necessary. As a member of the Japan National Team, we cannot afford to lose, so we will focus on each of the match ahead of us.
FP #11 OKUYAMA Masanori (Loewe Yokohama)
I was able to score a goal in a good timing which allowed me to find my rhythm. Scoring a goal with a bicycle kick gives me a great boost to my confidence, and I am happy that I was able to score two of them today. I feel like I was able to execute the things we worked in our trainings. At the first period, our opponents looked confident, but after scoring consecutive goals in the second period, there were players looking down, so it must've had a great impact in the mental aspect.
Schedule
AFC Beach Soccer Championship Thailand 2019
Fri. 8 March
8-1
1st Group Stage Match vs Kuwait Beach Soccer National Team (@Main Arena)
Sat. 9 March
TBC
Training
Sun. 10 March
7-1
2nd Group Stage Match vs Qatar Beach Soccer National Team (@Main Arena)
Mon. 11 March
TBC
Training
Tue. 12 March
6-2
3rd Group Stage Match vs Bahrain Beach Soccer National Team (@Main Arena)
Wed. 13 March
TBC
Training
Thu. 14 March
TBC
Quarterfinals (@Main Arena)
Fri. 15 March
TBC
Semi-Finals (@Main Arena)
Sat. 16 March
TBC
Training
Sun. 17 March
TBC
Final (@Main Arena)
*Local time
*The schedule is subject to change due to the team condition, the weather, etc.