NEWS
Nadeshiko Japan shuts out media to hold training session at the FIFA Women's World Cup France 2019
18 June 2019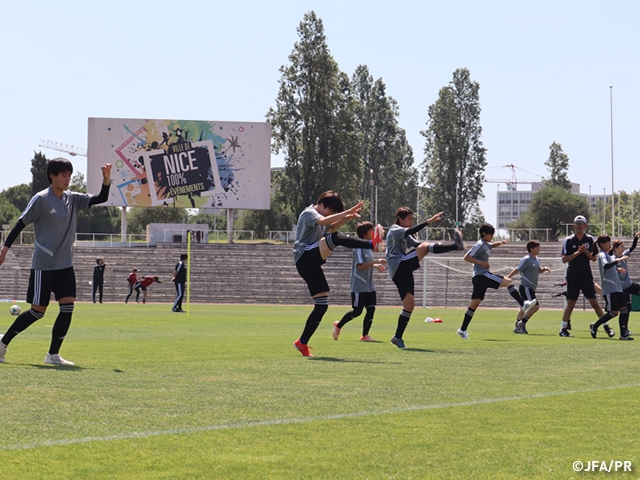 Two days ahead of their third group stage match against England at the FIFA Women's World Cup France 2019, the Nadeshiko Japan (Japan Women's National Team) held a training session on Monday 17 June.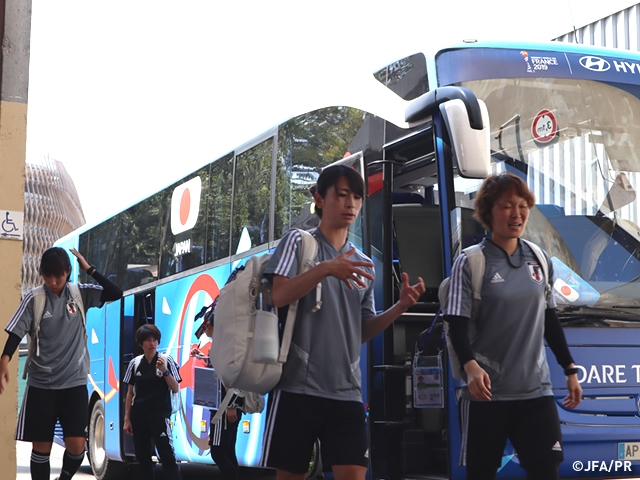 The training session held on this day was conducted behind closed doors for the entire session. With the team given a day off on the day before, the players worked up a good sweat in the two-hour session that was held under the scorching sun.
The Nadeshiko Japan will face the England Women's National Team in their final group stage match to determine the leaders of Group D. The match will take place on Wednesday 19 June at 21:00 local time (Thursday 20 June at 4:00 Japan time).
Players' Comments
MF #17 MIURA Narumi (Nippon TV Beleza)
I was very relieved when I learned that we have clinched our spot into the knockout stage. Compared to our first match, we showed great unity as a team in our match against Scotland. Following the win, the team has been surrounded with a positive vibe in our training sessions, and I can really feel the energy flowing. For our match against England, of course we need to perform well, but more than anything, we need to win the match, so we will enter the match with the intention to give our utmost efforts to earn that result.
FW #8 IWABUCHI Mana (INAC Kobe Leonessa)
The training session was pretty intense today. We wanted to go over our combinations ahead of the England match, so we watched some films before the training session to get ourselves on the same page. I was glad to learn that we made it through to the knockout stage, but the result of our next match is going to determine who gets to take the group lead, so we hope to win against England to put ourselves in a better position to win the title. I have been given the opportunity to gain many experiences over the years, and as I get older, I am feeling responsible to lead the team. I feel like my perspective has gotten wider compared to the past two World Cups as well.
FW #19 ENDO Jun (Nippon TV Beleza)
I was really relieved to learn that we made it through to the knockout stage, but we still have our match against England, so I will reset my mind to get myself ready for the match. Our whole team managed to enter the match against Scotland with a fresh mindset, and that match has allowed us to train with a positive atmosphere today. The English players have the height advantage over us, and they are strong in the air. They also have players with great speed in the flanks. Are patience will certainly be tested against them, so during the remaining training sessions, we hope to focus on how we are going to find our rhythm against such opponent.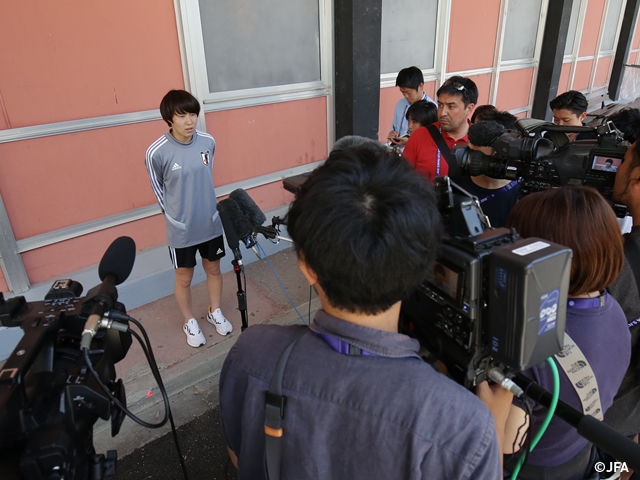 Schedule
Nadeshiko Japan (Japan Women's National Team) Squad, Schedule
FIFA Women's World Cup France 2019
Tournament Dates: Fri. 7 June - Sun. 7 July 2019
Group Stage:
Tue. 11 June 2019 01:00 (Japan time)
vs Argentina Women's National Team
Fri. 14 June 2019 22:00 (Japan time)
vs Scotland Women's National Team
Thu. 20 June 2019 04:00 (Japan time)
vs England Women's National Team