NEWS
Nadeshiko Japan takes a day off ahead of match against England at the FIFA Women's World Cup France 2019
17 June 2019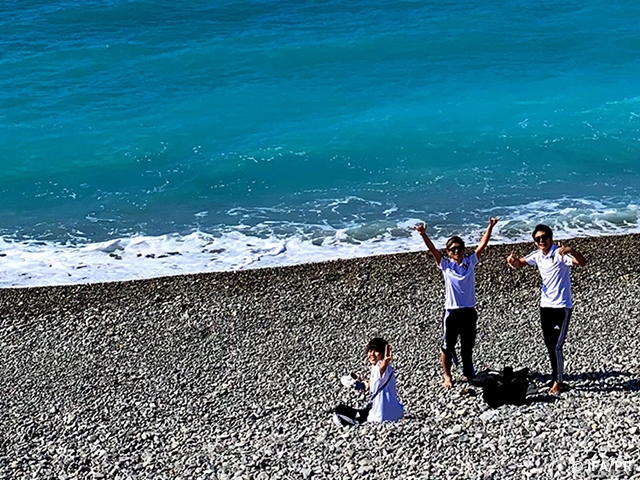 Ahead of their third group stage match of the FIFA Women's World Cup France 2019 against the England Women's National Team, the Nadeshiko Japan (Japan Women's National Team) took a day off on Sunday 16 June.
With the team entering their second day in Nice, coach TAKAKURA Asako cancelled their scheduled training session to allow her players to rest up and get refreshed ahead of their big match against England. The players took a tour to a nearby town after breakfast and spent their time visiting the local sceneries and cafes. The team then made their ways to a shopping mall to shop around, which was a rare sight during their team activities.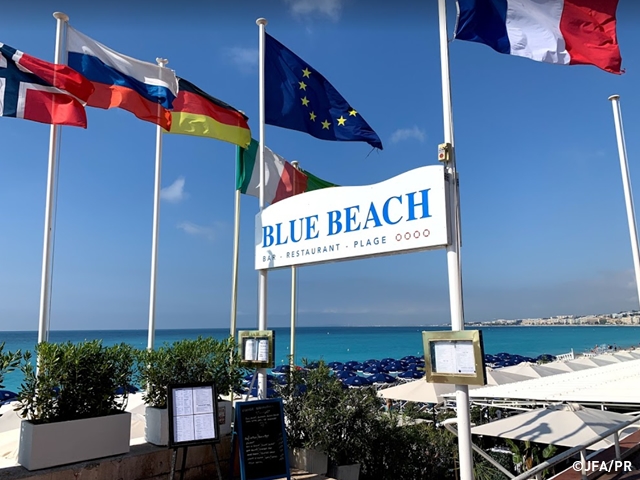 Before dinner, the team held a film session to review their match against Scotland. During the session, the players repeatedly watched both positive and negative scenes from the match to discuss what went right and wrong in their most recent match. Coach Takakura praised the players by mentioning, "Everyone fought with great intensity," and continued by stating the positive aspects for each position, "The forwards did a great job to score goals. The midfielders worked tirelessly throughout the match. The defenders not only did well in defence but became the launching pad for our offence."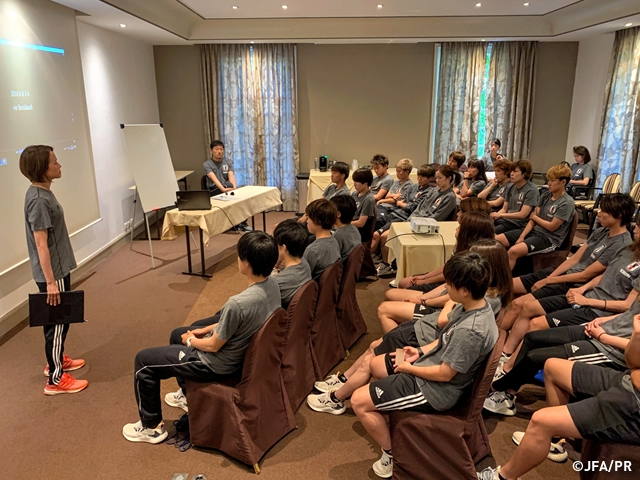 On this day, Japan's advancement to the round of 16 was confirmed after the completion of matches played in other groups. After receiving the news, coach Takakura shared her aspiration, "By securing our spot into the knockout stage, we have made a step forward to achieve our goal. However, the Nadeshiko Japan is striving to achieve a much higher goal. We will remain unchanged on how we approach each match, and we are fully focused on our match against England for now."
The Nadeshiko Japan will face the England Women's National Team on Thursday 19 June at 21:00 local time (Friday 20 June at 4:00 Japan time).
Players' Comments
DF #3 SAMESHIMA Aya (INAC Kobe Leonessa)
I was able to spend my birthday during the World Cup and win the match against Scotland on the same day, so I feel very fortunate. We were given the day off today, and it allowed me to relax myself both mentally and physically, so I am ready to resume our trainings from tomorrow and prepare ourselves ahead of the England match. England is capable of utilising the long balls to effectively put in use of their speedy forwards, but their passing game is also impressive, so it's not hard to imagine that it will be a difficult match for us. As a fullback, my job is to stop the opposing winger from breaking through. We will prepare ourselves in the best way possible, because we really want to win against England.
DF #22 SHIMIZU Risa (Nippon TV Beleza)
This was my first time spending my birthday during a tournament and I was so happy when my teammates celebrated for me. This was our first day off during this tour, and it really allowed us to refresh ourselves ahead of the next match. We played a bit too passively in our first match, so we made the adjustments in the second match to play more aggressively and I think that has allowed us to earn the win against Scotland. With the team being in a must win situation, it allowed us to strengthen the team bond and made us more eager to win the match. The match against England will be a very difficult match, but we will continue to work hard so that we can earn another victory as a team.
Schedule
Nadeshiko Japan (Japan Women's National Team) Squad, Schedule
FIFA Women's World Cup France 2019
Tournament Dates: Fri. 7 June - Sun. 7 July 2019
Group Stage:
Tue. 11 June 2019 01:00 (Japan time)
vs Argentina Women's National Team
Fri. 14 June 2019 22:00 (Japan time)
vs Scotland Women's National Team
Thu. 20 June 2019 04:00 (Japan time)
vs England Women's National Team