NEWS
Nadeshiko target back-to-back trophy - Squad for Asian Games announced
22 August 2014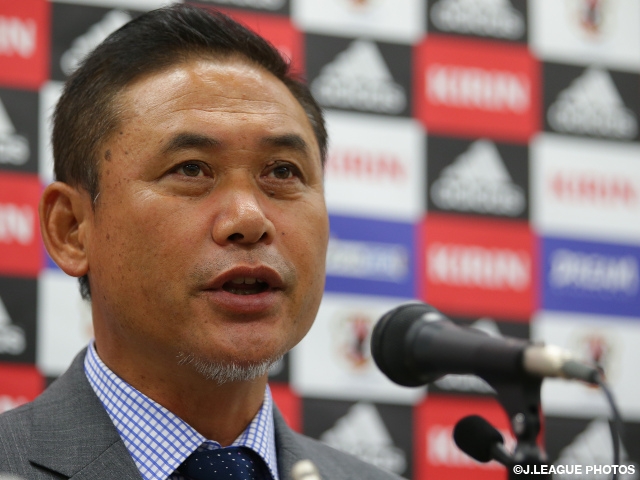 Nadeshiko Japan head coach Sasaki Norio expressed his objectives, "we aim at back-to-back trophy," at the press conference at JFA House in Tokyo on 21 August for the upcoming 17th Asian Games starting in mid-September in Inchon, Korea.
As women's football starting ahead of other competitions, all eleven teams divided into three groups will have group stage contests. Japan will be placed in the Group B along with China, Jordan and Chinese Taipei. The top two teams in each group and the top two third-placed teams of all groups will advance to the knockout stage.
The 18-woman squad announced today includes members of the champion squad from 2011 FIFA Women's World Cup; MF Miyama Aya (Okayama Yunogo Belle), DF Iwashimizu Azusa (Nippon TV Beleza), MF Kawasumi Nahomi (Seattle Reign) – while MF Sawa Homare (INAC Kobe) and some other players belonging to overseas teams are not selected. The squad also welcomes eight players who have capped 10 or less matches for Nadeshiko, including three players such as DF Usui Rie (Urawa Reds Ladies) who get called up for the first time.
Sasaki explained his reasoning of the selection that the upcoming tournament is held as the European leagues start their seasons and not held on the designated international match days. On top of that, he commented his expectation for the 2015 FIFA Women's World Cup as the defending champion. "We will take on a challenge that leads to our future as we build team chemistry among players who have basic understanding (of Nadeshiko's football style), players who are new and players who are not experienced much yet."
Sasaki pointed out oppositions' advantage in terms of scouting as Jordan and Chinese Taipei are led by Japanese coaches, saying "we were placed in the most difficult group." "China's got talented players and improved the team at higher level than before," Sasaki showed his wariness on China as well.
The Nadeshiko Japan coach said, "we've got only short time to prepare, but try to work out together to aim at the back-to-back trophy. Hopefully, we can achieve the win along with the men's team."
Team Japan will have a domestic camp starting at 9 September and meet the Ghana Women's National Team at ND Soft Stadium Yamagata on 13th in a send-off match, Nadeshiko Japan World Match.
Comment from SASAKI Norio, Nadeshiko Japan Head Coach
Last year in this championship, players led the team themselves with the following World Cup in mind and won the championship. This time, we add new players onto the foundation of the team that we already established. That's something a bit different from last time. But anyways, nothing has changed in terms of the fact that we are trying to win. I called up three new players because they have great specialities and high mobility as you can see in this year's Nadeshiko League. The reason why I selected them is I'm hoping they are going to grow in this camp and championship and take over the experience to next year. I'm also looking forward to playing Ghana in my home town, Yamagata before the Asian Games. We've got only short time to prepare, but try to work out together to aim at the back-to-back trophy. Hopefully, we can achieve the win along with the men's team, led by U-21 National Team coach Teguramori.
JFA-TV
Schedule
| | | |
| --- | --- | --- |
| Tue. 9 September | PM (Plan) | Training |
| Wed. 10 September | AM/PM | Training |
| Thu. 11 September | AM/PM | Training |
| Fri. 12 September | PM | Official Training |
| Sat. 13 September | 19:00 | Nadeshiko Japan WORLD MATCH vs Ghana Woman National Team (ND Soft Stadium Yamagata) |
| Sun. 15 September | (to be announced) | Training |
17th Asian Games Incheon 2014 Group Matchings
| | |
| --- | --- |
| Group A | Korea Republic, Thailand, India, Maldives |
| Group B | Japan, China PR, Jordan, Chinese Taipei |
| Group C | Korea DPR, Vietnam, Hong Kong |