NEWS
Higashi Fukuoka draw with Kyoto after falling behind twice - Prince Takamado Trophy JFA U-18 Football Premier League 2021 WEST
18 October 2021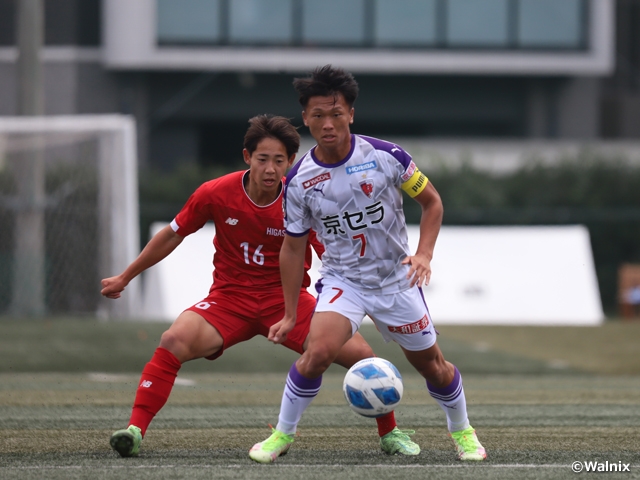 The 15th sec. of the Prince Takamado Trophy JFA U-18 Football Premier League 2021 WEST took place on Saturday 16 and Sunda 17 October, as Higashi Fukuoka High School (Fukuoka) welcomed Kyoto Sanga FC U-18 (Kyoto) to their home field.
Pick-up Match
Higashi Fukuoka High School 2-2 (1-1, 1-1) Kyoto Sanga FC U-18
The difference in points between seventh place Higashi Fukuoka and ninth place Kyoto is only two points. The match, in which both teams desperately needed a win to avoid relegation, saw action from the early minutes. It was Kyoto who scored the opening goal, as KUMAGAI Kudai (#12) calmly converted the deflection following a corner kick.
Despite taking an early lead, Kyoto struggled to possess the ball, as KATSUSHIMA Shinosuke (#10) later reflected, "We haven't had many chances to score first in our previous matches, so we were not used to having the lead. We should have played with more confidence and tried to possess the ball from the first half." Higashi Fukuoka on the other hand took control of the match through their high pressing defence and short counters. With momentum on their side Higashi Fukuoka scored the equaliser just before the break, as NARAZAKI Umia (#7) converted the deflection of the shot taken by DANGAMI Naoki (#4).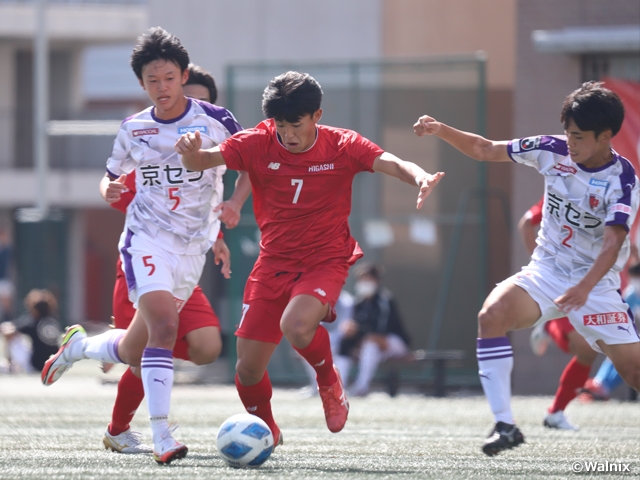 After conceding the equaliser in the closing minutes of the first half, Kyoto made adjustments on their build-up plays and defensive approach during halftime to take the initiative in the second half. In the 58th minute, YAMAZAKI Haru (#8) won the ball in the left flank and penetrated the central area by exchanging passes with Katsushima before finding ANDO Tomotaka (#28), who slotted the ball into the corner of the Higashi Fukuoka goal.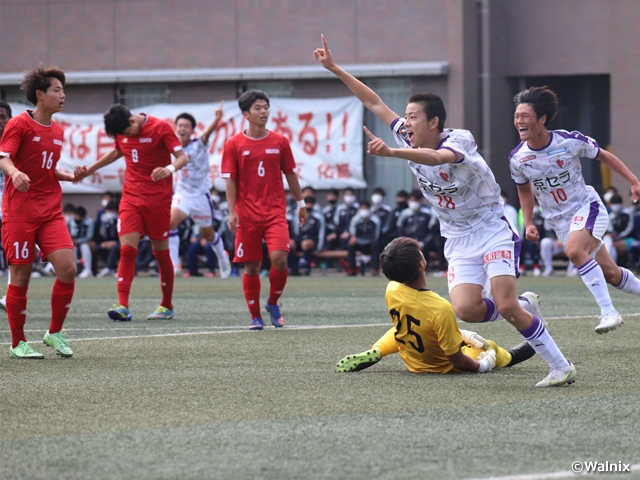 Despite conceding the lead for the second time, the players of Higashi Fukuoka did not show signs of giving up, as Narazaki later mentioned, "We were in control, so we knew we would get another chance." After making two substitutions in the 63rd minute, the Fukuoka side once again managed to level the match, when OBUCHI Raiju (#29) capitalised on the deflection caused by the shot taken by SONODA Hisashi (#2) in the 86th minute. The match ended 2-2, giving the two teams a point apiece.
Coaches and Players' Comments
MORISHIGE Junya, Coach (Higashi Fukuoka High School)
We entered today's match with strong determination to earn three points, so we are not totally satisfied with this result. Our lack of focus caused us to concede the opening goal in the early minutes, and we failed to covert our opportunities even when we had control over the match. However, it was great that we didn't lose in the three matches in October, which were played between the lower ranked teams. We were able to steadily earn points.
DF #4 DANGAMI Naoki (Higashi Fukuoka High School)
With the match being played between two lower ranked teams, we desperately needed to earn three points in order to avoid being relegated from the Premier League. It was unfortunate that we conceded the opening goal in the early minutes, but we were able to deny our opponent from gaining momentum. The fact that we were able to walk away with a point as a result of us fighting hard and never giving up is huge. Since the summer, the players have been actively communicating with each other, and that has helped us earn this result. We will continue to work hard so that we can remain in the Premier League.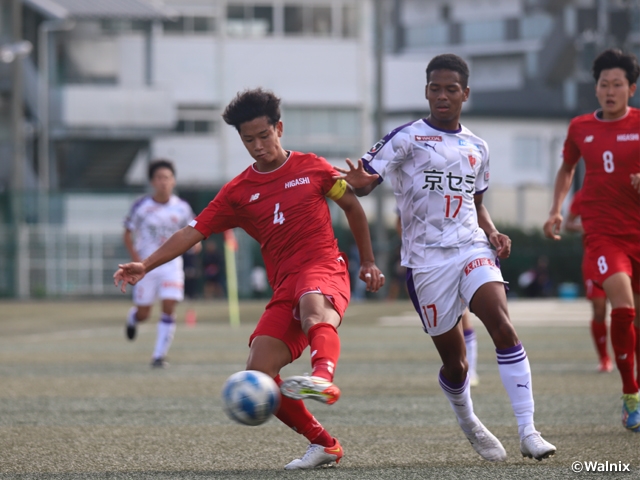 SHIGAKI Ryo, Coach (Kyoto Sanga FC U-18)
We conceded two goals from set pieces and that is an area we must improve ourselves ahead of our next match. It is very unfortunate that we weren't able to win this match. However, as long as we can showcase a good performance, we will eventually win matches. We are fortunate to be in this league where we can experience playing under pressure. I have been telling the players that it will be a valuable asset for their career.
FW #10 KATSUSHIMA Shinosuke (Kyoto Sanga FC U-18)
Although our overall performance has improved over the past few matches, we have conceded goals in the last 10 minutes in the back to back matches. I believe that the cause is not just how we play football, but the whole team lacks attention to detail from the daily basis. There is a saying that "the devil is in the details," and I believe that we cannot become a winning team unless we stick to those details. I hope to showcase a strong performance to help the team win the next match.
Results of other matches
Sanfrecce Hiroshima F.C Youth 5-1 (1-1, 4-0) Gamba Osaka Youth
Vissel Kobe U-18 2-3 (2-0, 0-3) Cerezo Osaka U-18
Nagoya Grampus U-18 1-5 (0-5, 1-0) Ozu High School
Sagan Tosu U-18 7-0 (3-0, 4-0) Jubilo Iwata U-18
Sanfrecce Hiroshima F.C Youth (Hiroshima) welcomed Gamba Osaka Youth (Osaka) to their home, where TANADA Ryo (#10) scored a hat-trick to give the home side a 5-1 victory. Despite conceding a two goal lead to Vissel Kobe U-18 (Hyogo) in the first half, Cerezo Osaka U-18 (Osaka) scored three goals in the second half to earn a come from behind victory. In a matchup between the second and third place teams in the West, Ozu High School (Kumamoto) scored five goals in the first half to claim second place over Nagoya Grampus U-18 (Aichi). With six different players scoring, Sagan Tosu U-18 (Saga) cruised through Jubilo Iwata U-18 (Shizuoka) to stay in contention for the title race.

Prince Takamado Trophy JFA U-18 Football Premier League 2021
League Duration: Sat. 3 April - Sun. 5 December 2021