NEWS
"Summer Champions" Nagoya defeat C. Osaka to claim fifth win - Prince Takamado Trophy JFA U-18 Football Premier League 2021 WEST
11 October 2021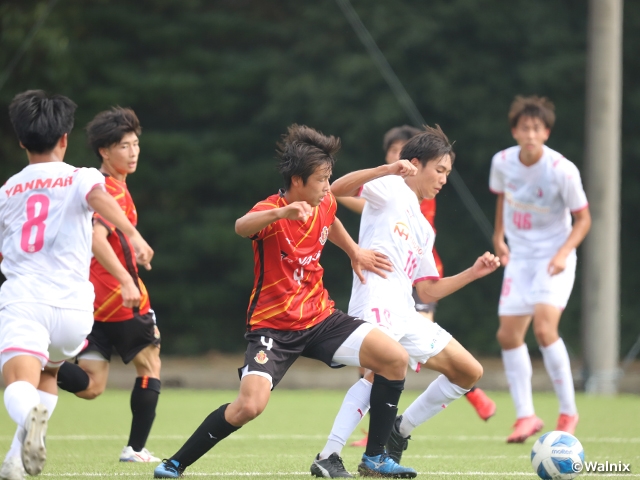 The 14th sec. of the Prince Takamado Trophy JFA U-18 Football Premier League 2021 WEST took place on Saturday 9 and Sunday 10 October, during which Nagoya Grampus U-18 (Aichi) faced Cerezo Osaka U-18 (Osaka).
Pick-up Match
Nagoya Grampus U-18 1-0 (1-0, 0-0) Cerezo Osaka U-18
Nagoya had been undefeated since the start of the season but suffered their first lost last week when they faced Vissel Kobe U-18 (Hyogo), in which they allowed Kobe to overtake a two goal lead. Following the loss, Nagoya vowed to get back on track, but saw limited improvements in their training sessions, urging the senior players to hold a meeting ahead of the match.
"We talked about how the third-year players need to do more in order to achieve our goal of reaching the finals," said YOSHIDA Haruki (#4), as the players showed great enthusiasm to start the match. Nagoya applied aggressive pressure from their front line to limit C. Osaka from possessing the ball, while also showing quick transitions between defence and offence to create opportunities from the early minutes. In the seventh minute, KIDA Ryoga (#35) responded to a pass delivered by SAHASHI Toma (#2) to take a shot but fell short from finding the back of the net.
The opening goal came in the 42nd minute, when USUI Seiryu (#19) passed the ball to SUZUKI Haruto (#38) who carried the ball from the right side into the middle, before sending the ball towards the goal. It was Kida who responded to the delivery, as the striker later reflected, "When Haruto carried the ball, I knew he was going to send the ball to me." The shot taken by Kida found the left hand corner of the Cerezo goal, giving Nagoya the lead.
C. Osaka's only opportunity during the first half came in the 30th minute, when the shot taken by SUETANI Seigo (#8) struck the goal post. However, from midway into the match, OKAZAWA Kosei (#6), who is set be promoted to the top team, started to receive the ball more often at a higher position. Okazawa, who has been urged by coach SHIMAOKA Kenta "Players who are promoted to the professional level need to become a king when they have the ball. Instead of just passing the ball, you must go for the goal," started to take on a more advance roll to create opportunities for Cerezo in the later half of the match.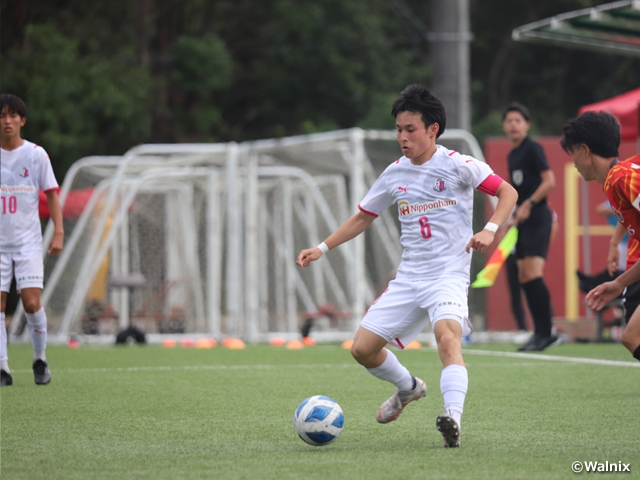 In the 81st minute, KITANO Sota (#10) broke through from a counterattack, but his shot was blocked by Nagoya's goalkeeper MIYAMOTO Rui (#1). Suetani also tried his luck from distance in the 82nd minute, but his attempt was also denied by Miyamoto. With their defence maintaining a clean sheet, Nagoya walked away with a 1-0 victory.
Coaches and Players' Comments
KOGA Satoshi, Coach (Nagoya Grampus U-18)
Last week, we were not even on an equal footing with our opponent. The 18 players on the squad were not able to play with the desire to represent the team, and it showed in the result. We entered today's match with the intention to start over, and despite the poor performance, I feel like we were able to face our opponent on an equal footing today. Although there were times when we allowed our opponent to break loose, we were able to block their attacks by persistently applying pressure. I would like to praise the players for taking advantage of the few chances they had.
FW #35 KIDA Ryoga (Nagoya Grampus U-18)
In our previous match, we let our guard down and lost from 2-0. That is why we kept telling each other to keep our focus through today's match. Although there were times when we were dominated by our opponent, our defence showcased their persistency, while the team made adjustments on the pitch. Many of our players consider that this hiatus had a positive effect on the team, as it increased the competitiveness and intensity level of our training sessions. I hope to score more goals in the remaining matches to help the team earn more wins. I will continue to work hard so that I can score a goal at the Premier Finals.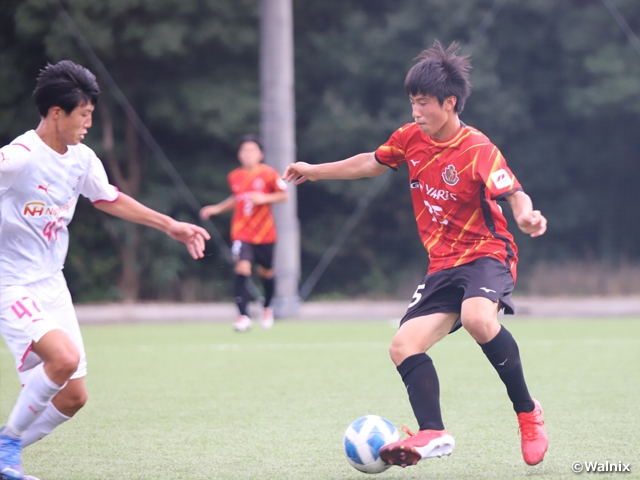 SHIMAOKA Kenta, Coach (Cerezo Osaka U-18)
Although we have improved our skillset at the individual level, we have been playing too passively in the early minutes of the match, and noticeably picking up our pace after falling behind. We need to play more aggressively to create more opportunities, and in that sense, we have not developed true strengths yet. We are training to win matches, and despite being kept winless this season, we believe that we are on the right track, so if we can continue to work hard, the results will follow.
MF #6 OKAZAWA Kosei (Cerezo Osaka U-18)
We have been losing all of our matches since the start of the season, so we desperately wanted to win this match. I thought a win against Nagoya, who are the summer champions, would give us great confidence. There have been a number of matches in which we have created plenty of opportunities but failed to convert them, allowing our opponent to gain momentum, so we need to improve the quality of each play from our daily trainings. As a third-year player and the team captain, I want to give our juniors the opportunity to play at this highest stage of the high school category, which was passed done by our predecessors. We will do our best to win the remaining matches to avoid relegation.
Results of other matches
Sagan Tosu U-18 1-1 (0-1, 1-0) Kyoto Sanga FC U-18
Gamba Osaka Youth 1-0 (1-0, 0-0) Jubilo Iwata U-18
Ozu High School 1-0 (0-0, 1-0) Sanfrecce Hiroshima F.C Youth
Higashi Fukuoka High School 1-1 (1-0, 0-1) Vissel Kobe U-18
Sagan Tosu U-18 (Saga) welcomed Kyoto Sanga FC U-18 (Kyoto) to their home, where they conceded the opening goal to KOYAMA Mao (#17) but managed walk away with a 1-1 draw, thanks to the equaliser scored by MASUZAKI Kosei (#30). Gamba Osaka Youth (Osaka) held onto the one goal lead produced by MINAMINO Harumi (#18) to win over Jubilo Iwata U-18 (Shizuoka). Ozu High School (Kumamoto) gave Sanfrecce Hiroshima F.C Youth (Hiroshima) their first loss, after ICHIMURA Seren (#11) scored the game winner. Despite taking the lead with the goal of NARAZAKI Umia (#7), Higashi Fukuoka High School (Fukuoka) conceded the equaliser to NISHINA Seiya (#8) to share a point with Vissel Kobe U-18 (Hyogo).

Prince Takamado Trophy JFA U-18 Football Premier League 2021
League Duration: Sat. 3 April - Sun. 5 December 2021