NEWS
Inter-High School Champions Aomori Yamada remain in first place with win over Omiya - Prince Takamado Trophy JFA U-18 Football Premier League 2021 EAST
11 October 2021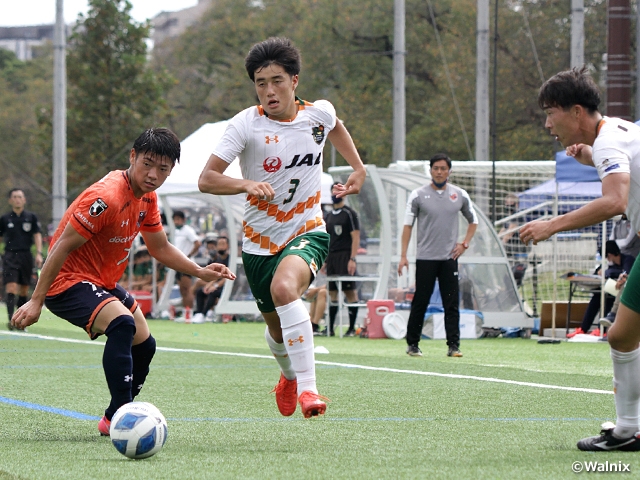 The 14th sec. of the Prince Takamado Trophy JFA U-18 Football Premier League 2021 EAST took place on Saturday 9 and Sunday 10 October at various locations nationwide.
Pick-up Match
Omiya Ardija U18 0-1 (0-1, 0-0) Aomori Yamada High School
At Tokorozawa Koku Memorial Park, league leader Aomori Yamada High School (Aomori) squared off against Omiya Ardija U18 (Saitama) who is in the midst of the relegation race.
Omiya entered the match after playing two of their postponed fixtures on 3 Sunday and 6 Wednesday, as coach TANNO Yusuke mentioned, "Playing three Premier League matches in eight days is an unprecedented territory for us." Aomori Yamada on the other hand, has gone through difficult time since the end of the Inter-High School Championships, as they were limited with their football activities under Aomori Prefecture's policy of restricting club activities during the pandemic.
With this being their first match since the Inter-High School Championships final in August, Aomori Yamada's coach KURODA Go mentioned, "I was worried about the players' fitness and game intuition."
While both sides have their own concerns, the match started off quietly. Against Aomori Yamada, who applied intense pressure from their front line, Omiya utilised long balls to avoid the pressure. "This was an approach that was effective against Aomori Yamada, last time we faced them," said MAEZAWA Hiroki (#17), while OZAWA Haruki (#15) also mentioned, "We were determined to use the long balls in the early minutes of the match." Although Omiya succeeded in preventing Aomori Yamada from initiating their short-counters, it also made it difficult for them to showcase their usual playing style.
As coach Tanno later reflected, "The fact that we weren't able to win the second ball allowed our opponent to take the initiative," Aomori Yamada gradually picked up their momentum by increasing their ball possession. The opening goal came in the 33rd minute, when TAZAWA Yuzumu (#16) converted the cross delivered by NASUKAWA Masaki (#9) from the right flank.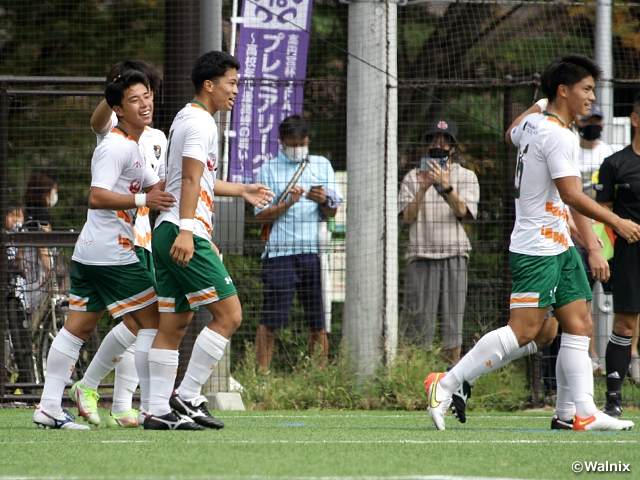 "I was able to gain confidence from the goals and assists at the Inter-High School Championships. I am also confident in my shooting ability, and the goal came from a play we had been working on," said Tazawa, reflecting on his goal that broke the deadlock.
In the second half, Aomori Yamada maintained great balance between their offence and defence to take control of the match. The Aomori side created multiple opportunities to threaten the opposing goal, but Omiya made tenacious efforts to keep the score intact. Although Omiya was able to gain more ball possession in the second half, their offence was shut-down by the Aomori defence, as their only opportunity came just before the final whistle, when ICHIHARA Rion (#27) connected with a corner kick to strike a header, only to see the shot sailing over the cross bar.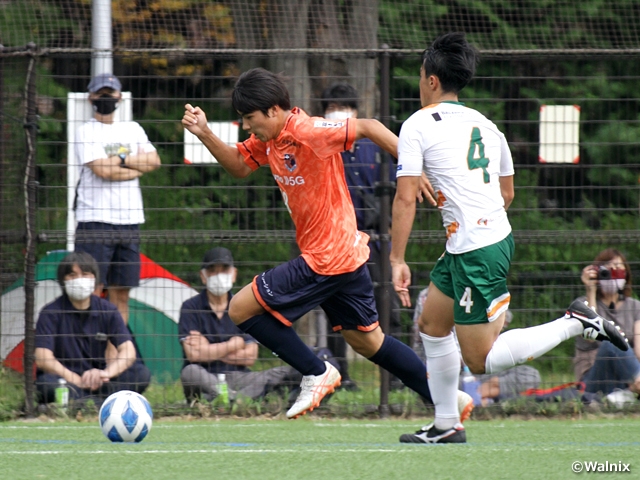 With Aomori Yamada winning 1-0, Omiya's coach Tanno praised his players, "They gave everything they've got against the best team in the country, under this tight schedule," while also regretting the fact that he could not find a way to break through Aomori Yamada's solid defence. Coach Kuroda on the other hand mentioned, "Although we were not in our best physical condition, it was great that we were able to win the match under the given circumstance."
Coaches and Players' Comments
TANNO Yusuke, Coach (Omiya Ardija U18)
Since we were entering this match with a three day rest, we spent more time recovering than preparing for the opponent during our training sessions. I am sure there are many ways to look at it, but I believe that competing in such tough schedule can be a valuable experience for the players' development. However, we were running out of gas towards the end, so we had to use our substitutes to cover the gap in our defence.
DF #15 OZAWA Haruki (Omiya Ardija U18)
We knew our opponent was going to apply aggressive pressure from the front line, so we entered the match with the intention to utilise long balls. However, we were kicking the ball too much, and couldn't find ways to control the match. Aomori Yamada showcased great techniques and they were a tough opponent to face. I had the opportunity to play in this league last year, and I feel like I'm doing better than I was then, but this match reminded me that I still need to work on my build-up and leadership skills.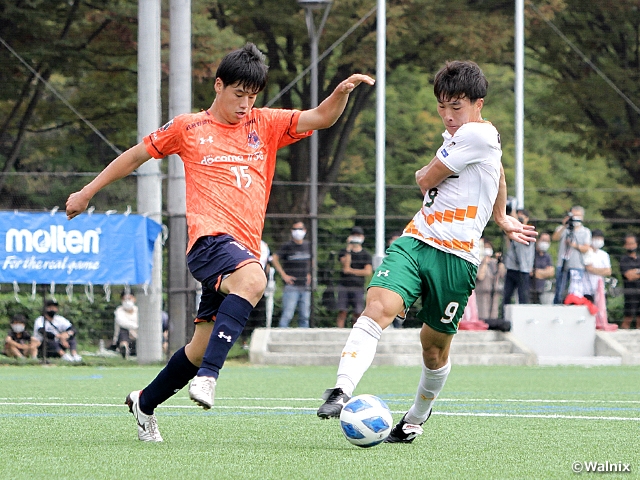 KURODA Go, Coach (Aomori Yamada High School)
It has been a while since we played an official 90-minute game, so we were not sure how far we could go. I thought this match would be a good indicator, but after looking at our players after the water break in the second half, it was obvious that they had not regained their game fitness yet. Omiya is very good at constructing their offence by inserting a vertical pass into the centre of the field, so we focused on containing them from sending that pass. I have always stressed the importance to close in on the far side, so I am glad we were able to score from that play.
DF #3 TAKUSHIMA Yoshiki (Aomori Yamada High School)
It felt like our time has finally arrived. However, we haven't played a 90 minute match in a while, so it was pretty tough. We barely won against Omiya at home, so we were expecting another close match today. I made the decision to transfer from Omiya U-15 to Aomori Yamada to become a more complete player, both physically and mentally, and I wanted to show that in this match.
Results of other matches
Urawa Red Diamonds Youth 0-1 (0-1, 0-0) Yokohama FC Youth
FC Tokyo U-18 1-3 (0-2, 1-1) Ryutsu Keizai University Kashiwa High School
Funabashi Municipal High School 0-1 (0-0, 0-1) Yokohama F.Marinos Youth
Kashiwa Reysol U-18 2-2 (2-0, 0-2) Shimizu S-Pulse Youth
Yokohama FC Youth (Kanagawa) walked away with a victory over Urawa Red Diamonds Youth (Saitama) thanks to the 22nd minute goal scored by MOTOKI Noriyoshi (#2). KOBAYASHI Kyota (#14) scored a brace to lift Ryutsu Keizai University Kashiwa High School (Chiba) past FC Tokyo U-18 (Tokyo). YOKOMIZO kota (#10) scored the game winner in the 64th minute to give Yokohama F.Marinos Youth (Kanagawa) a 1-0 win over Funabashi Municipal High School (Chiba). Despite taking a 2-0 lead in the first half, Kashiwa Reysol U-18 (Chiba) allowed Shimizu S-Pulse Youth (Shizuoka) to level the score in the second half to share a point.

Prince Takamado Trophy JFA U-18 Football Premier League 2021
League Duration: Sat. 3 April - Sun. 5 December 2021