NEWS
"I was able to raise the level of intensity and speed" Interview with TAKEDA Hidetoshi (FC Ryukyu) - Prince Takamado Trophy JFA U-18 Football Premier League 2021
13 October 2021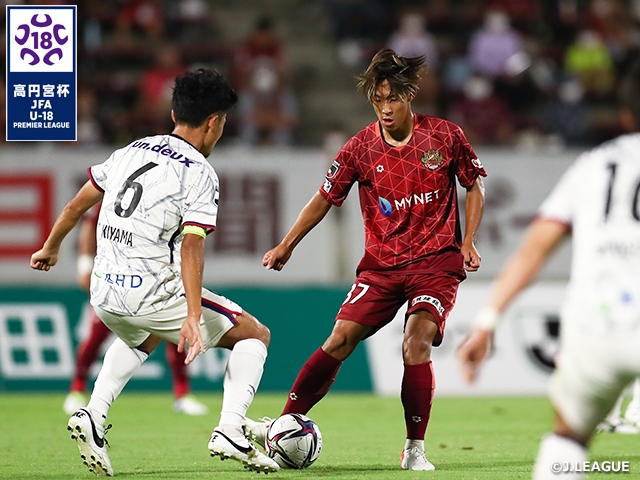 The Prince Takamado Trophy JFA U-18 Football Premier League 2021 has resumed after a hiatus. Here will share the interview conducted with TAKEDA Hidetoshi, an alumnus of Aomori Yamada High School, who won the league in 2019 and now plays for FC Ryukyu, in which he talked about his memories of the Premier League and his high school days.
○ Interview conducted online on 7 September 2021
――You have been playing well since joining FC Ryukyu from Urawa Red Diamonds on a loan this season.
TAKEDA I am happy to have a match every week and to be able to feature those matches as a starter. When I was in high school, we had the Premier League, and we also played week in and week out. Of course, coming here does not mean that I am guaranteed to play every week. I am enjoying the competition to earn my minutes on the pitch.
――Looking back on the years when you were at Aomori Yamada High School, how did the Premier League affect you?
TAKEDA I have the impression that it gradually got better. I was still on the second team in my second year in high school and didn't even make the bench at the beginning of the Premier League season. So, I first participated in the Prince League Tohoku, in which the second team was playing.
――How about your first year in high school?
TAKEDA I wasn't even on the second team in my first year. However, Aomori Yamada participate in four different leagues, so we were able to play official matches at each category to maintain our game intuition. If we played well in a lower category, we were promoted to a higher category.
――So that's how you rose to the top.
TAKEDA At the beginning of my second year, I thought I was playing well in the training matches, so I was feeling cocky and thought, "Why can't I play?" I was first named as a starter at the beginning of the summer, and gradually earned my spot as a starter. But when I started playing, the level of the opponents in the Premier League was so high, there were really good teams and players, and I struggled to keep up with them every week.
――The players of Aomori Yamada Junior High School are also watching the Premier League. How did the league have an affect on you when you were in junior high school?
TAKEDA It had a huge impact. When I was in the first grade, I just thought, "Wow, that's impressive," but in the second and third grades, I watched with the mindset of "This is where I want to be," and my awareness definitely changed over the years.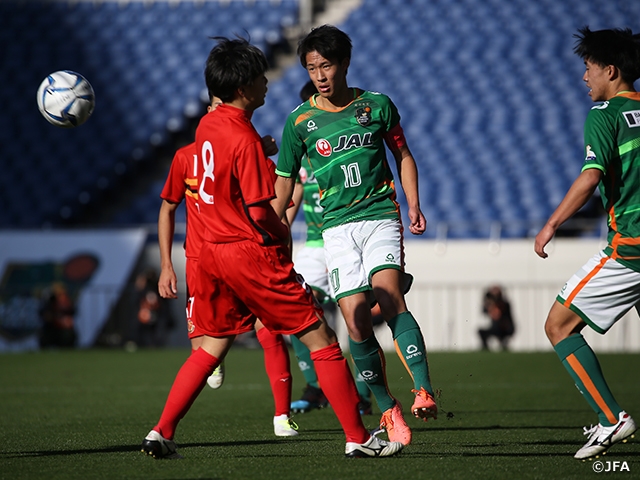 ――You saw great success during your third year in high school.
TAKEDA We had won the All Japan High School Soccer Tournament the previous year, and although Fujiwara Yudai (SC Sagamihara) was another returning player, I was the only starter from that squad, so we weren't considered as the league favourites. We also lost 1-6 to the B-team of Shimizu S-Pulse Youth in a friendly tournament held just before the league. I remember thinking at the time, "Wow, we are so weak. I wonder what would happen if we played their A-team? We knew that our individual abilities were inferior to those of our seniors who played a year ago.
――When did that mentality change? You finished the first half of the season undefeated.
TAKEDA To be honest, we never thought we were "strong." Looking back at the matches, there were so many matches in which we felt fortunate to end up with a win. Because we though we were "weak," we were able to defend and fight together as a team. It really helped that we had players who were willing to make sacrifices for the team.
――In the second half of the season, there was a period of five matches in which the team went without a win.
TAKEDA It brought back memories of being berated by our coach. However, because of that tough period, and because of the harsh criticism, the team became even more unified, which led us to the finals. Our opponent in the finals, Nagoya Grampus U-18, was really good. I remember being impressed while playing against them, but we were confident that we can still win against them. Through the season, I had come to realise that in football, you don't win just because you're good.

――It was a splendid victory.
TAKEDA It was a great moment. By playing against the top players every week in the Premier League, it made me demand for a higher level of intensity and speed in our daily trainings. I think that this league was a really big deal for me.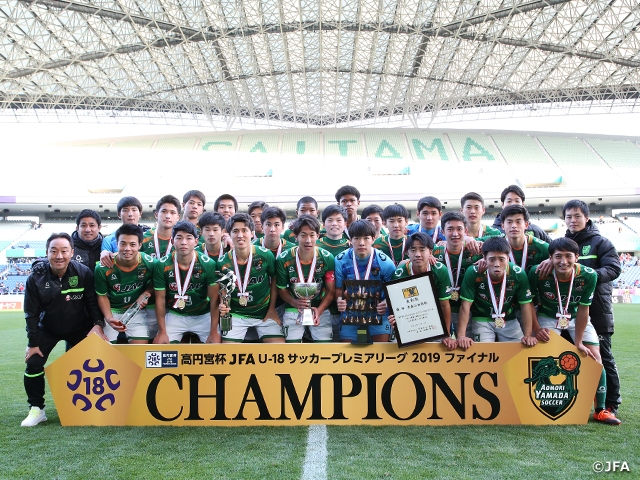 ――Please give a message to the players competing in the Premier League.
TAKEDA I want them to play football while being grateful that they can play in this environment. The fact that your team is able to compete in this league is a result of the work that your seniors, coaches, and staff members have put in over the previous year. I hope Aomori Yamada can win the triple crown this year. This year's squad consists of players who were in first grade when I was a third-year player, and I know that they are capable of achieving the triple crown.
――Lastly, you participated in the activities of the U-24 Japan National Team as a training partner before the Tokyo Olympics. How do you see your future as an individual?
TAKEDA The standard of a simple pass was really high, and that experience has reminded me that I need to do more. With so many players playing overseas, it gave me the opportunity to learn what the standards are like at that level. Right now, I am only thinking about contributing to FC Ryukyu, and I would like to accumulate more and more visible results such as goals and assists.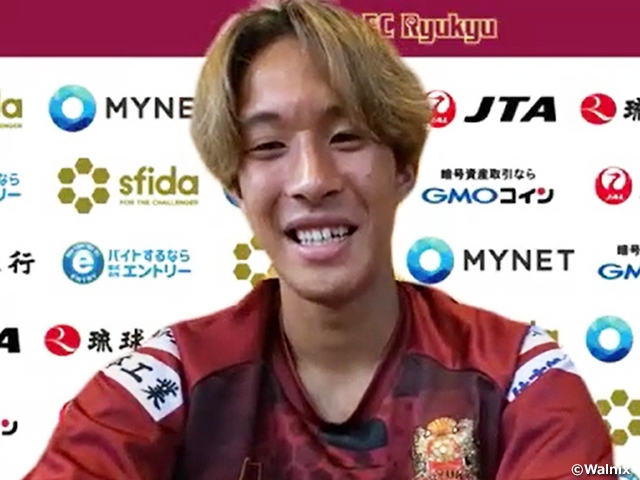 Prince Takamado Trophy JFA U-18 Football Premier League 2021
League Duration: Sat. 3 April - Sun. 5 December 2021