NEWS
Aomori Yamada holds off opponent's Ace to win the Tohoku Derby and remain in first place at the 6th Sec. of Prince Takamado Trophy JFA U-18 Football Premier League EAST
13 May 2019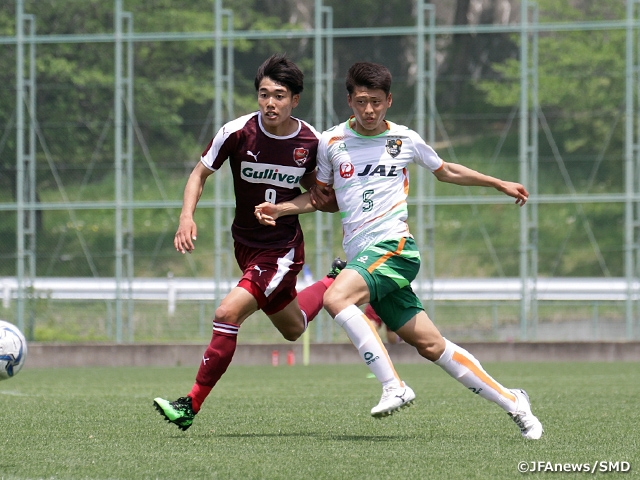 On Saturday 11 and Sunday 12 May, the sixth Sec. of Prince Takamado Trophy JFA U-18 Football Premier League took place. At Koriyama West Soccer Stadium, Shoshi High School (Fukushima) hosted last year's league runners-up Aomori Yamada High School (Aomori), in the Tohoku region derby.
Pick-up Match
Shoshi High School 0-2 (0-0, 0-2) Aomori Yamada High School
Regarding the match between the two Tohoku sides, Coach NAKAMURA Koji of Shoshi High School mentioned, "This is really what the Premier League is all about." The coach continued by sharing his thoughts by stating, "It means a lot for us to be in this wonderful league. Last time when we were in this league, current Japan National Team member NAKAJIMA Shoya was showcasing extraordinary plays on the pitch of Fukushima. Now our players can do the same for the kids of Fukushima and that means the world to us."
As Coach Nakamura mentioned, "We hope to contribute to our local region," Shoshi High School has been making the efforts to get the local people involved in their home matches. With this week's fixture being against their Tohoku region rival, the match was highly anticipated.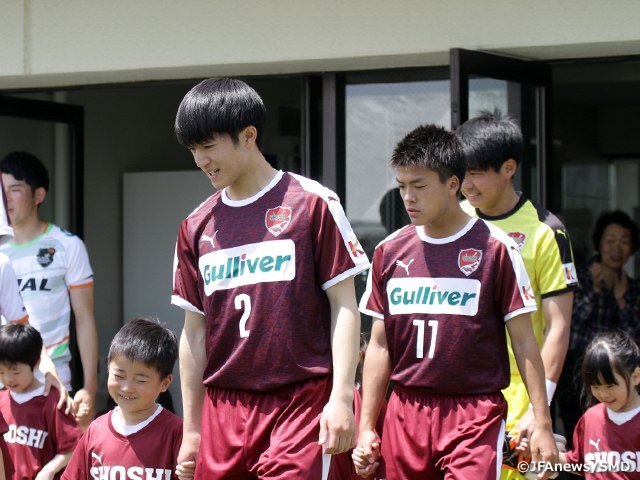 For Aomori Yamada, this was a match they couldn't afford to lose. In the All Japan High School Soccer Tournament final held this January, Aomori Yamada has won over Shoshi, but they allowed their opposing ace, SOMENO Itsuki (#9) to score a hat-trick against them. Aomori Yamada's defender FUJIWARA Yudai hinted that they have prepared a game plan for the match, as he mentioned, "We were told all week to stop Someno."
As Coach KURODA Go of Aomori Yamada mentioned that they will focus on keeping a clean sheet, the Aomori side started the match with a rather passive approach, allowing Shoshi to possess the ball deep in their own territory, while shutting down all the crucial spaces. Aomori Yamada made it clear that they will not give Someno free space, as Fujiwara later reflected, "I believed in my teammates to cover for me and I focused on keeping my eyes on Someno." While the Shoshi ace showed his brilliance in some occasions, as a whole, Aomori Yamada managed to contain Someno from doing his job.
The first goal of the match came in the second half. In the 57th minute, Aomori Yamada's MATSUKI Kuryu (#7) delivered a freekick towards the far side where Fujiwara made the run to send a cut back towards the centre. It was TANAKA Shota (#9) who converted the delivery to give Aomori Yamada the lead.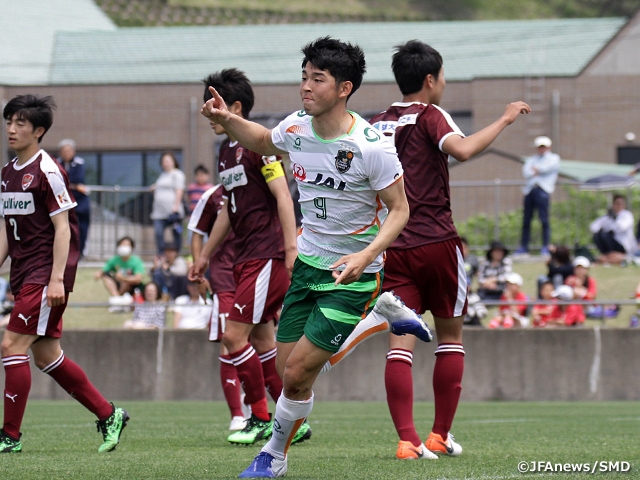 After taking the lead, Aomori Yamada managed their risks by keeping possession of the ball while seeking for their opportunities to extend their lead. In the 87th minute, Fujiwara connected with a corner kick delivered by Matsuki to make it 2-0. With their defence keeping a clean sheet, Aomori Yamada won the Tohoku region derby to remain in first place of the EAST.
Coaches and Players' Comments
NAKAMURA Koji, Coach (Shoshi High School)
We were able to showcase our team unity and our willingness to fight. I think we created more opportunities to take shots than our opponents, but they just had the upper hand. This match's result and the season's record shows that they are the better team. Following the season break, our injured players will be back in the squad, so we hope to prepare ourselves mentally during the break while working on the technical aspects as well.
FW #9 SOMENO Itsuki (Shoshi High School)
It was my decision to position myself in a deeper role during this match. I felt that I could help the team move the ball around more smoothly and initiate more attacks if I played in the defensive midfield position. I was able to gain a great learning experience from the tour with the Japan High School Select Team.
KURODA Go, Coach (Aomori Yamada High School)
Although TAKEDA Hidetoshi (#10) was suspended for this match, we have played several matches without Takeda this year and ANZAI Soma (#15) has been playing great to cover him, so we didn't have much problem. We knew the set-plays were going to play a key-role in this match. Someno is very strong in the air as well, so I told my players to avoid sending the ball around him, and that turned out to work in favour for us.
DF #5 FUJIWARA Yudai (Aomori Yamada High School)
During this week's meetings, we heard the name "Someno" so many times. He is a player that covers the entire field, so he was very difficult to play against, but I feel like we were able to contain him in the crucial moments. We were able to enter today's match with great motivation and our defence were very focused throughout the match.
Results of other matches
Kashiwa Reysol U-18 3-1 (1-1, 2-0) Jubilo Iwata U-18
Shimizu S-Pulse Youth 1-1 (0-1, 1-0) Funabashi Municipal High School
Omiya Ardija U18 1-0 (0-0, 1-0) Urawa Red Diamonds Youth
Kashima Antlers Youth 1-1 (0-0, 1-1) Ryutsu Keizai University Kashiwa High School
Kashiwa Reysol U-18 (Chiba) scored three goals to win their home game against Jubilo Iwata U-18 (Shizuoka). After conceding the opening goal to Funabashi Municipal High School (Chiba), Shimizu S-Pulse Youth (Shizuoka) scored the equaliser in additional time of the second half to earn a point. Urawa Red Diamonds Youth (Saitama) prevailed in the Saitama derby against Omiya Ardija U18 (Saitama) with a second half goal. Kashima Antlers Youth (Ibaraki) drew with Ryutsu Keizai University Kashiwa High School (Chiba) after both sides scored a goal apiece in the second half.

EAST 6th Sec. Highlights
Prince Takamado Trophy JFA U-18 Football Premier League 2019
League Duration: Sat. 6 April - Sun. 8 December 2019