NEWS
WEST features the Osaka Derby at the 7th Sec. of Prince Takamado Trophy JFA U-18 Football Premier League
20 June 2019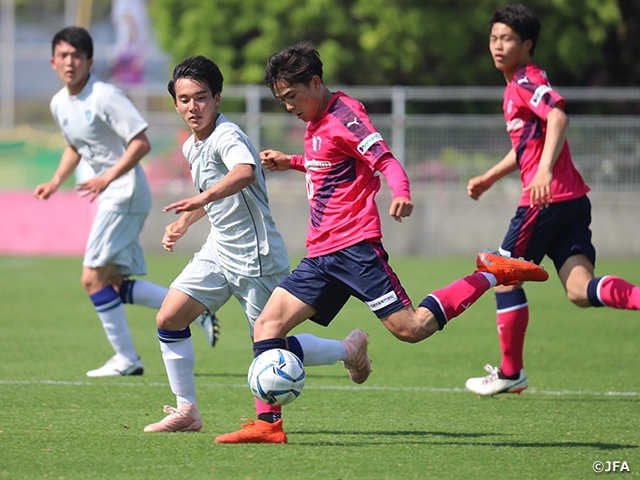 The seventh Sec. of the Prince Takamado Trophy JFA U-18 Football Premier League is about to take place on Saturday 22 and Sunday 23 June.
EAST
In the EAST, third place Shimizu S-Pulse Youth (Shizuoka) will welcome the league leader, Aomori Yamada High School (Aomori), to their home. After drawing two consecutive matches, Shimizu will seek to earn a victory through their offence led by YAMAZAKI Ryosuke (#9). The match between Ryutsu Keizai University Kashiwa High School (Chiba) and Urawa Red Diamonds Youth (Saitama) will feature an intriguing match up between two spectacular goalkeepers. While Ryutsu Keizai Kashiwa's goalkeeper MATSUBARA Sota (#1) was selected to the U-17 Japan National Team, Urawa's SUZUKI Zion (#25) was called up to defend the goal at the recent FIFA U-20 World Cup Poland 2019. It will be interesting to see who can keep a clean sheet in this match.
Fourth place Omiya Ardija U18 (Saitama) will face Kashiwa Reysol U-18 (Chiba), who has scored the most goals in the EAST. With the Reysol side consisting two strikers, OKUDA Hiryu (#9) and HOSOYA Mao (#11), ranked at top of the goal ranking, Omiya's key to success will lie on how to defend against the two powerful attackers. In the matchup between Jubilo Iwata U-18 (Shizuoka) and Shoshi High School (Fukushima), both teams will be seeking to earn their first victory since the second Sec., making it a pivotal match to avoid elimination.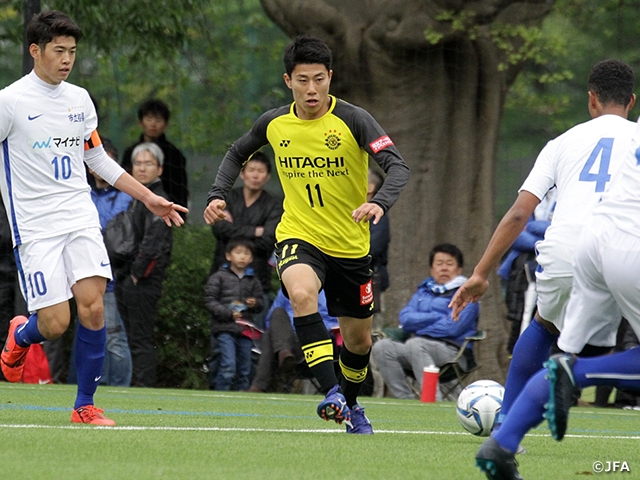 The pick-up match of the EAST will be played by Funabashi Municipal High School (Chiba) and Kashima Antlers Youth (Ibaraki). Despite getting off to a poor start, Funabashi Municipal has picked up their form in the past two matches. The team will seek to build their offence around their ace, SUZUKI Yuito (#10) to continue with their upward trend. Kashima, has also struggled early, as they suffered three consecutive losses to start the season, but they have been undefeated since the fourth Sec. The defending champions will seek to earn their second victory of the season through their solid defence.
WEST
Sanfrecce Hiroshima F.C Youth (Hiroshima) has lost two matches where they conceded two goals in the first half. When facing Kyoto Sanga F.C. U-18 (Kyoto) at home, Hiroshima's key to success will depend on how well they can enter the match. The high school matchup between Ozu High School (Kumamoto) and Higashi Fukuoka High School (Fukuoka) will feature a spectacular battle between the two aces, Ozu's NONO Kimito (#10) and Higashi Fukuoka's ARAKI Ryotaro (#10).
Ninth place Avispa Fukuoka U-18 (Fukuoka) welcomed a new coach during the break period, as coach INOUE Takahiro took over the team. They will face 10th place Ehime FC U-18 (Ehime) in the debut match for the new coach. With Vissel Kobe U-18 (Hyogo) and Nagoya Grampus U-18 (Aichi) clashing, the matchup between Kobe's YAMAUCHI Kakeru (#7) and Nagoya's TANABE Kohei (#10) is a must watch this week.
The pick-up match of the WEST features the Osaka derby played between Gamba Osaka Youth (Osaka) and Cerezo Osaka U-18 (Osaka). Led by their defender NISHIMURA Sho (#4), Gamba has kept an unbeaten streak since the season opener, as the team has only conceded five goals thus far. On the other hand, Cerezo has struggled to keep a clean sheet this season, as they have only one clean sheet registered under their belt. They will turn to their defensive leader OZAWA Nozomi (#3) to win the defensive battle against their prefectural rival.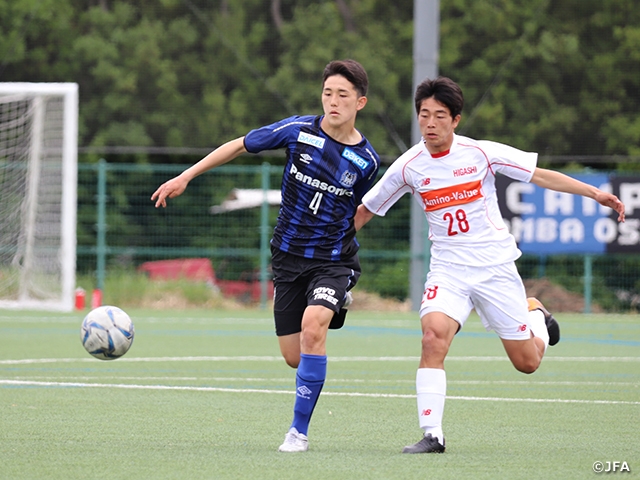 EAST Sec. 6 Highlights
WEST Sec. 6 Highlights
Prince Takamado Trophy JFA U-18 Football Premier League 2019
League Duration: Sat. 6 April - Sun. 8 December 2019