NEWS
Kids Traveling Guidance Report (December)
20 January 2021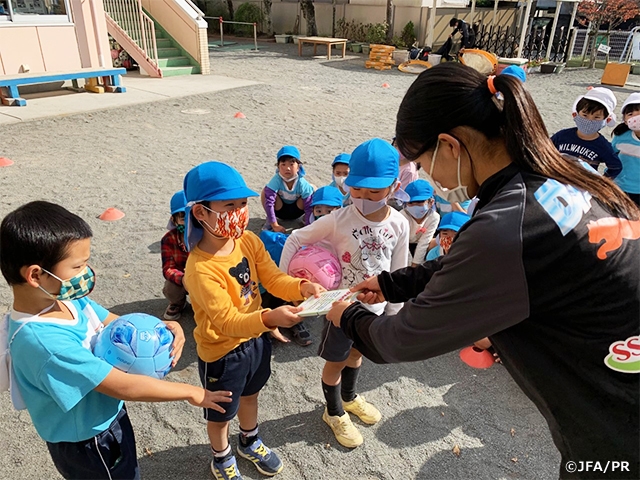 With the support of the Prefectural Kids Committees, the JFA has been conducting "Traveling Guidance" throughout the nation. The "Traveling Guidance" is carried out by the Traveling Guidance Staffs of each Prefectural Football Association, where the staffs provide various programmes to kindergartens, nurseries, and primary schools. During each course, staffs specialised to instruct football will join the teachers of each site and instruct the kids to enjoy the sport of football. Here we will introduce the Traveling Guidance activities that were recently conducted.
12/3 Funabara Kindergarten (Shizuoka, Shizuoka)
On a sunny winter day, 28 kids participated and moved their bodies energetically. It was great to see the kids take on various challenges. With the cooperation of the teachers, we were able to conduct the activities while keeping the kids safe.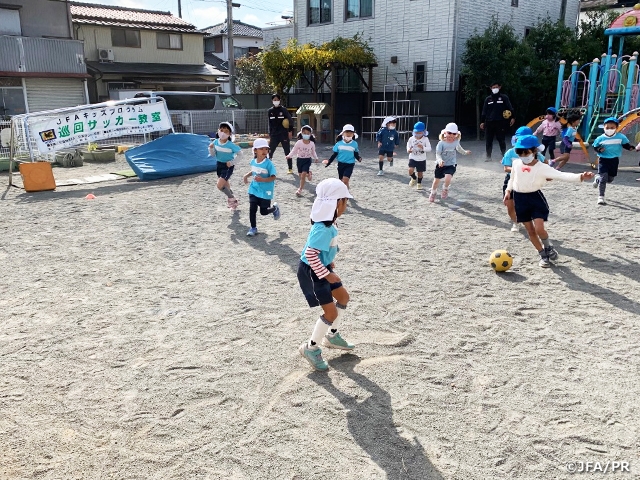 Comment
FUKAZAWA Saki (FA Traveling Guidance Staff)
The kids listened to the coaches carefully and showed great enthusiasm in our activities. We played a match between the boys' team and girls' team, and both sides showed great energy to make it an exciting match.
Mr. SAITO (Teacher)
The coaches were very friendly, and it allowed the kids to actively get involved in the activities. Even kids who are not good at exercising were taught in an easy-to-understand manner, so they were able to have fun until the end. Everybody showed great enthusiasm throughout the course and seemed to have fun while exercising.
12/10 Sakura Kindergarten (Shizuoka, Shizuoka)
The course was held with 43 kids participating from the upper class. Kids greeted the staffs with great energy under a sunny weather. Coaches kept encouraging the kids during the drills using the ball and many kids reported to the coaches "I did it!" With the cooperation of the teachers, we were able to conduct the course safely.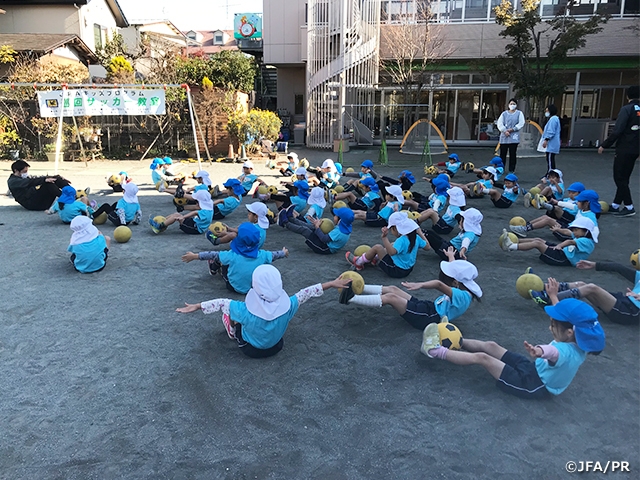 Comment
CHU Chiyong (FA Traveling Guidance Staff)
After the ball control drills and circuit training, we held a presentation using the pull-up bars. Kids who were not good at the activities were able to improve with the help of their peers. We then played a tag game, and a football match, where everyone showed great energy.