NEWS
Kids Traveling Guidance Report (November)
21 December 2020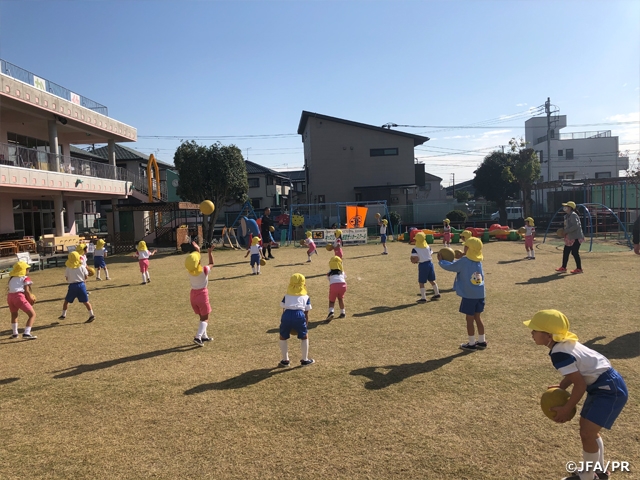 With the support of the Prefectural Kids Committees, the JFA has been conducting "Traveling Guidance" throughout the nation. The "Traveling Guidance" is carried out by the Traveling Guidance Staffs of each Prefectural Football Association, where the staffs provide various programmes to kindergartens, nurseries, and primary schools. During each course, staffs specialised to instruct football will join the teachers of each site and instruct the kids to enjoy the sport of football. Here we will introduce the Traveling Guidance activities that were recently conducted.
Thu. 12 November Takaoka Kodomo-En (Shizuoka, Shizuoka)
A total of 60 kids from five to six year old classes joined the traveling guidance. Kids were seen running round full of energy. Three coaches provided guidance to the group which included boys who have played football before and girls who have never played the sport before. The participating kids listened carefully to conduct each drill. With the support of the teachers, the instructors were able to conduct a safe and productive traveling guidance for the kids.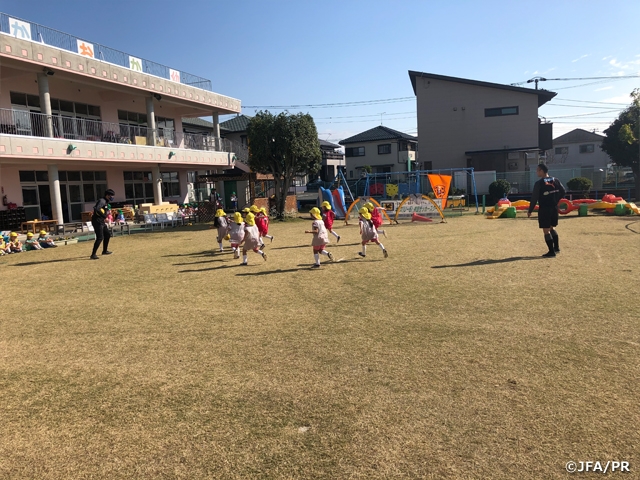 Comment
SUZUKI Koki, Staff (S-Pulse Soccer School)
The kids kept the three promises we made at the beginning of the course and worked with great enthusiasm. At the circuit training where they worked on movement-making exercises, ball touches, and scrimmage between boys and girls, everyone kept on trying without giving up. Through these activities, we hope that these kids can realise the joy of exercising and playing outdoors.
Mr. WATANABE (Teacher)
We were given the opportunity to learn in an easy to understand manner through various exercises such as circuit training. We also learned how to encourage the kids to challenge new things and make them feel "let's do it ourselves!" The scrimmage was fun, but also gave our kids the opportunity to learn what it feels like to win and lose.