NEWS
Japan Football Museum conducts 2018 Golden Week special event "Let's experience Blind Football!"
08 May 2018
Japan Football Museum conducted a 2018 Golden Week special event "Let's experience Blind Football!" on Sunday 6 May.
With the support of Japan Blind Football Association and Japan Inclusive Football Federation, the event saw a total of 105 participants, in which 68 took part in the event while 37 observed the event.
Following a demonstration performed by Blind Football Saitama T.Wings player KOMAZAKI Hiroyuki, the participants experienced the sport by forming teams to play a game. In the game, participants tried to guide their blindfolded teammates to the goal by giving advises. Participants struggled to give appropriate guidance, while the blindfolded participants also seemed to have a tough time understanding the advices given to them. The game served as an introduction to the sport, and the participants all took part of the game seriously. At the end of the event, participants applauded Komazaki as he told everyone, "it is important to speak up and share your thoughts, whatever it may be."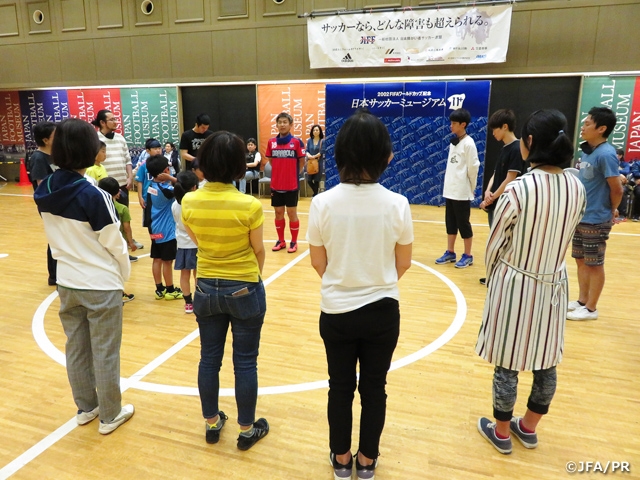 Performer's Comment
KOMAZAKI Hiroyuki (Saitama T.Wings)
Through these events, I generally see participants starting off showing hesitance and nervousness, but as we progress through the event, they seem to get more involved and it makes me feel that "they are enjoying blind football." The experience is scary at first as you are blindfolded and cannot see your surroundings. But it gives people a chance to think and learn in first hand, what they can do to help people who are visually impaired. It's not just limited towards people with disabilities, but the concept to think about your peers serves a vital role in social relationships. I would like the participants to learn from this experience and implement it into their daily lives. If there is a barrier, I always tell myself to go over it, rather than waiting for other people to come to you. When you do that, the barrier disappears. I will like to continue to take part in events like this to allow more people to learn about blind football.
Japan Blind Football Association's Comment
OTSUBO Eita
Our goal as the Japan Blind Football Association is to create a society where those who are visually impaired and non-handicapped players can share the field to play football in a regular basis. We still have long ways to go in that aspect, but through these events I hope we can get the interests from the participants so that they could come watch our matches, join an extended experimental event, and visit our clubs. You don't necessarily have to "do something," it's more important to interact with an impaired person as if you are interacting with your friends. I hope we can help create a society where that is just a social norm.
Blind Football Participants' Comments
ISHIDA Yoko, FUJITA Mariko
We joined the event because we were interested in sports for people with disabilities, and also because we work in a football related field. It was my first time kicking the ball, and I got to experience what it's like to be visually impaired. The experience itself gave me an unique feeling, but how I felt after I took off the blindfold was more fascinating and weird. Through this event I felt how difficult it is to accurately communicate with others with your voice. I've learned that you must choose the right wordings and angles, according to whom you are trying to connect with. It gave me an great opportunity to get in touch with personal bonding between people. If there are events like this in the future, I would like to participate again.