NEWS
Japan Football Museum conducts 2018 Golden Week special event "What is Futsal?"
07 May 2018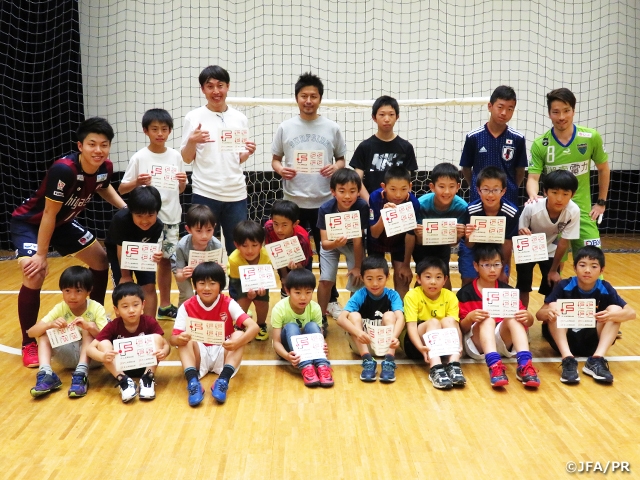 With the support of the F. League, Japan Football Museum conducted a 2018 Golden Week special event "What is Futsal?" on Saturday 5 May.
Players from Japan's top flight futsal league, F. League, made their appearance for this event, as Fugador Sumida's SHIMIZU Kazuya and Shonan Bellmare's KARIKOMI Masato lectured the visitors how to play futsal.
The event took place twice on this day, where total of 92 visitors participated. 37 visitors actually took part in the event while 55 visitors observed the event. During the demonstration, Karikomi displayed his brilliant juggling skills while Shimizu showcased his powerful shots to amaze the spectators. The two players then joined the scrimmage session, where young children to elderlies all played together to experience the joy of playing futsal.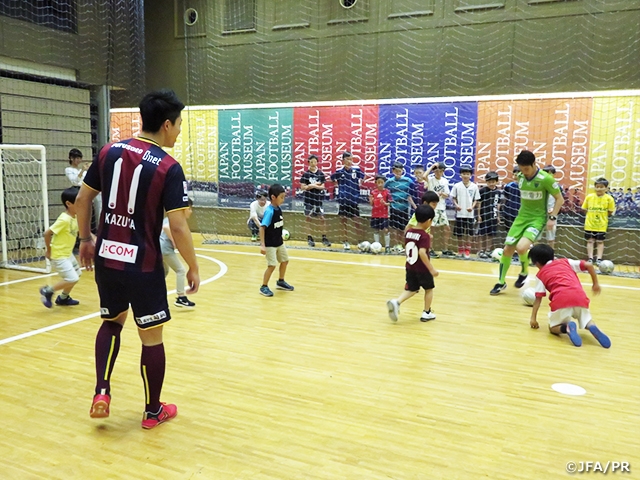 Performer's Comments
SHIMIZU Kazuya (Fugador Sumida)
There were a lot more participants who had played futsal before than I expected, and that helped me convey the difference between soccer and futsal. Through this event, it gave me an opportunity to reemphasise the importance of acknowledging the difference between the two sports. Our job as a professional futsal player is to convey the characteristics and joy of playing futsal to give the players the option to choose between football and futsal.
KARIKOMI Masato (Shonan Bellmare)
I hope we were able to get the participants interested in futsal and the F. League. It would be great if we got enough attention that they will come out and watch our games. When that happens, it is our job and obligation to display a good match, so I will continue to train hard and be able to convey the joy of futsal through our performances.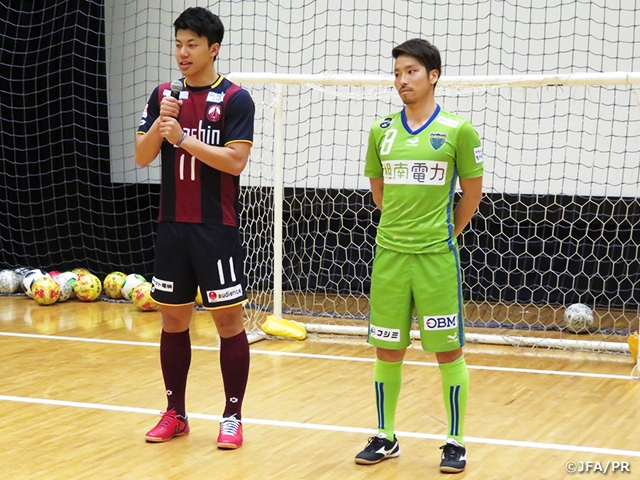 Participants' Comments
IWAKUBO Koki, IWAKUBO Ryuta
We found out about this event after we visited the Football Museum. We have watched a F. League match before, so we were very interested. The shots, heel kicks, and juggling skills displayed by the players were just amazing. I was able to score a goal in the event. I am glad I got to learn about the sport and if I have the opportunity, I would like to play again.