NEWS
Special Futsal Event at Japan Football Museum on Fustal Day (5 May)
08 May 2017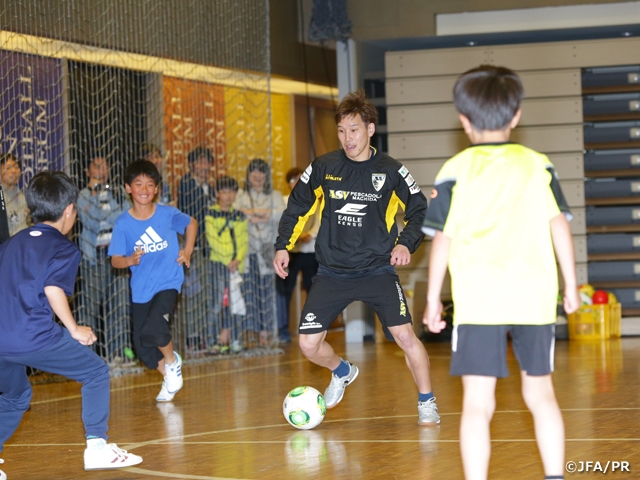 In Japan, the fifth of May marks the national holiday known as the Children's Day, and is also considered as the 'Futsal Day.' On this date, special event to experience futsal was held at the Japan Football Museum with the support from one of the top teams from the F. League, Pescadola Machida.
From the professional Machida club, YOKOE Leo, MUROTA Yuki, MIZUTANI Yuki, and SHINOZAKI Ryuki participated in the event.
Three special programmes—futsal demonstration, one-on-one duels, and small-sided games—were scheduled during the day, and many participants enjoyed these activities along with the professional players.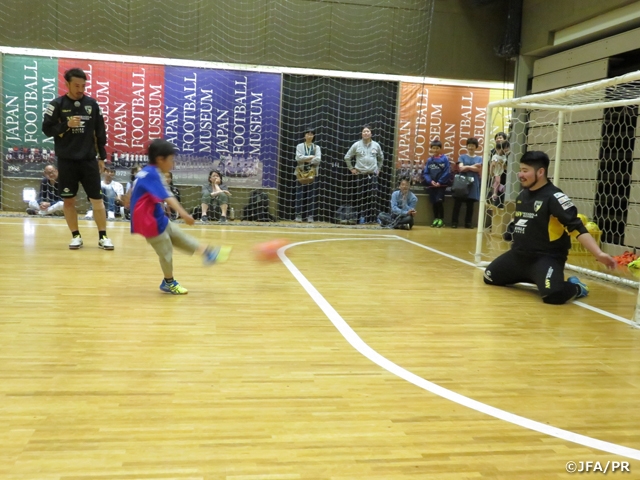 Players' Comments
YOKOE Leo (Pescadola Machida)
Since this was the Children's Day, many children came and participated in the event. This was also a great opportunity for us to introduce our team and players to the children as well. We hope they recognise our faces and call out our names during the league games. We also had a wonderful time seeing them enjoy futsal with us.
I further had a chance to visit the exhibition room of the museum for the first time. It was an honour to sign and have my autograph exhibited there. This has become a memorable event for me at the museum on the Futsal Day, and this enjoyable experience made me want to participate in similar events next year and the year after. I would like to thank again for giving me a wonderful time today.
There are many futsal players who can captivate the crowd in the small given area with excellent individual skills. Murota possesses one of the top technical and dribbling skills in the F. League, and I believe it has given the children an unforgettable experience to watch such wonderful skills nearby and play together with him. Regarding myself, it was unfortunate that I had to attend this event with an injury, and I couldn't showcase my skills inside the court. I am looking forward to attending similar events in the future to play together with the children and entice them with my plays.
MUROTA Yuki (Pescadola Machida)
I always like and enjoy this kind of event with children. Three special programmes were scheduled, and I felt a bit tired at the end, but similar to the league matches with my club team, I never forgot to enjoy myself. I don't think children have many chances to play with futsal players, and I hope some of them will aim to become professional futsal players in the future. This has been a wonderful experience for the participants and professional players as well.
We have seen many children making their best efforts and challenging new things in the court, and I wish they will never forget about this 'challenging spirit' even after the event. We also saw many children take interest in our team and players, and I hope they come to see our league matches where we give our best and play professionally. In May, we have a cup competition where we are looking to claim the title. Then immediately after, we begin a new season for the F. League. We were unfortunately runners-up in the playoffs last year, and, therefore, we will do our best to become the champions this year.
MIZUTANI Yuki (Pescadola Machida)
Since I don't have many chances to participate in this kind of event, I enjoyed a lot today. I had a wonderful experience interacting with many youth teams and children. I was surprised with their skills, and was forced to play seriously at times. As a professional futsal player, I sincerely felt grateful to attend a special event on the Futsal Day and have the opportunity to promote futsal. By participating in this event and getting to know about the F. League, Pescadola Machida and our players, I hope they will come to see some of our league matches in the future.
I believe one of the major differences between futsal and football is in position goleiro (goalkeeper) that I play. I am looking to showcase distinctive characteristic of goleiro in hopes that the spectators will be enticed and say, "How wonderful are the skills of a futsal goalkeeper!" Currently, I am going back-and-forth between the first and second teams, and therefore my primary aim for this season will be to improve myself to constantly play for the top squad. By displaying my technical skills and performing well in games, I hope also to raise the motivation level of my team. Goleiro is required to speak up and call out plays during the game. To create a positive mood heading to the season opener, I will proactively talk to my teammates.
SHINOZAKI Ryuki (Pescadola Machida)
Futsal is not yet widely recognised as a professional sport, and therefore I sincerely appreciate this kind of event to promote futsal. It was a wonderful experience to interact with many lively children. Unfortunately, I got injured during yesterday's practice, and my contributions were mainly limited to performances over the microphone. Today, my teammate Murota displayed some wonderful skills, and I wished the crowd reacted a bit more to his performances. Although some might have been simply stunned by his plays, I was expecting a bit more voices from the stands, and, therefore, I took the microphone to lift up the crowd and create an exciting atmosphere inside the court. It was a spectacular event for the participants to come experience the wonderful skills and the beauty of playing futsal nearby.
I also saw children who have been supporting us come from Machida to attend the event. I found this to be quite important as well, and I likewise appreciated the children of other club teams joining in this event. I am looking to build awareness of the sport by participating in various futsal activities in the future.
Last season, we finished third in the league and lost in the final of the playoffs. This season, we are aiming to become the league champions as well as winning the playoff tournament. Ahead of the coming F. League season, we have a cup competition and I believe we are in an excellent position to win it as well. We will work hard in our daily training and get ready for the new season.
Participants' Comments
Umeki Kai
It was my first time to play with the professional futsal players, and I was surprised that they were far better than watching them play on the TV. They were also physically strong, and they wouldn't budge a bit.
O. Yuki
This experience of playing with professional futsal players has given me the confidence to become a professional footballer in the future. Some of cunning plays were not simply disapproved but instructed to use them wisely. I enjoyed their coaching style as well as the entire event.