NEWS
Various Festivals conducted all around the nation to celebrate JFA Football Day 2018
10 October 2018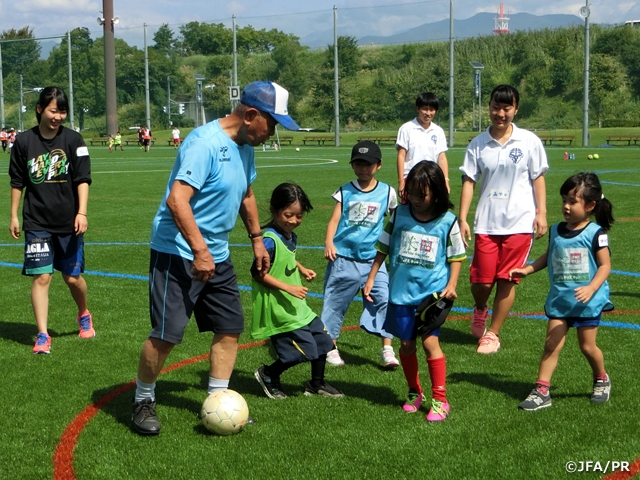 The "JFA Football Day" was established in 2008 by the JFA and the Prefectural Football Associations all around the nation to provide more opportunities for people to play football and to spread the football family. The festivals are held around 10 September, which is the anniversary of establishment for the JFA, as each prefecture carried out events that allows various people, including those who has never played the sport, to participate freely. In 2017, a total of 10,893 people participated throughout 42 different venues. Here we will introduce some of the events held on this year's "JFA Football Day."
Kagawa Prefecture
In Kagawa Prefecture, 140 participants showed up at Pikara Stadium on Saturday 1 September to join the festival. The event featured a wide range of age groups, as participants from pre-school children to seniors were seen playing "Walking-Soccer." Also, the world champion of free-style football was invited to perform at the event to showcase a world class technique.
Participant's Comment
HOSOI (Mande Ganba Sanuki), Festival participant
I usually play futsal, but it was very interesting to play football while walking. I'd like to try it again.
Gunma Prefecture
A total of 567 people joined the festival in Gunma Prefecture, as the event was held at Koei Maebashi Football Center on Saturday 1 September. The past events have featured "Soccer Bowling" and "Kick Target," but this year's event added "Bubble Football" to its repertoire, allowing the participants to experience football in a wide variety of ways.
Participant's Comment
ISHIWATARI (Golazo Takasaki FC), Festival participant
Although I couldn't score a goal, I did my best. I am glad my team was able to get first place. I am also very happy that I got to take home the ball. Bubble football looked fun, so I would like to try it next time. I'd like to join this event again.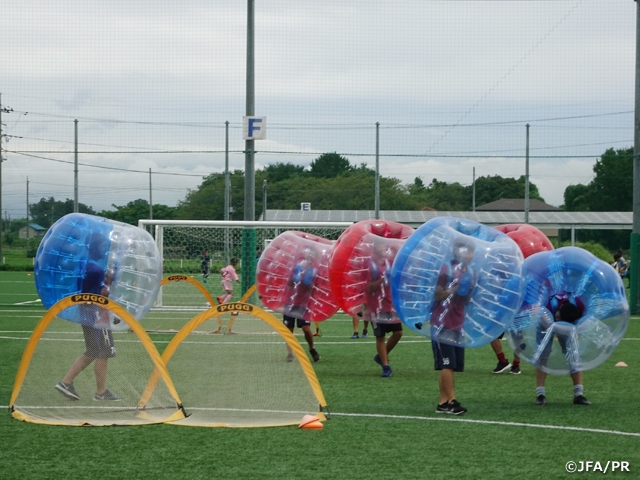 Okinawa Prefecture
The Festival in Okinawa Prefecture was held on Sunday 9 September, as 76 participants joined the event held at Kintown Football Center. The event featured a "Penalty shootout anyone can participate." Everyone including kids and seniors, men and women, experienced or not, seemed to have enjoyed themselves as they joined the event.
Participant's Comment
MIYAHIRA (Akebono ASC), Festival participant
It was fun to play against people from many different age groups. I am usually involved with my child's football team, so as long as my child is playing football, I will like to keep playing with them. It's great that these events give us adults the opportunity to join and have fun with the kids.
Shizuoka Prefecture
Shizuoka Prefecture held its event on Sunday 16 September at Ogasayama Nature and Sports Park Stadium, where 177 people joined the festival. The event featured contents that aimed to provide opportunities for families to interact and enjoy themselves, and this year's event seemed to have entertained the adults and staffs than usual.
Participant's Comment
ITO (Shimada Daiichi SSS), Festival participant
Everyone was enjoying playing football and it made me relate to the sport even closer. When entering the children's section, even the adults were able to enjoy like they were back in their youth days. The kids playing on the grass pitch of Ecopa today may eventually strive to play football on that same pitch one day. I believe this is an event that could possibly be able to pass down the joy of playing football from generations to generations. I would like to invite my friends to this event next year.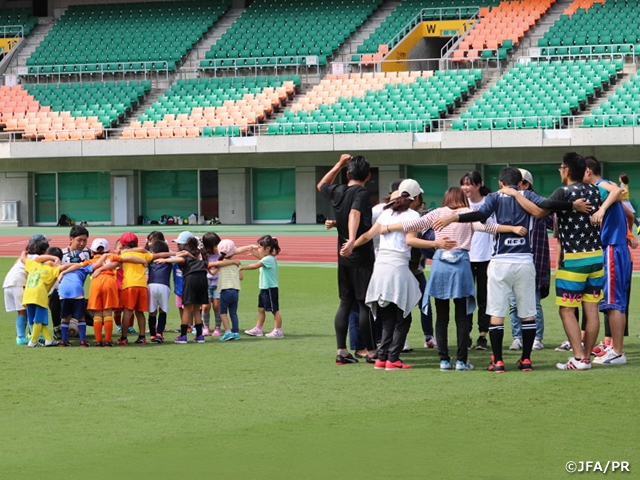 Yamanashi Prefecture
The event was conducted on Monday 24 September in Yamanashi Prefecture as 136 participants joined the festival held at Showacho Oshihara Park. The participants ranged from pre-school kids to seniors, as they enjoyed playing "Walking-Soccer." The event was enjoyed by everyone from all the different age groups.
Participant's Comment
SHIMA, Festival participant
I joined the event as a senior and I had fun interacting with many kids. Walking-soccer seemed easy, but once I played, it was much harder than I thought. It had its unique quality, different from football.
The JFA Football Day will continue to be conducted all over the nation. For more information, please visit the websites of your local Prefectural Football Associations.
47 Prefectural Football Associations