NEWS
Issues on securing facilities and transmitting/sharing information of football for the disabled were discussed at the 'JFA Grassroots Promotion Partner Conference'
21 May 2018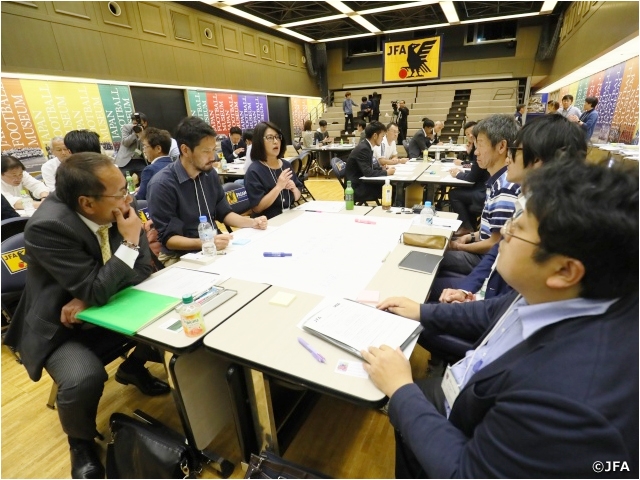 On Sunday 20 May, the Japan Football Association (JFA) held its first 'JFA Grassroots Promotion Partner Conference' at the Japan Football Museum Virtual Stadium in JFA House. 60 people, including those who joined online, participated. Case-study presentations on 'no retirement', 'no reserve players', 'football for the disabled', and 'cooperation between school teams and clubs' were given in efforts to materialise the 'Declaration on Grassroots Football'. Then the participants were divided into 12 groups in order to discuss the ideal environment and current tasks based on given themes. Through presentations made by each group at the end, tasks such as facility demands and transmitting/sharing information of football for the disabled became evident. The JFA will continue to support and develop 'Grassroots' football through the 'JFA Grassroots Promotion Partner Institution'.

At the beginning of the conference, the JFA President TASHIMA Kohzo gave a speech, sharing his aspirations, 'sports play a key role in one's health and development of top teams, but it also serves vital role for the local community and education. We are facing declining birthrates while life expectancy has increased over the recent years. It means that everyone needs to consider how to stay healthy and plan ahead to live their lives productively. I believe sports can contribute in many ways. In two years, Tokyo will host the Olympics and the Paralympics. The JFA must think and plan ahead of "post 2020" for the sports community.' Then MATSUDA Kunji, the Director of JFA Grassroots Promotion Department, introduced the purpose and the meaning of the 'JFA Grassroots Promotion Partner Institution'.
Case-Studies
Four organizations reported the following case-studies.
Case-study for 'no retirement'; Azamino Kickers (Kanagawa)
With their participants counting over 200 people, the Azamino Kickers has been utilising school fields at elementary schools to serve wide range of players from kids to elderlies. The team acknowledges that during a lifespan, the priority for football may be lowered under certain circumstances, and they do not have 'retirements', but instead have their members 'take a break' from football, and that their players are always welcomed back upon their return.
Case-study for 'no reserve players'; NPO Kohoku Football Club (Kanagawa)
The NPO Kohoku Football Club emphases the idea of having 'no reserve players'. With the growing demands for facilities, it has become more and more difficult for clubs to enroll multiple teams in a tournament. With that in mind, the team has decided not to enter official matches until third grade and limited their players up to 20 players per age category, keeping their main focus away from the competition aspect of the game.
Case-study for 'football for the disabled'; Bankuru Ibaraki Diversity Football Club (Ibaraki)
Bankuru Ibaraki Diversity Football Club is an 'ordinary football club' who has accepted many kids with variety of disabilities. Their philosophies in developing players were shared as they treat 'disabilities as characters, not as a handicap. While inability is just a matter of preference and it is not totally lost'.
Case-study for 'cooperation between school teams and clubs'; NPO Makusoh Club (Chiba)
NPO Makusoh Club was established by graduates of Makuhari Sohgoh High School in Chiba prefecture with hopes to give their students a place to contribute to the local town. The club also gives an option for high school football players to play for a club team. Teams for adults and junior members are also available, while the club serves as a comprehensive sports club featuring activities such as dance, swimming, and climbing, even welcoming students from other schools as well.
Group discussion
A group discussion session was held after the case-studies and the followings were presented by the groups.
No retirement
・It is ideal to have a place where everyone can knock the ball around during the weekend, with the presence of someone who can manage the participants. In order to make that happen, a reserved field will be required at all times and a successor must be nurtured as well. The public system must be utilised and the cooperation from schools to open their fields will be necessary.
・A constant amount of participants at a constant time and location is ideal. A safe environment that allows participants to play without injuring themselves will be required. The group must accommodate every skill levels and styles such as society (football played with seven players), futsal, and walking football, depending on the participants demands.
・Waling football can be played by people of all ages, gender, physical abilities, including elderlies and disabled. Thus, the sport should be more recognised worldwide.
No reserve players
・A league where any player can participate. Players can play for which ever team they wish for, and there are no 'reserve players'. Winning is not the main focal point, and the JFA will come up with the league formats.
・The development of individuals should be the most important aspect, not the results of the match. The players' ability to think should be nurtured along with physical abilities. The importance of each individual presence should be emphasised and each player must learn their responsibility to think before acting.
・Football is not just for those skillful individuals, but it is for everyone. It is fun because it is played by everyone. A street football like situation where everyone can join at any time is ideal.
・Competition is part of football, but through this activities of no reserve players, we would like to nurture the equality of individuals.
Football for the disabled
・A cycle where information is transmitted steadily while the information is understood in a positive way. The field currently lacks instructors, information, funds, and facilities that can accommodate the disabled. A meeting involving all 47 prefectures through the Japan Inclusive Football Federation needs to be held, where participations of ex-professional athletes and colleges would be ideal.
・Barrier-free facilities and information on specialised organisations who contributes to the cause needs to be widely recognised. With the spread of knowledge, there will be no such thing as 'football for the disabled' as a category. The information must be easily understood and transmitted by the personals concerned.
・In regards to the theme of football for the disabled, more instructors who can fully support the disability will be required. More communication and creativity are required for both sides to better understand each other. The important thing is to go out and play football together first, regardless of the existence of disability or not.
・Ideally football should be played in numerous forms, anywhere, anytime, under the watch of everyone surrounding. The current issue is that there are too many competitions to secure facilities, while discriminative stereotypes are preventing people from understanding.
・We will like to get rid of the wrong understandings and stereotypes. In order to allow everyone to join and play, facilities and accessibilities must improve.
With the utilisation of the web meeting system, the conference was accessible from remote areas through the internet. The conference was also streamed live via JFA TV, while sign-language and closed caption were provided for those with hearing impairment.
The conference was held in part of a commemorative event of the 'AFC Grassroots Football Day' which the Asian Football Confederation (AFC) has established. The results of the conference will be reflected on the 'JFA Grassroots Roadmap (title is subject to change)' along with the results of 'the 2nd JFA Grassroots Survey'.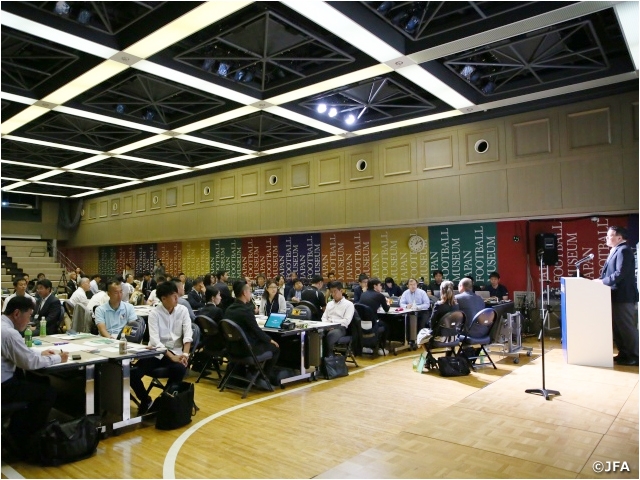 Comments
HASEGAWA Tomohiro, Participating Promotion Partner 'The Big Issue Japan Foundation'
I was very pleased that the football for homeless people was also mentioned in today's conference. I had an opportunity to meet diverse people here and once again realised that we are all connected through football. We probably spent too much time introducing each other during the group discussion, but I was impressed by the story told by the team leader of football for the disabled in Kanagawa. His mentally challenged son was told by the doctors that he would never be able to play football, but it turned out that he could play football. This experience made the father believe that everyone should be able to play football. The motto of the football team for the disabled Bankuru Ibaraki is 'to welcome everyone', which shares my belief. So, I thought I'd like to do something together with them. I also learned that everyone else struggles to find facilities to play football as well. Even Azamino Kickers, who shared their case, had to go through lots of hardship to find a ground for their lessons at first. Many groups focus on nurturing instructors while trying not to put the focal point on winning or losing. Many also have a strong spirit to make their lives better through football, not to mention just enjoying playing it. I was truly encouraged. We have a coach, who used to play for the Azamino Kickers. He recently sent me an email, explaining that he had been involved in football with homeless people because of his experience in Azamino Kickers. I couldn't understand at the moment, but now I understand why.
SUHARA Kiyotaka, JFA General Secretary
Everyone discussed very actively today. Four organisations gave excellent case-study presentations as examples of best practices. I have been dedicated to the Grassroots activities for a while. Personally, I had led the fourth-category junior team in Setagaya, Tokyo, for 18 years. In those years, I represented the club for three years. This club had been running for 32-years. In the early years, we had to negotiate with a public school to allow us to use their school field for two hours on each weekday from five in the afternoon. It was pitch dark during winter. Now we have 20 players from each age categories, thanks to everyone's support. We are given the priority to use the school field from eight in the morning to one in the afternoon on Saturdays and Sundays, and we occasionally get over 30 kids participating.
As everyone mentioned today, securing a ground to play football is very difficult. We haven't got enough facilities or space, especially in Setagaya, Tokyo. On top of that, finding instructors is also a challenge. I have also been taking a role as the second category referee in Tokyo for quite a long time. I happened to officiate a football game for the disabled in the Tokyo or Kanto league several times. Football for the deaf, blind or mentally disabled people. It is such a moving experience. A participant from Bankuru Ibaraki noted today that 'disabilities are not a handicap, but they are a character'. I learned about that as a referee by sharing the same field. I appreciate that many people, who take part in Grassroots activities, makes a lot of efforts every day. Thanks to that, I can learn this kind of thing. We had many excellent ideas and opinions today. I feel responsibility, as a member of the Japan Football Association, to take action in order to deliver these ideas.
We still need your help for the continuous Grassroots activities and for Japanese football. We need to support each other, as we will do our best in supporting everyone. Once again, thank you so much for joining us today. (Comment at the end of group discussion)