NEWS
Walking Football Event held in Chiba to commemorate AFC Grassroots Football Day
15 May 2018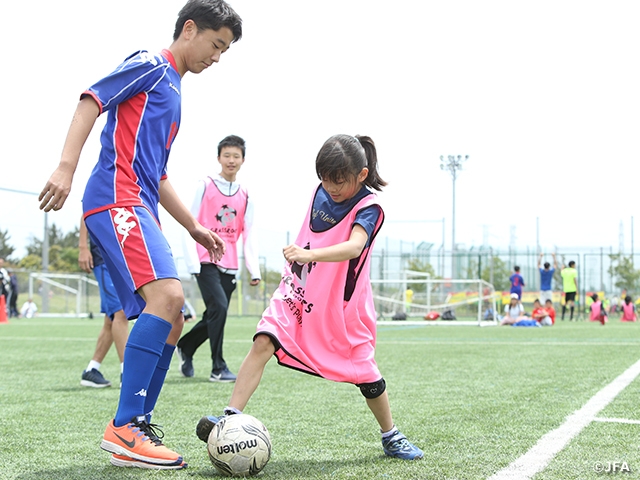 On Saturday 12 May, a walking football festival was held at Fukuda Denshi Field in Chiba Prefecture. Approximately 320 people from ages 3 to 81 participated in this festival commemorating the AFC Grassroots Football Day.
This event, held on 15 May, was set to commemorate the "AFC Grassroots Football Day," established by the Asian Football Confederation (AFC) in 2013. On this date of 1993, marked the inauguration of J. League, followed by Japan Football Association's (JFA) "Declaration on Grassroots Football" in 2014. Making 15 May a memorable date for the history of Japanese football. Ever since, AFC has held commemorating events with the cooperation of JFA and other member associations in efforts of grassroots effort in fostering football in Asia.
Walking football shares the same rules as regular football except it prohibits running. It is a sport that allows players of any generation, sex, physical abilities, and football experience. This sport has been seeing a growing demand nationally due to its beginner friendly nature. This year, the Chiba Football Association hosted an event that assembled 36 teams of all ages, forming group leagues of 4 teams each, setting up play-offs depending on the results of each group leagues. The event was capped off with the finals, but every participant was given a commemorative gift, as the main goal of this event is to enjoy football. The event was held under great weather, and with the support of local junior high and senior high school students.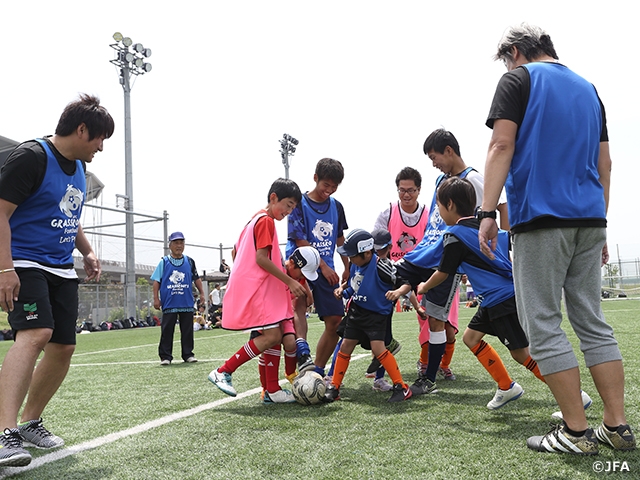 On Sunday 20 May, to commemorate the AFC Grassroots Football Day, "JFA Grassroots Promotion Partner Conference" will take place. The conference will be streamed live on JFA TV.
Participant's Comment
OUCHI Keiji, Festival Participant
In July, I will become 82. I have played football since I was a student. Ever since I was 50 I have played with the Ichikawa football club. I lived in Brazil for seven years, and I have lived in a environment where everybody in the city played futsal. We enjoyed ourselves with food and beer after the game. I was introduced to this event from fellow members of AC Chiba. We have introduced walking football in our team's warm-up sessions. I was surprised to learn that walking football is an actual sport in England. I think it is a great sport for elderlies who has played football before. If you have not played football before, it is actually an active sport, so you must be prepared. For the young generations, it is a good training to nurture a wide perspective on the field.